4 Things Going Vegan Does For Your Health & 3 Things It Doesn't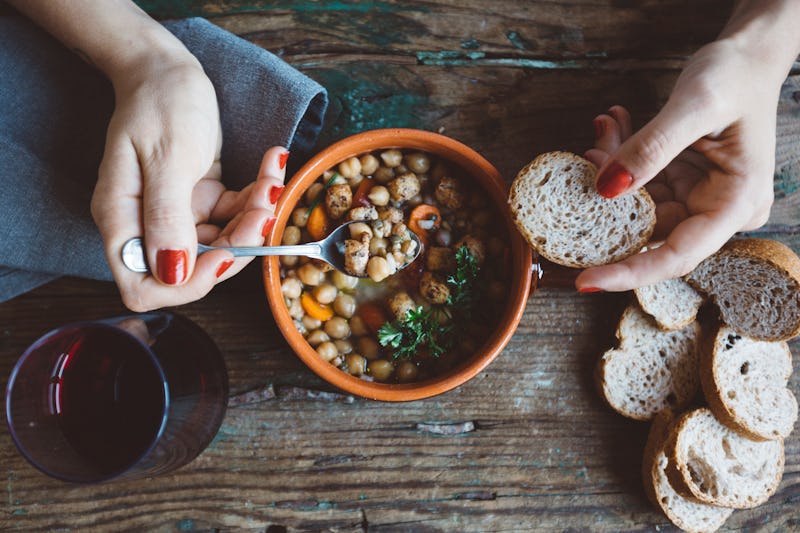 Westend61/Westend61/Getty Images
If you've been flirting with saying goodbye to dairy, eggs, and meat, you've probably got some questions. The myriad myths about veganism — "But what about protein!?" — can keep people from embracing it even when they want to. If you're looking to shake your eating habits up, it'll be helpful to know what going vegan will and won't do to your body.
A lot of people become vegan for health reasons, and that's understandable. "Going vegan has the potential to do wonders for your health," says a certified holistic nutrition consultant and founder of Gut of Integrity Stephanie Papadakis. These benefits can be as wide-ranging as added boosts of energy and clearer skin.
Many people become vegan for ethical reasons (myself included) rather than health reasons, but vegan diets are neither automatically healthy nor ethical. Mainstream veganism is often marketed as a trendy lifestyle change. This can draw attention away from the exploitation of migrant workers responsible for growing crops, or encourage gentrification when developers prioritize vegan cafés over businesses run by folks in the community. The most common ethical reasons for going vegan — animal welfare, or sustainability — can become murkier when people don't take this context into account.
Inside your body, though, going vegan will make some changes. This eating style is not a magical cure-all nor a surefire way to lose all your protein. To clear up some myths, here are four things going vegan will do for your health, and three things going vegan won't do.