The Twins Are Embarrassed About Their 'Bachelor In Paradise' Behavior & They Absolutely Should Be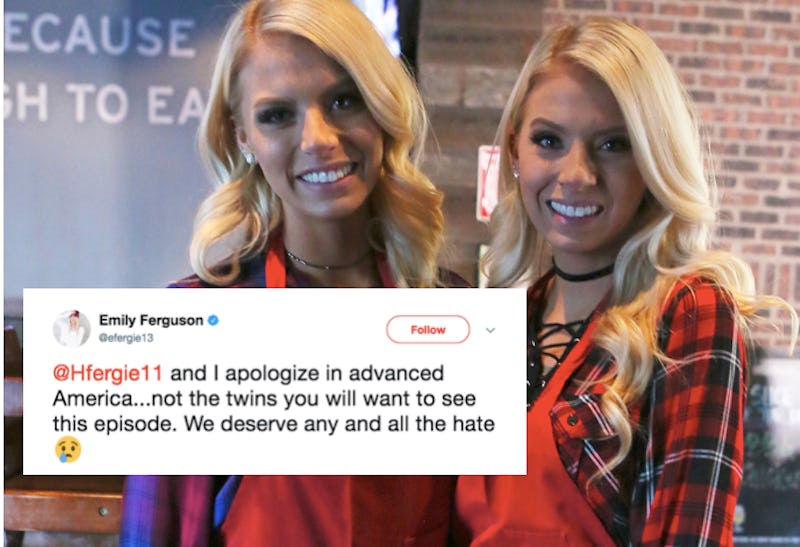 Ronda Churchill/Freeform
If it's starting to feel like twins Emily and Haley Ferguson are starting to become a staple of the Bachelor franchise, it's because they totally are. And although they've been portrayed as flighty, free spirits, it's always been really obvious that they have good hearts, no matter what situation they're in — until now. On Tuesday night, Emily and Haley joined Bachelor in Paradise, and the way they behaved definitely didn't seem like the twins fans know and love. As it turns out, though, they haven't really changed, because as the episode aired they both headed to Twitter to admit how embarrassed they were of how they acted on the show.
From the minute they arrived, they were ready to stir the pot. They had their minds set on using their date card for Dean and Derek, despite the fact that they were already seeing people, and when they got turned down, they got nasty, especially when Emily got rejected by Dean. They called the other women "shallow whores" for keeping them from their dream men, and started screaming when they realized their hands smelled like scallops.
They left before the episode was even over — and before either of them had the chance to go on those dates they were previously ready to fight people over. It was a lot, and according to their Twitter accounts, they're humiliated... and honestly, they should be.
Haley knew from the beginning that she was going to look bad.
And it didn't take long for her to admit on Twitter that she felt their appearance on the show was "terrible, embarrassing, cringeworthy," and to issue an apology for mocking Danielle.
Meanwhile, Emily had already warned her followers that she and her sister would not come off well on the episode.
She did seem to be saying that the way they acted on the show was a joke, which hopefully, it was. It'd be terrible to think that this was their true behavior. (Not that it excuses what they said or did.)
If it was all a joke, maybe there are no hard feelings between Emily, and Haley, and the women they messed with during their short Paradise stay. And if not? Well, it's definitely a good sign they're embarrassed by their appearance. That behavior is never OK... not even when it's meant to liven up an otherwise boring episode of reality television.