A Timeline Of The Ariana Grande Concert Attack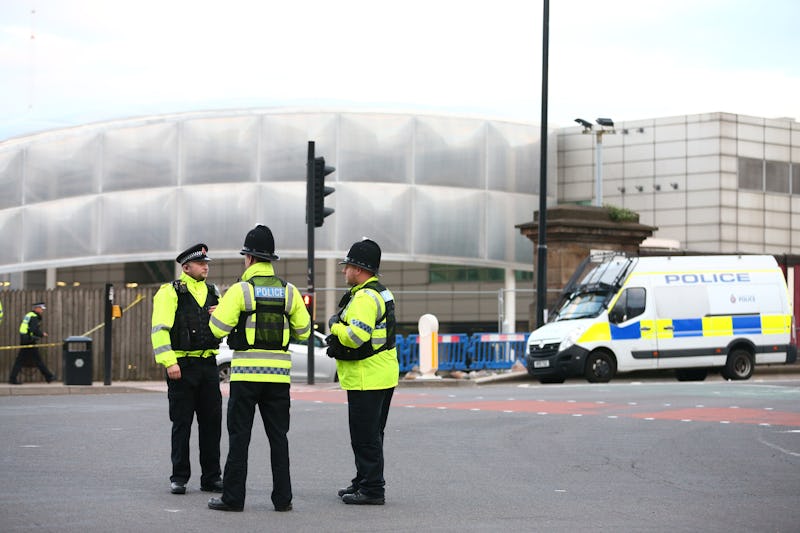 Dave Thompson/Getty Images News/Getty Images
On Monday evening, an explosion occurred at the Ariana Grande concert at the England's Manchester Arena. The explosion has been characterized as a terrorist incident. Police reported that 22 people were killed and scores more were injured in the blast. And amidst the chaos and consistent stream of updates, it's important to take a closer look at what exactly happened during the Ariana Grande concert attack and present a timeline of the events as they unfolded.
Grande was holding a concert at the Manchester Arena in Manchester, U.K. on Monday evening. The concert was wrapping up at around 10:35 p.m. local time and arena lights had reportedly just been turned on when concert goers, who were starting to exit the venue, reported hearing a large "bang." Following the explosion, hundreds of people, including many children, some of whom were injured, were seen screaming and fleeing from the concert venue.
It was later discovered that an explosion had taken place in the public foyer outside the concert venue. This area constitutes the space between the arena and the Manchester Victoria rail station, where many parents wait for their children after concerts and where many goers exit to board trains home.
Police and ambulances rapidly arrived on the scene, with the Greater Manchester Police indicating that they first received calls to report the explosion shortly after 10:35 p.m. local time. Witnesses outside of Manchester Arena reported chaotic scenes. Many individuals appeared severely injured. Families and friends who had become separated in the rush to leave the arena were frantically searching for each other. Police quickly cordoned off a large area around the arena and Manchester Victoria station.
Several hours after initial blast reports, Greater Manchester Police confirmed via a statement that 22 people died in the explosion and that at least 59 were injured. The police also indicated that the blast was being treated as a terrorist incident by a suicide bomber, unless they could confirm otherwise.
Early Tuesday morning, police warned that they would be carrying out a "controlled explosion" of an item that was suspected to be another explosive device. Following the controlled explosion, police confirmed that the item was not suspicious and that it was merely abandoned clothing.
In the early morning hours, various entities came together to offer as much support as possible to those in Manchester. Several local hotels as well as many area residents opened their doors to concert goers, offering a place to stay and/or gather while they awaited more information. People also began using the Twitter hashtag #RoomForManchester to locate places to stay in the city. Furthermore, many taxi services offered free rides to those seeking to return home, as nearly all public transport out of Manchester was shut down.
Sadly, the status of many concert goers remained unknown throughout the morning. Family and friends began using the hashtag #MissingInManchester to try to locate their loved ones. While some individuals previously reported as missing have now been found, the status of many others still remains unknown.
Ariana Grande, who was unharmed in the attack, updated her Twitter account at around 4 a.m. local time, saying, "Broken. From the bottom of my heart, I am so so sorry. I don't have words." Many other celebrities and members of the public also took to social media to offer their condolences and words of support.
In a new update at around 8 a.m. local time, Greater Manchester Police reported that the blast was caused by a man who detonated an "improvised explosive device" at the scene. Police indicated that the man died during the blast and that they believe he acted alone.
On Tuesday morning, President Donald Trump responded to the Manchester attack, expressing his condolences to the victims and calling the attacker an "evil loser."
Later in the early afternoon, ISIS claimed responsibility for the bombing in a statement, according the the Associated Press. The group called the attacker an ISIS "soldier of the caliphate" who placed "explosives among a gathering of crusaders."
At the present time, many concert goers are continuing to receive treatment at area hospitals. Many family members and friends also continue to wait for news from their loved ones who were in attendance at the concert, as dozens of people are reportedly still missing. If you wish to help those in Manchester and those who are still searching for their ones, consider using the hashtags described above to share information about available resources and to publicize the names and faces of those who still remain missing.