Caelynn & Blake Reportedly Had A Relationship Before 'BiP' & It Did NOT End Well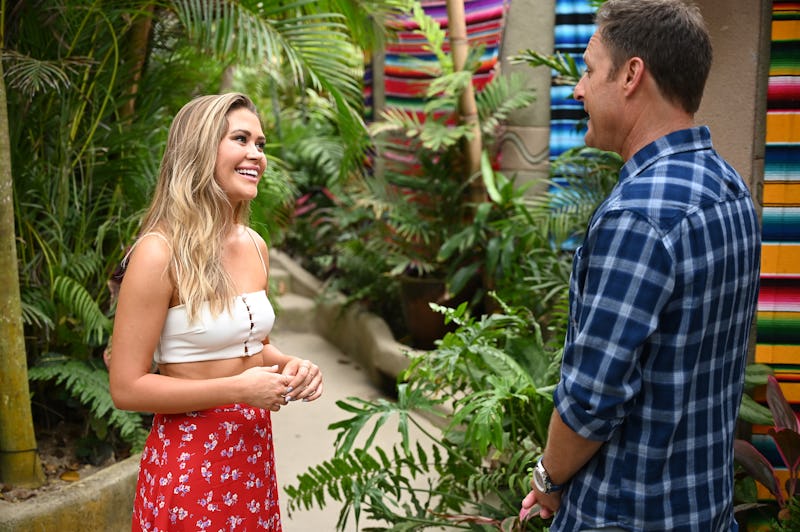 John Fleenor/ABC
Now that Bachelor in Paradise is finally back, so is the drama, and apparently, it began long before the show did. On the August 5 premiere, Caelynn revealed that she and Blake have a past... and it doesn't sound good. So what happened between Blake and Caelynn before BIP? Now that she's cleared things up, it sounds like a lot of things have gone down since she was on Colton Underwood's season of The Bachelor.
Chris Harrison, intuitive host that he is, knew that when Caelynn was a little shady as she answered his question about seeing anyone since The Bachelor that it meant there was more to the story — and there definitely was. At the time, she simply said that Blake isn't her favorite person, but it didn't take long before she expanded on why.
"Blake and I talked for a few months and it was really great, but he played me and that sucked," she said. "It wasn't fun. I really did struggle and he hurt me, so if he is here, I really just wanna clear it up and I'm hopeful that Blake will man up."
However, it doesn't look like that will be happening — at least, not yet. The second Blake saw Caelynn arrive, he made a run for it... with plenty of bleeped out cussing involved. Uh oh.
Later, when the men and women split off to get settled, many of the women (including Hannah G.) started talking about how into Blake they were, and many of them even declared him a front runner. Hearing that, Caelynn said she realized that no one understood who he really was, and in her ITM interview, she went in on him.
Caelynn said:
"We were seeing each other. I was pretty sure it was exclusive. He's done some really horrible things to me. So now I'm not interested in him; he's made it clear he's not interested in me. I'm a mistake. He's never apologized, and that's hurtful."
She went on to say that she was "fully, fully played," and after he got a date card, she seemed to feel even worse about things. Blake chose to take Tayshia on his date, and Caelynn was so frustrated that she spilled everything to trusty paradise bartender Wells. She said that they'd considered skipping out on paradise so they could be in a real relationship, and then he ghosted her... and things got so much worse from there.
"We saw each other at a music festival. He ended up sweet talking me. We spent the night together and we wake up and I'm in his bed and he's DMing Hannah G," Caelynn said. "I'm still in his bed and he's talking about how hot Tayshia is."
Then, Caelynn said that he told her that he had hooked up with Kristina the night before he slept with her... and two weeks ago, he called her and asked her to lie in paradise about their history together. Apparently, he wanted to protect his image, but Caelynn wasn't worried about his image... and it makes sense, considering how hurt she seems to be about the whole thing.
It's definitely going to be interesting to see how all of this plays out — and it seems pretty likely that Blake will not be pleased when he finds out that word is out about what happened between him and Caelynn.