Amanda Just Got So Real About Those Robby Cheating Allegations After 'Bachelor In Paradise'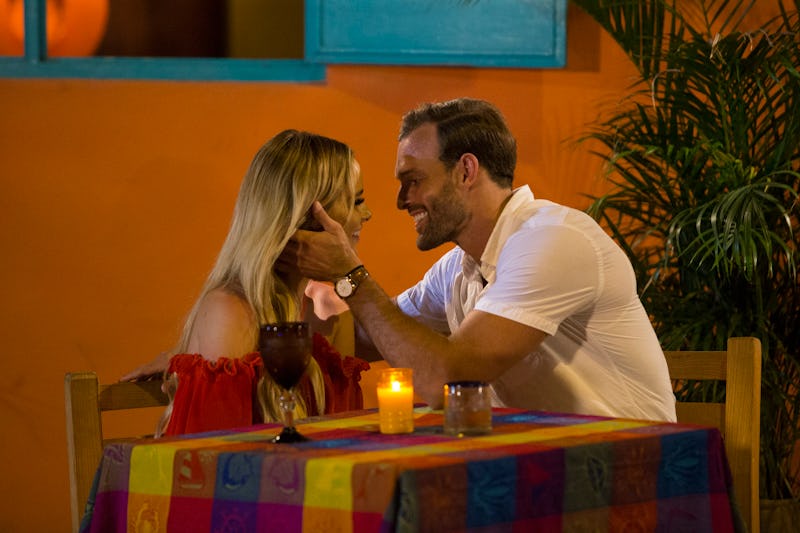 Paul Hebert/ABC
It may have taken Robby Hayes a little while to woo Amanda Stanton — at least by reality TV standards — but at last check, it seemed the pair were on the fast track to a Bachelor ever after. A preview for Monday night's finale, however, quite literally teases trouble in Paradise, with twins Haley and Emily Ferguson alleging that Robby wasn't faithful to Amanda once they left Mexico and tried to make it work IRL. So, what happened with Robby in Colorado after Bachelor in Paradise? (Bustle reached out to Robby, Amanda, and the twins for further comment but has not yet received responses. Robby denied the twins' allegations in a promo for the finale.)
In a recent interview with Entertainment Tonight, Amanda said that Robby denied the cheating accusations to her directly, though he gave the outlet no comment. "[There will be a comment] soon," he said. "[There's] a lot I'd like to say." Amanda, for her part, was forthcoming about the situation from her point of view, alleging that Robby was out one night in Denver, Colorado and was supposed to fly home, but he allegedly missed his flight and his phone died. Later, a girl contacted her saying she'd allegedly seen Robby at a Zac Brown Band concert, where she claims he was allegedly making out with another woman. As Amanda claimed to Entertainment Tonight:
"[She] sent me photos of him looking like they were making out all over each other. He says that they were not. I wasn't there. So, I don't know. I can't tell you. At this point, it doesn't really matter [whether he cheated or not], but the photos look like their mouths were touching."
Elsewhere, an eagle-eyed fan snapped a screenshot of Amanda allegedly favoriting a comment on Robby's Instagram in which one user joked that Amanda wasn't with him in the picture because Robby allegedly was otherwise engaged. Both the alleged photo and comment in question appear to have since been deleted.
Whatever the case may be, Amanda is right: At this point, it doesn't really matter. The two have already officially parted ways, and what's past is past. While speaking with People earlier this month, Amanda insisted they'd had a real relationship and she'd given it a fair shot, but that she and Robby ultimately had different ideas about what that meant. As she told the outlet:
"Robby was somebody who was doing all these sweet things for me and saying that he wants a family and a future, and then we get off the show and all he wanted to do is party and not call me ... We tried it out, and I think we just have different ideas of what a relationship is like. Like, certain things that just come naturally in a relationship, like checking in with that person, answering when I call. There were photos of him with another girl. It became too much for me."
Still, Amanda harbors no bad blood. "I mean, I have no problem with him, you know?" she explained to Entertainment Tonight in the same interview. "Like, we tried to date outside of the show and whatever, but I'm friendly with him [now]. He's cool."
As for what did or didn't happen in Colorado, it's possible we'll never know. It sounds like Robby will be sharing his side of the story very soon, whether it be via an interview or during the Bachelor In Paradise finale. In the meantime, though, viewers should try to remember that despite Amanda's openness, it is a personal matter. If she's made her peace with whatever did or did not occur and moved on, so should we.