This Heartbreaking 'Dynasties' Update On Blacktip & Tammy Will Make You Sob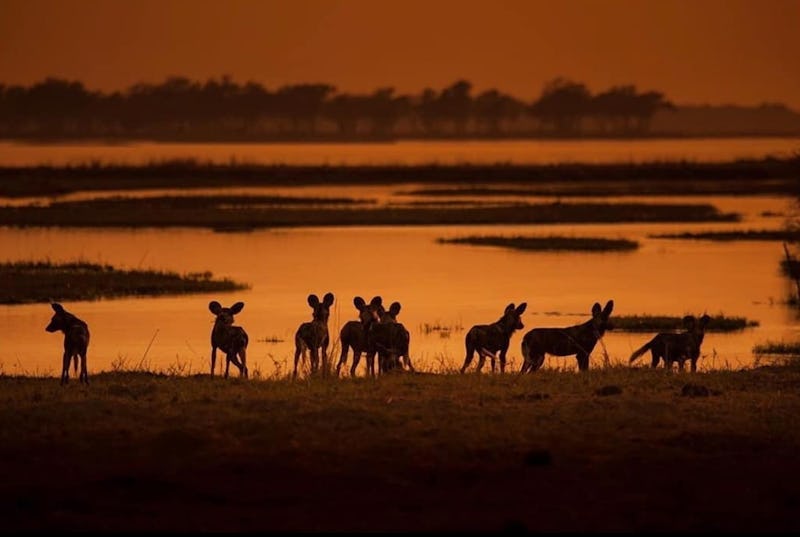 @blue.planet.2 Instagram
If you're a fan of all things David Attenborough, from Blue Planet to his recent speech at the 2018 United Nations Climate Change Conference, you'll probably have been watching BBC wildlife series Dynasties. The show, which sees Attenborough's soothing voice in action, follows a species of animal each week. So far the show has documented the lives of penguins, chimpanzees, and lions, and last Sunday it was the turn of the painted wolf. Cameras followed Tait, the leader of one pack, and her daughter Blacktip, who ruled an opposing pack. So what happened to Blacktip from Dynasties after the cameras stopped rolling? Did she follow the same fate as her mother?
Sunday night's episode followed the painted Wolf in their native Zimbabwe, on the river banks of Zambezi river. The crew had followed the two opposing packs led by two matriarchs for an impressive two years. They managed to capture amazing footage of both matriarchs (Tait and Blacktip) fighting off dangers posed by other species, including lions, honey badgers, and hyenas.
One of the most heart-wrenching scenes came when one of Blacktip's five new (absolutely adorable) tiny pups didn't manage to make it out alive after a trip to the water edge. In a scene which made director Nick Lyon physically ill, a crocodile pounces on the tiny animal and takes him down beneath the water's surface, never to be seen again.
Speaking about the scene's effect on him, Lyon explained:
"When you follow animals for as long as we did, you get to know them and care what happens to them. It becomes an emotional experience when you see one of the characters having a bad time, or having real success. I loved the puppies. I remember when they were out of the den for the first time at just three weeks old. They were so tiny, with oversized heads, that would overbalance on their front legs."
SOB.
But what happened in the end? After a long period of sparring between the two packs, OG matriarch Tait sadly died. Her dynasty was, however, secured, with 280 direct descendants of Tait among the 6,600 painted wolves still alive in the wild today, the Express reports. Tait's heiress Tammy appeared to be the new dominant wolf set to lead the wolves, yet little was revealed about where Blacktip stood in the pecking order.
However, yesterday the BBC posted a short clip which updated viewers on the situation. It sounds as though while Tammy has struggled as the alpha female (failing to successfully raise any of her pups to adulthood), Blacktip has continued to thrive.
"Since filming ended, Blacktip has successfully reared most of her large litter and many of her offspring have set up new packs," the short clip reveals. "At least two of her daughters are now alpha females of their packs in the Mana Pools."
Surprisingly, it sounds as though she still has more to give, too:
"Blacktip is probably coming to the end of her reign as the matriarch, but in September 2018 she was seen with a new litter."
Long live Blacktip.