A Pre-'Punisher' Refresher On Why Frank Castle Is On A Mission To Kill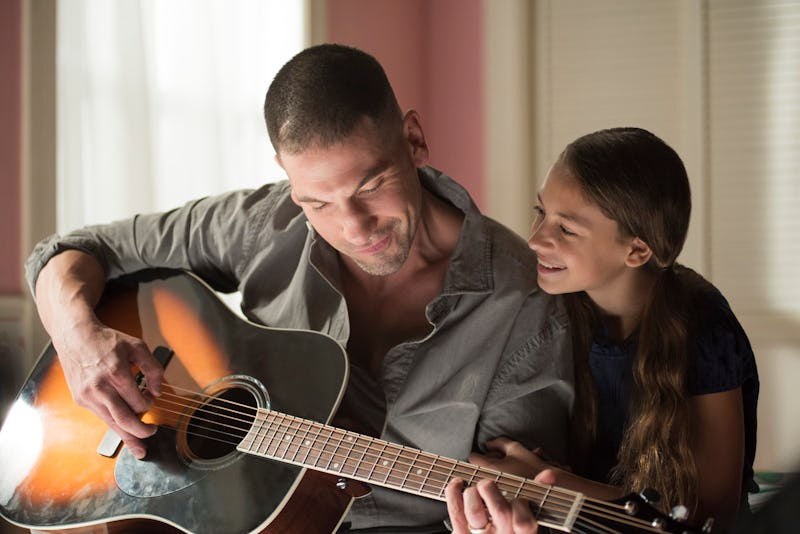 Nicole Rivelli /Netflix
Superheroes are vigilantes who have a strong sense of right and wrong, but some of the villains these superheroes face are also vigilantes — just with less morality and a whole lot more rage. The Punisher is closer to the latter, due to a personal tragedy. What happened to Frank Castle's family shapes who the antihero is, but you may need a refresher before Marvel's The Punisher premieres on Nov. 17. Because even though he is somewhat of a bad guy within the Marvel universe, the Punisher has a backstory that will tug at your heartstrings.
Netflix has created shows around the superheroes of Daredevil, Jessica Jones, Luke Cage, and Iron Fist — and combined their forces in The Defenders — The Punisher is the streaming service's first foray into making an antihero the main character in a series. However, before Jon Bernthal portrayed him in Netflix's Daredevil and the upcoming The Punisher, Frank Castle had gotten a lot of screen time over the years as a leading man in three different movies — 1989's The Punisher with Dolph Lundgren, 2004's The Punisher with Thomas Jane, and 2008's Punisher: War Zone with Ray Stevenson. That's because there's something about Frank Castle that makes him a killer worth rooting for — and a lot of that has to do with what occurred to his family.
As the trailer for The Punisher shows, Frank is still haunted by the deaths of his beloved wife and two children. He has nightmares of wife Maria being shot in their bedroom, but the actual site of his family's deaths is the carousel that's also shown in the trailer. Frank revealed to Karen Page in Daredevil Season 2 that his family was spending the day at Central Park near the carousel when Maria and their two kids, Frank Jr. and Lisa, were accidentally shot in the crossfire of major New York City rival gangs — the Kitchen Irish, the Mexican cartel, and the Dogs of Hell.
However, the story goes deeper than that, as Karen discovers later in Daredevil Season 2. District Attorney Samantha Reyes and assistant DA Blake Tower eventually confess to Karen, Matt, and Foggy in "The Man In The Box" Daredevil episode that their office was actually partially responsible for Frank's family's death. The DA's office organized a sting operation to take down the new drug lord the Blacksmith, who was organizing a meet between the three gangs in Central Park. Reyes thought that clearing the park of civilians would give the sting operation away, so she allowed the gangs to meet with innocent people present. When Blacksmith didn't show up, the three gangs started shooting at one another before the police involved in the sting operation could intervene, which led to Frank's family being killed. Reyes then even tried Frank for his crimes against the gangs without ever admitting that she had played a hand in his family's death, which explains why Castle despised Reyes so much.
If that wasn't sordid enough, Frank also a history with the man that was the entire cause of the Massacre at Central Park in the first place. Turns out, Colonel Ray Schoonover was the Blacksmith, and he was Frank's commanding officer when Frank served as a Marine in Iraq and Afghanistan. Schoonover didn't directly kill Frank's family, but it was still a huge betrayal and Frank got his justice when he killed Schoonover after the Colonel had captured Karen.
Although Daredevil Season 2 covered Frank's family history pretty extensively, it's still a huge part of his identity and what drives him to kill. Yes, the Punisher is ridiculously menacing, but it's his past — combined with the fact that he has his own moral code that allows him only to be ruthless against those that he feels deserve it — that makes him an empathetic character. When The Punisher premieres on Nov. 17, his humanity will be even more on display since viewers will get to see him interact in flashbacks with the family he loved so much.
And while none of his actions will ever bring Maria, Frank Jr., and Lisa back, their deaths are what motivates him to continue to punish the real bad guys of New York City and beyond.