Maggie & Michonne's Conflict On 'The Walking Dead' Is Haunting Fans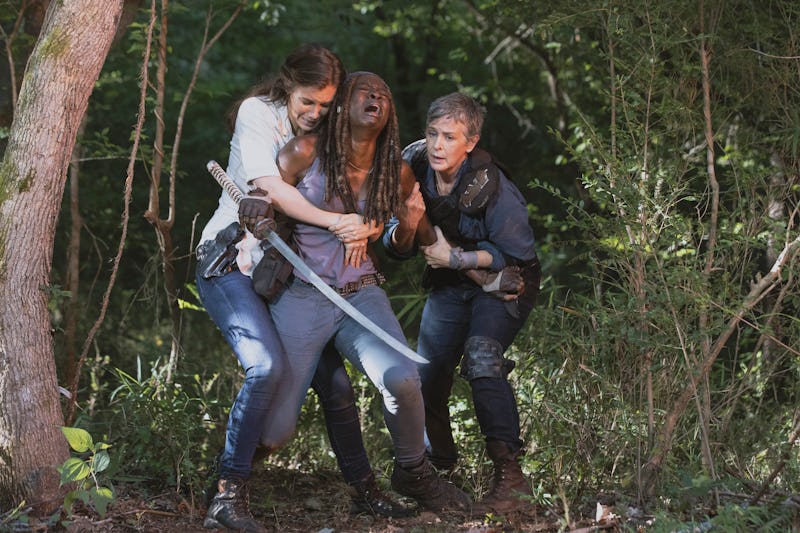 Jackson Lee Davis/AMC
The Whisperer war may be on the horizon, but this isn't the communities' first conflict since Rick's exit. The Walking Dead has yet to answer the questions about Michonne and Daryl's "X" scars and why there was so much emotional distance between the core characters. Tara and Michonne have gotten past whatever conflict divided them but viewers are still wondering what happened between Michonne and Maggie during the time jump. There aren't any concrete answers yet, but showrunner Angela Kang has confirmed that Season 9 will have flashbacks with all of the details, per Undead Walking.
Maggie has been MIA since the time skip, but it was heavily implied that she hadn't spoken to Michonne in a long time. Michonne flat out refused to go to the Hilltop because she didn't know how Maggie would react to her presence. And, she was surprised that Maggie had left the Hilltop some time prior without anyone letting her know. Tara and Dianne were exceptionally cold and suspicious of Michonne to the point that they made her leave her katana outside of their walls.
The last few episodes have referred to some sort of disagreement between the pair, which makes sense considering their history for the past couple of seasons. Maggie was extremely angry about Rick and Michonne's unilateral decision to keep Negan alive, which led to the pair confronting each other when Maggie went in to kill Negan.
And, Michonne was interested in helping other communities and people while Maggie's primary concern was for the Hilltop's safety. Basically, they were in disagreement for a while but they did find common ground right before Rick's death. So, how did Maggie and Michonne end up worse off than before?
It's likely that some outside threat popped up during the time jump and they had opposing views on how to handle the situation. Perhaps Michonne wanted to take a less violent route where Maggie was ready to kill every suspect person. This scenario could also be flipped where Michonne made a tough choice to murder some people against Maggie's wishes.
Or, maybe Michonne accidentally allowed a threat into their lives and Maggie blames her for whatever happened during that time. This is a strong theory, especially considering how Michonne is now dedicated to putting Alexandria first and denying refuge for outsiders. No one knows if Maggie has any X scars or any other physical representations of a hard-fought battle, but it may be a while before fans get answers.
There's no word on if Maggie will appear in any Season 9 flashbacks but Deadline reports there is a chance of her returning to the show in Season 10 and/or having a Maggie spin-off series. If Maggie doesn't return, then this means they may never get a chance to settle their differences onscreen because Danai Gurira is leaving The Walking Dead TV series in Season 10. Maggie and Michonne have been together since Season 3, so it would be sad if their story was left on a sour note. The pair had a solid relationship in the comics, so this is a completely different trajectory for this duo.
Hopefully, they will have at least one more episode together or Maggie will somehow make her way into the Rick Grimes movies to make up with an old friend.