'Our Girl' Could Have Serious Plans For Lacey Turner's Molly & OMG, We Can't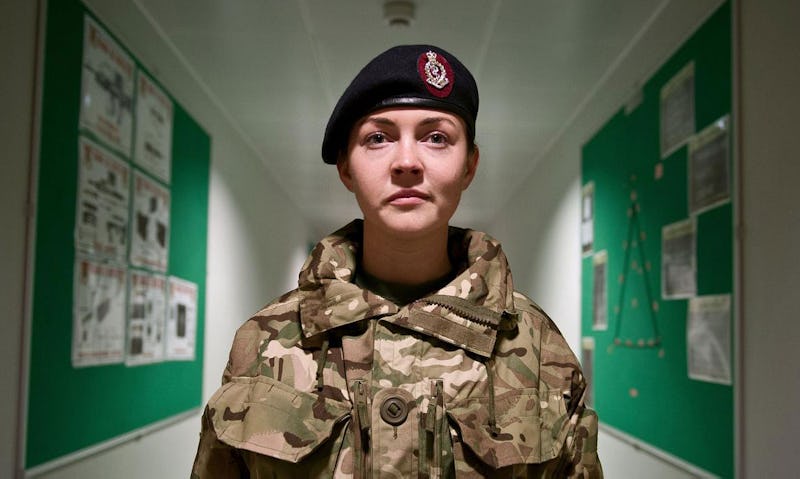 Our Girl/BBC
If you're a recent convert to hit BBC army drama Our Girl, then you may not be familiar with its original main character. But recent episodes of the show have brought her back into the spotlight. So if you're wondering what happened to Molly in Our Girl, I've got you covered. Way before we were tracking the twists and turns of Georgie Lane and Elvis Harte's relationship, it was Molly Dawes (played by EastEnders' Lacey Turner) who was at the centre of the story.
Way back in 2013, the show started as a one-off with Turner in the starring role, viewers watched her defy her family's wishes and sign up for the army, after deciding her life in a small town didn't have much direction. Things didn't get any easier as she headed off to training camp, with her fellow soldiers and commanding officer making it clear they're not convinced of her abilities. But eventually she proved herself, and started earning their respect.
After the pilot was a hit with viewers the show was extended for a full series and followed Molly's first deployment to Afghanistan as part of 2-Section. Being Our Girl, her first tour wasn't without a bit of romantic intrigue, as her ex, Smurf, resurfaced. But before long it was Captain James who was catching Molly's eye despite an initial frostiness between the pair. As the season progressed, so too did the tension between James and Molly.
Turner was then written out of the series due to her decision to return to EastEnders where she's been starring as Stacey Slater ever since. At the time the actress, said in a statement: "I had an amazing time making Our Girl and taking Molly on her journey. Unfortunately I won't be able to take her through this series as I'm currently busy working on EastEnders, but I know that Tony [Grounds] will write a fantastic series full of action and drama with great characters."
In stepped Michelle Keegan to take up the main character mantle, but that wasn't the end of Molly's story, as she wasn't totally written out of the series and has been alluded to via Captain James, who stayed on as a central character. In fact, it was revealed after Molly's departure that she and Captain James got married off-screen. However, this season, he has confessed to Georgie that he now has feelings for her, which suggests his marriage could be over.
This means the show has kept the possibility of her return alive. And with recent events leading a growing attraction between him and Georgie, could Molly be about to come back on the scene for a dramatic confrontation with 2-Section's medic?
Well, if she does, it won't be for a few episodes, as Captain James has just been sent home injured, due to that nasty leg injury he picked up thanks to his and Georgie's escapades in Belize. Fans of the show can rest assured however, given his doubts over his future in the army and with Molly, that he's going to be doing some serious soul searching while there.
Back in Bangladesh, Georgie's recent misdemeanour means she needs to keep out of trouble, but knowing the show that's unlikely and should she get on the wrong side of 2-Section's strict new leader, Bones, she could find herself being transferred back to the UK. This, of course, would put her in the same country as Captain James again. Might a confrontation between him Molly and Georgie take place on home turf, or could Molly be the medic sent to Bangladesh to replace her? Despite Turner's ongoing role in EastEnders, some fans are speculating that her return to the show could be series four's shock twist.
The show's creator Tony Grounds has previously said he'd be happy to see Turner return, telling Radio Times: "If she ever wanted to do it she's only got to ring me up."
So could an end of series comeback be on the cards? The answer is, yes, possibly. But you'll just have to tune in to find out.
Our Girl continues Wednesday July 4 at 9 p.m. on BBC One.