If You Think 'Our Girl' Star Ben Aldridge Looks Familiar, This Is The Reason Why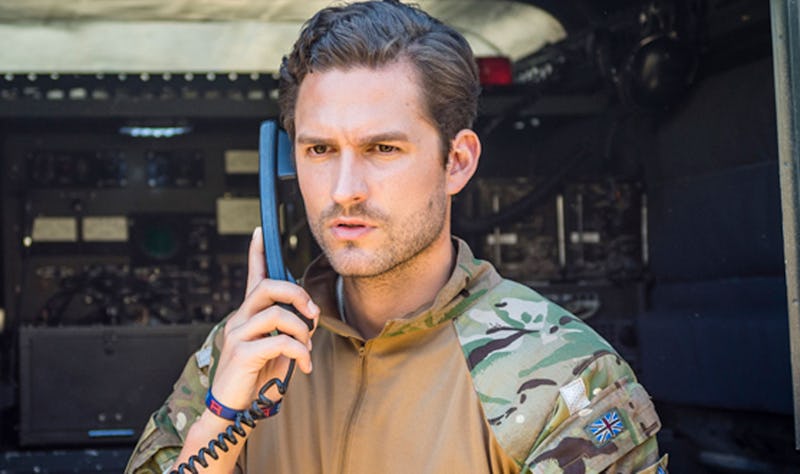 BBC
BBC's Our Girl is one of the most talked about shows on British telly (after Love Island of course), and that isn't just down to its action-packed scenes and gripping story lines. While fans love Michelle Keegan, the popular army drama has a strong cast which have made quite an impression on viewers, especially Ben Aldridge who plays Captain Charles James. But who is Ben Aldridge? The rising star may not be as much of a familiar face as Keegan or ex co-star Luke Pasqualino, but his career thus far is impressive to say the least.
Born in Devon, the 32-year-old actor kicked off his career by training at the National Youth Theatre of Great Britain from 2002 to 2006 before studying at the London Academy of Music and Dramatic Art. Luckily, he didn't have to wait long before his TV debut as he bagged himself a part in Channel 4's 2008 mini drama The Devil's Whore, in which he played Harry Fanshawe. Naturally, this opened up a few more doors for the aspiring actor. Making the most of the opportunities that came his way, Aldridge went on to be cast in a series of TV movies including ITV's Compulsion in 2009. He also appeared in a stage production of Romeo and Juliet as Benvolio at Shakespeare's Globe, according to BT.
However, Aldridge's so-called "big break" didn't happen until 2010 when he was cast in popular BBC period drama, Lark Rise to Candleford, in which he played journalist Daniel Parish. Speaking about his experience on the show at the time, the actor told WhatsOnTV: "It was lovely, they're such a nice bunch of people and everyone gets on very well. They were very caring towards me and took me under their wing. You get a real sense of community."
Soon after, the Our Girl star was rubbing chins with the likes of Colin Firth and Nicole Kidman when he starred alongside them in Jonathan Teplitzky's 2013 feature film, The Railway Man (although he only had a small part as a bailiff — but still, working with those names is pretty major). Work didn't slow down for Aldridge afterwards as that same year, he appeared on stage with Doctor Who and The Crown star Matt Smith in a musical adaptation of American Psycho.
Aldridge has since been seen in hit American mini series Reign, where he was given the role of King Antoine de Bourbon. And if you love a good feminist TV series, you'll definitely remember him from hit BBC comedy Fleabag where he starred alongside Phoebe Waller-Bridge, playing the infamous Arsehole Guy back in 2016. "We had two weeks off from Our Girl and I managed to squeeze that in, and I love Phoebe, who writes it — she's an absolute genius, and a friend of mine," he told Digital Spy shortly after his cameo.
When his career as an actor isn't keeping him busy, Ben is an ambassador for non-profit organisation, Send A Cow — yes, really. Speaking to Lorraine Kelly on her ITV chat show, Ben explained his involvement, saying: "I'm working as an ambassador for them to become self-sufficient and self-sustaining, so it's sustainable agriculture."
"They put food on their own tables and then eventually they become an enterprise, and they can sell their crops and earn money that way. And it's just completely transforming people's futures," he added. "It's not aid and it's not handouts. It's empowering them to make their own change."
A successful actor with a passion for helping others? No wonder he has an entire "Aldridge Army" Tumblr fan page dedicated to his every move. Where can I sign up?