Omarosa Never Won 'The Apprentice,' So, Like, Will 'Celebrity Big Brother' Be Any Different?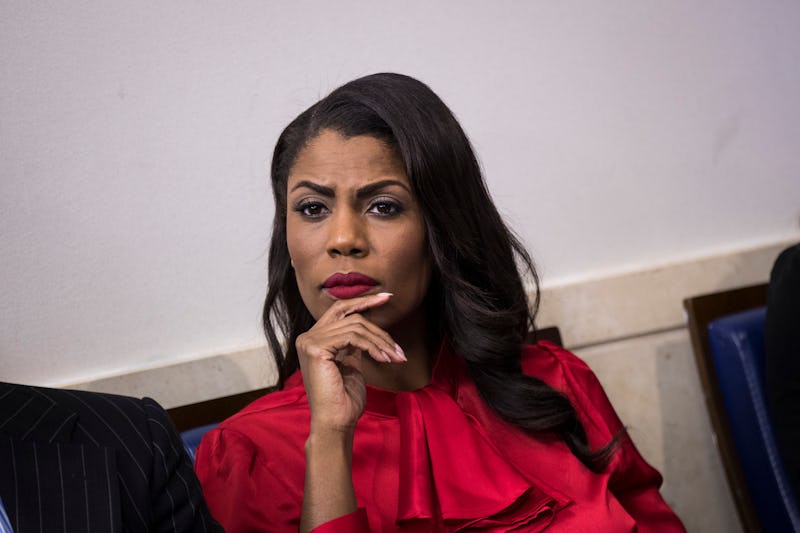 Drew Angerer/Getty Images News/Getty Images
How does one go from reality TV icon to White House aide? Since appearing on the debut season of The Apprentice, Omarosa Manigault-Newman has gone on to remain a cultural figure in an era where reality tv stars are often a dime a dozen. She is bringing over a decade of reality television experience with her when appears on the first-ever American season of Celebrity Big Brother, but will it live up to her time on the reality franchise that first made her famous? By looking back on what happened to Omarosa during The Apprentice, fans can get an idea of what to expect from her time in the Celebrity Big Brother house.
Omarosa was introduced to the world on Season 1 of The Apprentice in 2004 alongside 15 other business-minded individuals, all of whom were competing to be hired by Donald Trump. Omarosa wasn't hired by Donald Trump after her Season 1 appearance on The Apprentice, nor was she hired during her return on the first season of The Celebrity Apprentice or her appearance on All-Star Celebrity Apprentice. While she may not have been hired by Trump on television, she was hired by him to work at The White House, if only for a brief period of time. So why wasn't she hired during any of her season of The Apprentice? Omarosa was never really a team player when it came to the TV show.
Omorosa quickly earned a reputation on Protegé Corporation — the all-woman team that competed in the first season of The Apprentice — for being difficult to work with. Teammate Ereka Vetrini said in a Season 1 confessional that "Omarosa has a huge issue with power and us not accepting her ideas. With Omarosa, it's either her way or it's no way." The tension between the two escalated with Ereka claiming that Omarosa was "the pot calling the kettle black," and Omarosa claiming that Ereka was using racist terminology by using that phrase.
The "pot calling the kettle black" argument was one of Omarosa's first major Apprentice battles, but it would prove to be far from her last. Omarosa continued to criticize her fellow teammates throughout the season, and was eventually fired by Trump in Week 9 of the show. However, Omarosa's time on the show wasn't over, as she was brought back to assist competitor Kwame Jackson as he competed in the show's season finale. Omarosa was tasked with helping manage a Jessica Simpson concert — during the process of which she almost lost Jessica Simpson, sending her team searching for the pop star.
While Omarosa's appearance on The Apprentice is what first brought her fame, her continued appearances on The Celebrity Apprentice solidified her reputation as one of reality television's biggest villains. Her frequent arguments on The Celebrity Apprentice eventually resulted in Omarosa dumping a glass of wine onto fellow competitor Piers Morgan's head. The feud between the two continued on All-Star Celebrity Apprentice, on which Morgan was a guest judge.
Omarosa was known for being combative on The Apprentice franchise, but that doesn't necessarily mean she'll be doing the same thing on Celebrity Big Brother. Big Brother is a much different environment than The Apprentice, and Omarosa may have to switch up her game to survive. While Omarosa's commanding presence may have been more necessary in the heated business environment of The Apprentice, Celebrity Big Brother is all about getting other people to like you before stabbing them in the back. Omarosa may have never won a season of the show that made her famous, but reality TV glory could be hers yet as the first winner of American Celebrity Big Brother — she just has to find out how to play a social game.