This Update On 'Dynasties' Tigress Raj Bhera Will Have You Reaching For The Tissues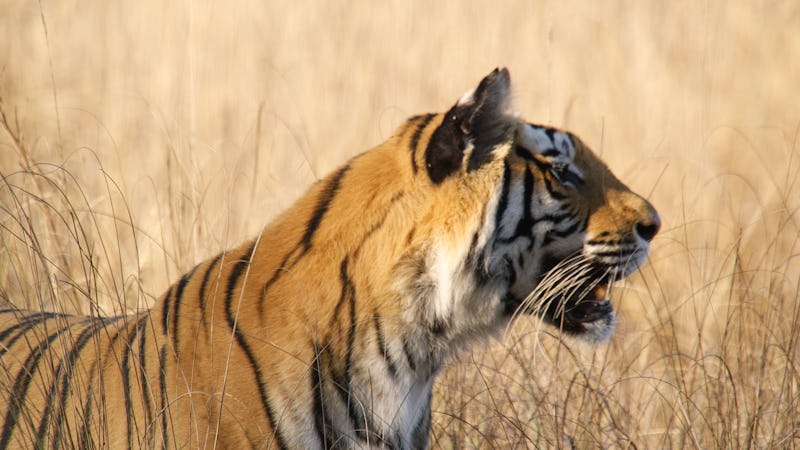 BBC NHU
Forget Bodyguard and Killing Eve, Sir David Attenborough's Dynasties is the television series of 2018. While it's been refreshing to see that we're not so different from our wild counterparts, it's absolutely heart-breaking to see the problems humans have caused the five endangered species covered in this docuseries. And I don't think there could have been a more poignant animal to end the series with than with a fierce tigress fighting to keep her territory, well, hers. But what happened to Raj Bhera from Dynasties? Did she manage to keep hold of her home?
Grab your tissues, because the feels are well and truly coming. Thanks to a short update clip posted by BBC, it looks like the producers' worst fears for the tigress became a reality this past summer. "After filming in Bandhavgarh Tiger Reserve ended in January 2017, Raj Bhera continued to hold her territory against Solo's incursions," the clip states. But, the video goes on to reveal that when an unknown rival entered Bhera's territory she was unable to fend it off and was killed during the attack.
Thankfully though, it seems Bhera's defiant adult daughter is still alive, and "was sighted with a litter of small cubs in the summer of 2017." But it's not all good news, as the cubs were never seen again after a heavy monsoon season. OMG, my heart.
Even though I'm struggling to handle all these feels, it's easy just to get lost in the innate power and beauty of these animals through the powerful camerawork that the team behind Dynasties provide, and they agree.
"Tigers have a real presence and a sense of power that I don't think any other big cat has, and we were in their world, their territory," director Theo Webb said in a press release sent to Bustle UK. "They are wonderful and majestic but when a wild tiger looks at you with the cold gaze — yes, they are intimidating."
Intimidating as they may be, it's hard not to be absolutely mesmerised by these creatures. And the beauty of Dynasties is that the incredible stories of these animals are given the attention they deserve. "We are able to show the challenges that face all tigers throughout the world but through the eyes of one particular tigress as she struggles to bring up her cubs safely," producer Miles Barton added. "Bandhavgarh is a well-protected tiger reserve with plenty of breeding tigers. But it is surrounded by villages and people. The more tigers there are, the more conflict there is between them."
And this is an issue that David Attenborough encouraged viewers to put right in a moving scene to end the series. "All animals we have seen in this series need space in which to live," the presenter explained. "And loss of space is a great threat to their survival as it is to all other species."
"We ourselves, one single species, have taken over vast tracks of inhabitable surface of the planet. Surely we should allow those other creatures we share the planet with to retain some part of their ancient heritage."
Preach it, Attenborough.