Sister Russell Fell Off The Grid Before 'The Keepers' Was Made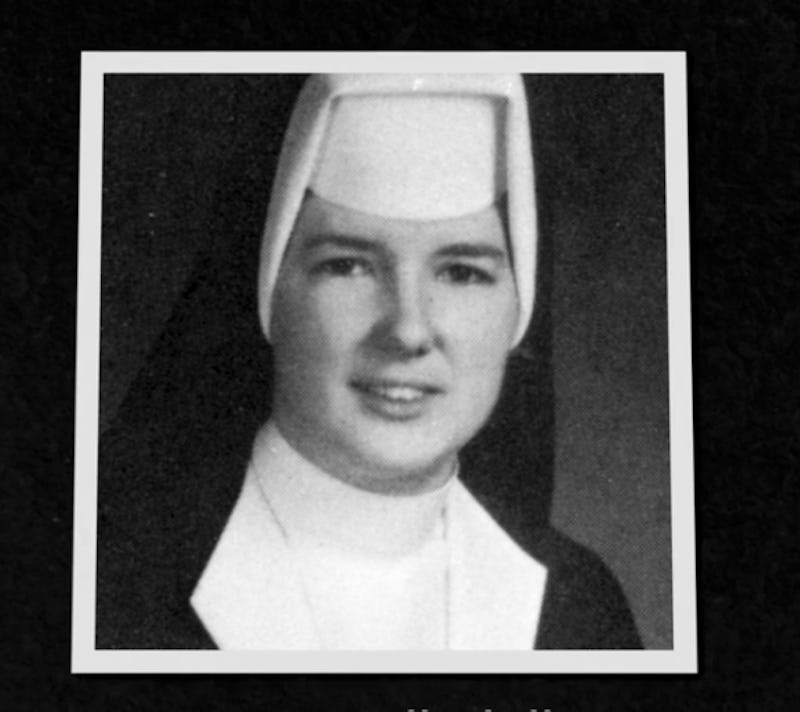 Netflix
Now that Netflix's new documentary series The Keepers has been released, everyone will know the name of Sister Catherine Cesnik, a young nun whose unsolved murder in 1969 its theorized may have been connected to allegations of sexual abuse at the Baltimore high school where she worked. But Sister Cathy wasn't the only nun in her story. The Keepers introduces audiences to Sister Russell, who was Cesnik's roommate at the time of her disappearance.
Like Cesnik, Helen Russell Phillips (known to her friends as Russell or "Russ") was a member of the School Sisters of Notre Dame, an order of nuns devoted to education. According to journalist Tom Nugent for the Baltimore City Paper, the two shared a two-bedroom at the Carriage House Apartments in the Westgate district of Baltimore. Both were also living through a period of "exclaustration," which is when an order member temporarily lives outside of their religious bounds to decide whether they wish to continue living that life. For Phillips and Cesnik, they were participating in an experiment to get real world experience to better connect with the young students they taught. This meant residing outside the convent, dressing in civilian clothing instead of habits, and teaching at a local public school instead of Archbishop Keough.
As reported in the docuseries, on the night that Cesnik went missing, it was Phillips who first realized that her roommate could be in trouble after she didn't come home before 11 p.m. Instead of calling the police, however, she called two Jesuit priests in their community, Peter MeKeon and Gerry Koob; the latter was claimed to have been romantically linked to Cathy. The three religious leaders eventually called the police at around 1 a.m., and discovered Cesnik's empty car later that night across from the apartment complex's parking lot.
After that, not much was heard from Phillips; she never resurfaced, even when the Archdiocese of Baltimore began facing lawsuits from former Keough students alleging they'd been sexually abused by a chaplain at the school, Father Joseph Maskell. One anonymous plaintiff in 1994 even alleged that Maskell had shown her Cesnik's body as a way to threaten her into silence — still, Phillips remained mysteriously absent from the conversation. (According to the Baltimore Sun, Maskell denied the accusations until his death in 2001. He was never charged in connection with Cesnik's death or for the abuse claims, though the Archdiocese of Baltimore's website states he was interviewed by police in the '90s in connection to the cases. In a statement to Bustle, the Archdiocese acknowledged the claims of abuse against Maskell.
Since the 1990s, when the Archdiocese of Baltimore first learned of an allegation of child sexual abuse against Maskell, and on numerous occasions since, the Archdiocese has publicly acknowledged and apologized for the horrific abuse committed by him. The Archdiocese reported the allegations to civil authorities in the 1990s and cooperated fully in any investigation, removed Father Maskell's faculties to function as a priest, apologized to victims and offered them counseling assistance, sought additional victims, and provided direct financial assistance to 16 individuals abused by Maskell.
Though it was unaware of the abuse at the time it occurred approximately 50 years ago, the Archdiocese deeply regrets the damage that was caused to those who were so badly harmed and has worked diligently since becoming aware of their abuse to bring some measure of healing to them. The Archdiocese is wholly committed to protecting children, holding abusers accountable — clergy and laity alike, and promoting healing for victims. These are hallmarks of the Archdiocese's child protection efforts, which we strive to constantly strengthen.
There is no room in the Archdiocese for anyone who would harm a child and every effort must be made to ensure what happened before never happens again. It is our hope that The Keepers advances this pursuit, just as we hope the series helps those who have kept alive the memory of Sr. Cathy and our collective hope that justice will be won for her.
According to her friend and former nun Patricia Gilner, who was interviewed for The Keepers, Phillips simply didn't want anything to do with the convent life after Cesnik died. Instead she left the convent, got married, and had two children, eventually settling down in Carroll County, Maryland. Those who knew her at the time said that she wouldn't allow any conversation about Cesnik's death, saying that was her life before, and that she now had a new life.
Unfortunately, Russell is no longer present to tell the story in her own words; the series reveals that she was diagnosed with cancer in 1997, and died just two days after Father Joseph Maskell did in 2001.