The Teddy Altman Refresher Every 'Grey's Anatomy' Fan Needs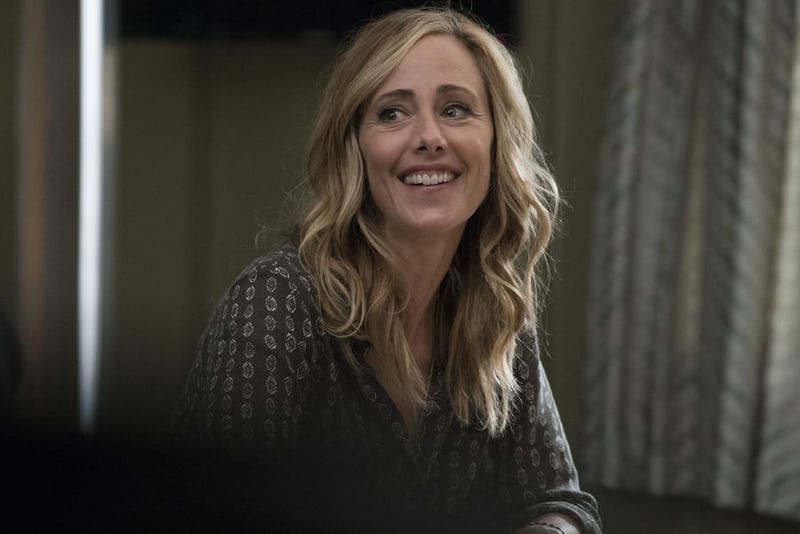 Richard Cartwright/ABC
Sometimes, it feels like Grey's Anatomy can be a revolving door of doctors. Just as soon as fans fall in love with one, he or she disappears forever... usually in a traumatic way. But now, Teddy Altman is back on Grey's Season 14, just in time for Owen to reunite with his sister, who was previously thought to be dead. And just in case you've forgotten about this military-trained cardio god, you might need a refresher on her history at Grey Sloan Memorial Hospital... which, by the way, ended before it was called that.
It's been a full five seasons since Teddy last appeared on Grey's, but when she was still on the show, her character was a major player — and the head of cardio. Teddy and Owen go way back to their days in the military, when they considered themselves best friends (although Teddy had always harbored secret feelings for him). So when Cristina needed a new surgeon to learn from, Teddy was Owen's top choice.
When Teddy arrived to take over as Head of Cardio in Season 6, it was a rocky start. Cristina was less than impressed with Teddy, but it didn't take long before they developed a rhythm together, and she actually ended up being the best teacher Cristina had ever had. But then, what happened?
Teddy Couldn't Keep Her Feelings For Owen In
In fact, their bond over surgery was so deep that it was barely scratched when Teddy couldn't hold in her feelings for Owen in any longer. Actually, once, Cristina offered to "give" Owen to Teddy if she'd promise to stay as her teacher. Um, you can't exactly give another human to someone else, but that just goes to show how talented Teddy is that Cristina would hand over her husband to keep learning from her.
She Fit In With The Rest Of The Hospital Pretty Well
Eventually, Teddy started hanging out with Callie and Arizona and even casually dated Mark Sloan for awhile (RIP). Of course, she caught him sleeping with someone else, so that was short lived. Not that it mattered, because when that happened, she was so close to meeting the love of her life: Henry Burton, played by the seriously gorgeous Shondaland hero Scott Foley.
Her Relationship With Henry
It was totally professional between them at first... if you consider "professional" to be a surgeon marrying one of her patients so he can have his insurance and get treatment for his chronic tumor disease. Slightly illegal, but at least she was saving his life, right? At first, it was just a little insurance fraud and nothing more, but soon they fell in legit love, becoming one of the show's most unquestionably adorable couples.
But this is Grey's Anatomy, so obviously, they didn't get a happy ending. Henry needed surgery, so Teddy sent Cristina in to take care of it, without letting her know that it was Henry on the table so she wouldn't freak out about operating on her mentor's husband. Unfortunately, he didn't make it, forcing Cristina to explain what went wrong in surgery over and over again.
When She Left Grey's Anatomy
At the end of Season 8 — around the same time the plane crash happened — Teddy was offered a job at MEDCOM (the U.S. Army Medical Command) as their head of cardio surgery. She didn't want to leave because Owen was a mess over his divorce from Cristina, so he fired her, allowing her to pursue her dream job.
But now, Teddy's back, and it will definitely be interesting to see how she's changed over the last several seasons she's been gone. Maybe if things don't work out with Amelia, she and Owen will finally have their chance?