'Grey's Anatomy' Is Obviously Returning For Season 14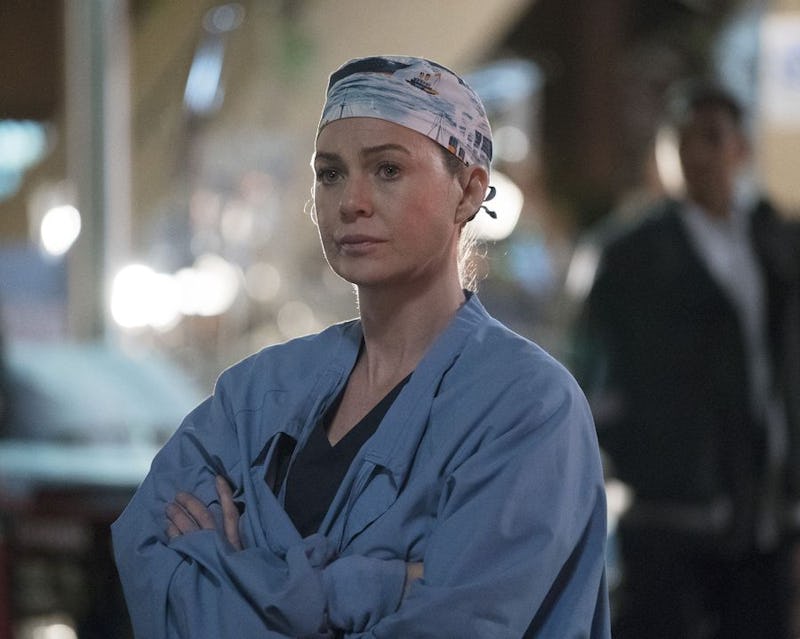 Richard Cartwright/ABC
I'm the kind of person who is always looking toward the future, especially when it comes to my television shows. Grey's Anatomy is ending Season 13 with — you guessed it — another disaster at Grey Sloan, but when is Season 14 of Grey's Anatomy? Luckily, there's no disaster about Grey's Anatomy being renewed. Forget the sun — you can basically set your watch by Shondaland.
UPDATE: ABC announced that Grey's Anatomy Season 14 will have a two-hour season premiere on Sept. 28.
EARLIER: Grey's Anatomy is set to air on ABC in its usual time slot — Thursday nights at 8:00 p.m. ET, or check your local listings — from now into perpetuity. OK, there's no such thing as actual perpetuity for a television show, but for Grey's Anatomy, Season 14 will start in the autumn of 2017 (usually late September or early October) and end sometime in May 2018. For Grey's Anatomy fans, there's no need to worry for now about whether or not your show will be canceled. According to Variety, Grey's Anatomy is still the top-rated drama on ABC, which is a feat considering that the show has been on longer than some Generation Y kids have been alive. It's hard to imagine a world without Grey's Anatomy, but I don't think we have to just yet. Instead, save that pity for people who loved Time After Time or Conviction. Poor Hayley Atwell.
The question on Grey's Anatomy isn't one of renewal but of what characters will be returning for Season 14. Shonda Rhimes said at last year's Vulture Festival that Grey's Anatomy will go on as long as Meredith Grey does, noting that she and Ellen Pompeo have a pact — "We go together," she said. Pompeo echoed the same sentiment in an interview with Variety, saying, "Shonda [Rhimes] and I have both said that when I'm ready to stop, we're going to stop the show. The story is about Meredith Grey's journey and when I'm done, the show will end. As far as how much longer I want to do the show, I'm mulling that over."
In the immortal words of Marcia Brady, sure, Jan. I can't believe that Pompeo would give up being Meredith just yet, mostly because Meredith is not in a place where she can end her story. She's only just beginning to get over Derek's death and date Nathan Riggs, her sisters are a mess, Webber always needs her, and unless she's going to run away for another year to have a baby, I picture her staying put.
In other casting speculation and news, Jerrika Hinton, who plays Stephanie Edwards, is officially dunzo on the show — it's been reported that she is not coming back for Season 14. According to the Hollywood Reporter, Chandra Wilson (Bailey), James Pickens Jr. (Webber), Justin Chambers (Karev), and Kevin McKidd (Owen) are only signed on through the end of Season 13, and any negotiations for Season 14 won't start until the summer after the finale (i.e., a few months from now).
Is anybody's story really over on Grey's Anatomy? Shonda knows how it will all end, and I guess we just have to trust her judgment for now. ABC will let her tell stories until she retires, so Grey's Anatomy is a lock for the foreseeable future.