The Country's Tallest Dam Is Eroding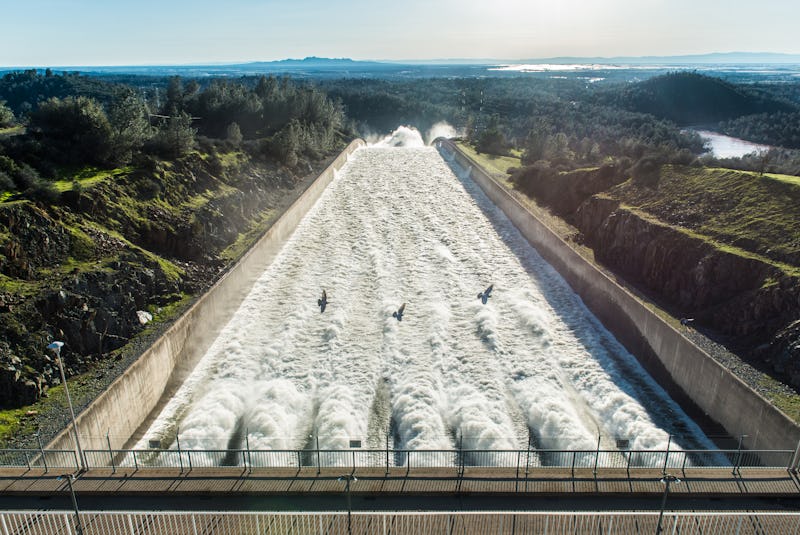 Handout/Getty Images News/Getty Images
Northern California has been hit with some heavy rainfall in the past week. And unfortunately for residents of the area, this rainfall, coupled with problems at the Oroville Dam, caused concern for the surrounding counties. On Sunday, more than 100,000 people living downstream of Lake Orville were told to evacuate because of worries of emergency spillage occurring. You may be wondering what happened to the Oroville Dam?
The dam itself was not damaged, but the dam's two spillways guarding overflow were eroding. The primary spillway was discovered to have had a large erosion last week. As the water in Lake Oroville rose due to the recent rainfall, the Dam began reaching an overflow point. Normally, the overflow would drain into the primary spillway to safely disperse it, but with the erosion, the overflow was directed to the emergency spillway. It was the first time the emergency spillway had been utilized.
However, as the water was rushing into the emergency spillway, authorities found out that it, too, was eroding. According to CNN, California Fire incident commander Kyle Lawson said that the damage could have sent a 30-foot wall of water downstream. Because of this, the evacuation was ordered, and nearly 200,000 nearby residents were evacuated. The Oroville Dam is the tallest in the country, according to CNN.
By early Monday, the flow of water over the dam to the spillway was slowed as the water level in Like Oroville dropped. Once water in the dam reaches 901 feet, it starts overflowing. The water reached 902.59 feet by 3 a.m. on Sunday and dropped to 898 by 4 a.m. Monday.
However, residents are still encouraged to stay out of the area, especially because more rain is expected on Wednesday. Teams have been unable to reach the damaged areas of the spillway, so no repairs have taken place so far.
According to The Washington Post, Lake Oroville is one of California's largest man-made lakes. The Oroville Dam itself is 44 feet higher than the Hoover Dam in Colorado, making it the largest in the country. Interestingly, California had been experiencing a record-setting drought, but may now be facing a record-setting rain season with a potential for 228 percent times the average rainfall. The lake is located about 75 miles north of San Francisco.
Thankfully it sounds like no one was injured during the evacuations, and that the dam hasn't caused any damage to the surrounding area. Hopefully California authorities will be able to control the situation for the upcoming weather.