The Real Ben Bradlee Of 'The Post' Lived An Incredibly Inspiring Life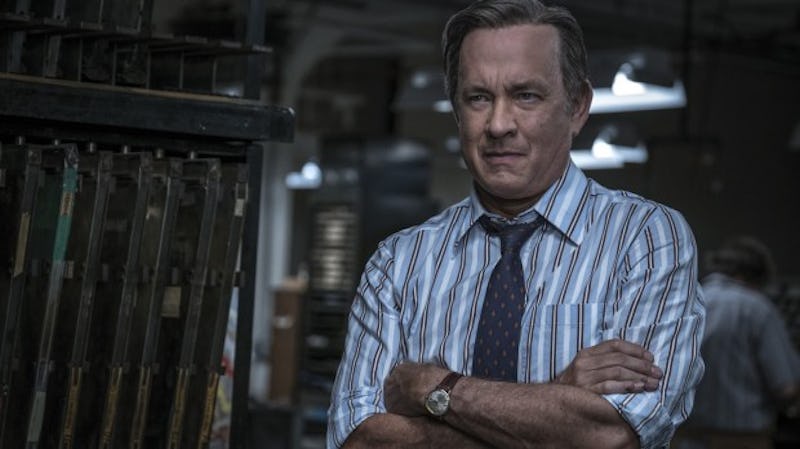 20th Century Fox
Steven Spielberg's latest film The Post focuses on an intense period of the title newspaper's history. It was the '70s, a tumultuous time in America, when the hippie optimism of the previous decade faded more with each race riot, assassination, and war report. Hard-hitting newspaper editor Ben Bradlee (played by Tom Hanks) had just gotten word from one of his reporters that The Washington Post had access to the infamous Pentagon Papers, the very ones that got a New York Times reporter charged with felony espionage and taken to court. But should The Washington Post publish? In the movie, Bradlee's decision ultimately sets the new standard for freedom of press, and what happened to the real Ben Bradlee shows that the reporter and editor's life went far beyond what's shown inThe Post.
Under the run of the nation's first female newspaper publisher, Kay Graham (played in the movie by Meryl Streep), The Washington Post already faced competitive scrutiny, with many waiting for the paper's failure. Graham worked closely with intense head editor Bradlee and together, the two made the momentous decision to go ahead and publish the controversial Pentagon Papers. In an effort to stop them, the Nixon administration's Assistant U.S. Attorney General, William Rehnquist, asked Graham and Bradlee to cease and desist. When they refused, Rehnquist sought a U.S. district court injunction to legally require them to stop.
As the movie recounts, the case went all the way to the Supreme Court, where on June 30, 1971, the justices decided, 6–3, that the government had failed to meet the burden of proof. The Washington Post was allowed to continue publishing their series on the Pentagon Papers, and the information was given to 15 other papers to enforce, in the words of Justice Black, the belief that "only a free and unrestrained press can effectively expose deception in government."
Which isn't to say Bradlee was a man of pure principles. In a 1995 Fresh Air interview, he explained his reasons for pushing forward with the decision was as much about ideals as it was ensuring The Washington Post remained competitive. "Failure to publish after The New York Times had published would have relegated The Post to a status of a kind of a pro-government establishment...And it seems to me, it would have forever relegated us to a sort of second-class citizenship." Washington Post stocks had just gone public, and that sort of negative association would've dampened The Post, and Bradlee's, value.
Bradlee's stock was pretty high to begin with — a Boston Brahmin born with a silver spoon in his mouth, he was almost guaranteed to end up at Harvard, where he eventually graduated. His stint in the Navy explained his love of newsroom equality and camaraderie, and also his ability to swear a blue streak. He'd done work for the government, which a controversial biography about Graham claimed was propaganda work for the C.I.A. Ironically, Bradlee and Graham attempted to have the book recalled and suppressed, but ultimately failed. Bradlee was close friends with John F. Kennedy, who was also a valued information source, and in later years wrote a book about their relationship.
If the Pentagon Papers was a career high for Bradlee, the low point was probably "Jimmy's World." In 1981 rising reporter Janet Cooke wrote a moving, detailed portrait of an eight-year old heroin addict named Jimmy that went on to win a Pulitzer Prize. A number of veteran Post reporters had voiced doubts about the article, but Bradlee went ahead with it. The article, and the reporter who wrote it, were ultimately revealed as frauds. As such, Bradlee not only returned the Pulitzer, but had an in-house reporter write a damning report of his newsroom where bright up-and-comers were pressured to churn out high-quality, attention-grabbing articles of all kinds on minimal deadlines, with Bradlee willing to overlook procedure if it meant a boost in circulation.
Bradlee moved past the scandal with determination, continuing at The Washington Post and eventually becoming Vice President At Large. He retired in 1994, but continued writing, publishing a memoir of his newspaper work the very next year called A Good Life: Newspapering And Other Adventures. He passed away in 2014 at the age of 93, and only after was it revealed he'd spent his final years suffering from dementia. His wife, longtime Post writer Sally Quinn, said he'd managed to keep the information from all but his closest circle, and only left his working office kept for him at The Post in 2012.
In 2013, Bradlee was awarded The Presidential Medal of Freedom by Barack Obama, the highest possible civilian honor. It was one of the few awards, Quinn said, he was excited to receive, a pinnacle of his national and professional pride. The Newspaperman, an HBO documentary based on Bradlee's autobiography, was released early December 2017, and with The Post coming out, Bradlee's legacy will be more widely known.