The Biggest Mystery Of This Century-Old Murder Case Isn't Who Did It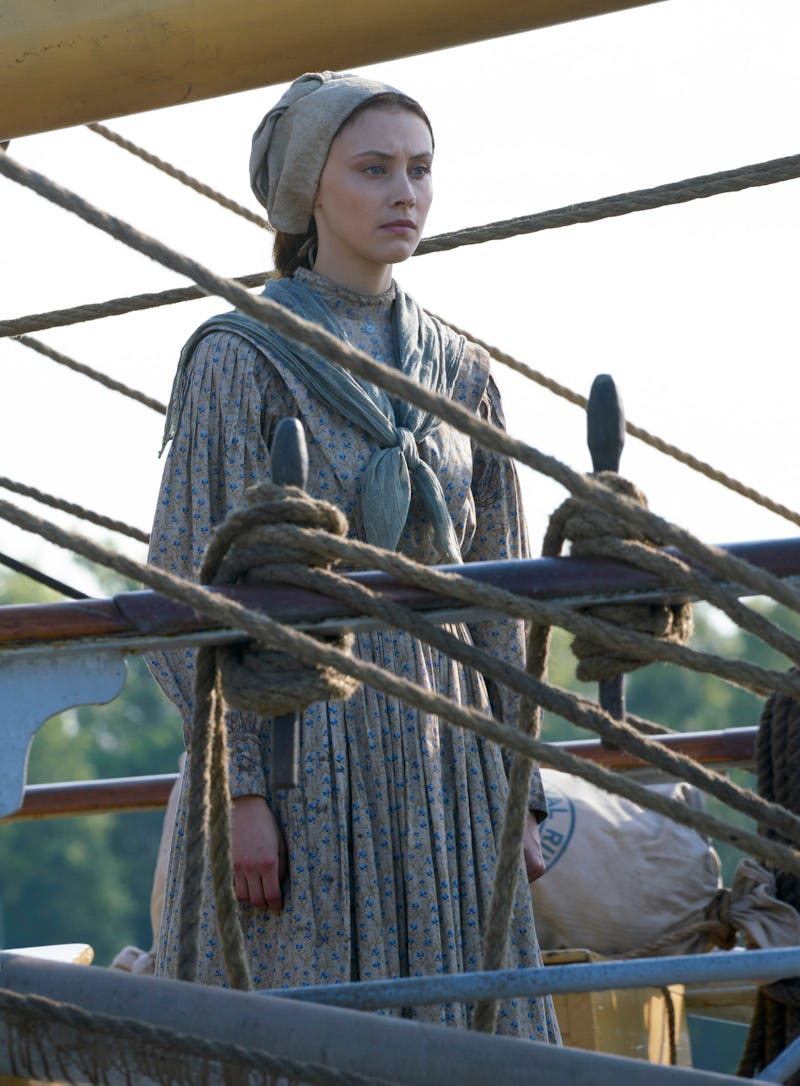 Sabrina Lantos/Netflix
Alias Grace is based on a true story — but the reality behind the fiction gets complicated. The series, and the original 1996 novel that inspired it, follows doctor Simon Jordan as he sits down with Grace Marks, who is serving a life sentence for the 1843 murders of Thomas Kinnear and Nancy Montgomery. It's an interesting examination of an infamous figure, but does Alias Grace reveal what really happened to Grace Marks?
Alias Grace begins as Simon has been recruited by a group of people that believe Marks is innocent, and, through interviews with Grace, Simon hopes to get to the truth of what happened on the day of the murders. While the story of Grace Marks is true, the story of Simon Jordan is completely fabricated — he's a character that original author Margaret Atwood invented for the novel. Alias Grace merges truth with fiction to examine class, punishment, and how the public treats women. The characters of Alias Grace all wonder if Grace really committed the horrible crimes she's accused of, but the mystery of Grace goes far beyond the murder in question.
Some information related to Grace Marks and her trial comes from a mouthful of a document, entitled:
The Trials of James McDermott and Grace Marks at Toronto, Upper Canada, November 3rd and 4th, 1843, for the murder of Thomas Kinnear, esquire, and his housekeeper Nancy Montgomery at Richmond Hill, Township of Vaughan, Home District, Upper Canada, on Saturday, 29th July, 1843; With Their Confessions Since Their Trials, and Their Portraits.
This document opens with Marks' confession, where she claimed that she was an unwilling participant in the murder of Thomas Kinnear and Nancy Montgomery, claiming that James McDermott, Kinnear's stable hand, was responsible for the murders. However, in McDermott's confession, he said, "I will not say how Mr. Kinnear and Nancy Montgomery were killed, but I should not have done it, if I had not been urged to do so by Grace Marks." Both were convicted, and the document ends with a description of McDermott's execution — but Marks' story extends far beyond the trial. Marks too was sentenced to death, but this was eventually changed to a life sentence in prison. The Trials Of James McDermott and Grace Marks details one of the most dramatic moments in Marks' life, but does not cover all of it.
As reported by Ontario's Ministry of Government and Consumer Services, in 1952, nine years into her sentence, Marks was briefly transferred to the Provincial Lunatic Asylum in Toronto. Marks' imprisonment and stay at a mental asylum are both covered in Alias Grace, but there's not much time given to what happened after Mark's imprisonment, simply because the truth is unknown. As The Toronto Star reported, "Pardoned in 1872, Marks reportedly moved to northern New York and then vanished from sight."
It's simply not known how Marks spent the rest of her life after prison. Marks confessed to murder at 16, spent nearly 30 years in prison, was pardoned, and then disappeared. That's all there is to be known. In a way it's a happy ending, as Marks was able to escape her reputation as an infamous criminal and become an average person. And, while Marks managed to escape infamy, her story still confounds people across the globe. Alias Grace doesn't have the answers to the questions that Marks' life raises — namely if she actually was guilty of the murders she was imprisoned for and what her post-prison life was like — but it uses her life to explore the idea that there is more to every story than just the facts.