Princess Margaret's Ex-Husband Stayed Close To The Royal Family Even After Their Divorce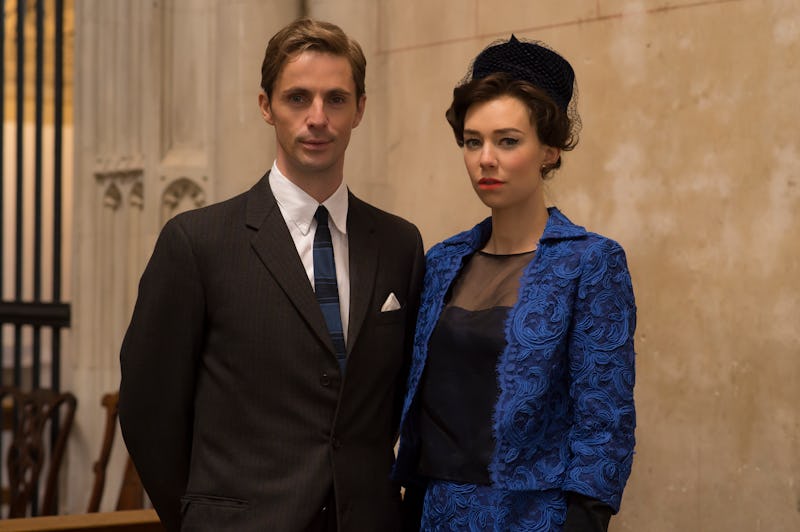 Alex Bailey / Netflix
As The Crown moves into Season 2 and continues to portray the life of Queen Elizabeth, one of the most tragic, complicated subplots has been the love life of her sister, Princess Margaret. Elizabeth's sister seems to be learning the hard way that being a princess doesn't automatically make all of your relationships a fairy-tale romance. Season 1 showed the disintegration of her relationship with Peter Townsend, and Season 2 introduces her eventual ex-husband, Antony Armstrong-Jones. The series may hint at the rocky road ahead for these two, but the details of what happened in Antony Armstrong-Jones' life are more dramatic that any fan of The Crown may expect.
In an excerpt of Snowden: The Biography by Anne de Courcey, published in Vanity Fair, de Courcey explains that he and Margaret had met during a photo shoot in 1958, where he had treated Princess Margaret "as if she were any other [photo] sitter ... chatting away with his mixture of jokes, gossip about mutual friends, and stories of the theatrical luminaries he had photographed." Armstrong-Jones' penchant for the hip and artistic left an impression on Margaret and the two quickly began spending a great deal of time together. Season 2 of The Crown covers the beginning of their relationship – and their relationship will likely be a complicated presence on the show, leading up to their 1978 divorce — the first in the royal family since Princess Victoria of Edinburgh in 1901, according to People magazine.
Antony Armstrong-Jones, a renowned photographer who shot for Vogue amongst several smaller British publications, would become known as Lord Snowden after his marriage to Princess Margaret. However, becoming a royal did little to relinquish his reported rebellious spirit. While Queen Elizabeth had the weight of royal legacy upon her shoulders, Armstong-Jones and Princess Margaret found themselves living a more free-wheeling life, interacting with more artists and celebrities than members of the royal family may be expected to at the time. As The Telegraph wrote, "their louche and, at times, reckless lifestyle of drug- and alcohol-fuelled affairs ... meant that the couple came to epitomize the 'Swinging Sixties'."
However, the sixties came to an end — and so too did Armstrong-Jones' marriage with Princess Margaret. De Courcey's biography explained a few possible reasons for the divorce, specifically that while Princess Margaret was busy being a mother, Armstrong-Jones was still putting all of himself into his photography work. However, the biography also noted that Armstrong-Jones' many alleged affairs with other men and women allegedly contributed to the deterioration of their marriage. Rumors often swirled of Armstrong-Jones' speculated bisexuality, according to The Telegraph. The outlet reported that he told his biographer, "I didn't fall in love with boys — but a few men have been in love with me."
Following the divorce, the man popularly known as Lord Snowdon "continued to mix in royal circles," per The Los Angeles Times. He also still photographed and had a healthy professional relationship with the royal family as chronicled in The Daily Mail. A few years after his divorce, Lord Snowdon was taking pictures of Lady Diana, and even portraits of his ex-wife. Lord Snowdon was even taking official portraits of the Queen as recently as 2010, according to The Daily Mail.
While Armstrong-Jones' relationship with the royal family may not have been consistent, he was still a relevant figure far after the divorce up until his passing in 2017. As his obituary in The Independent reported, Lord Snowdon was the "first real commoner to wed a king's daughter for 450 years," but it's hard to argue that there was anything common about him.