How Tonya Harding's Dad Influences Her Life Today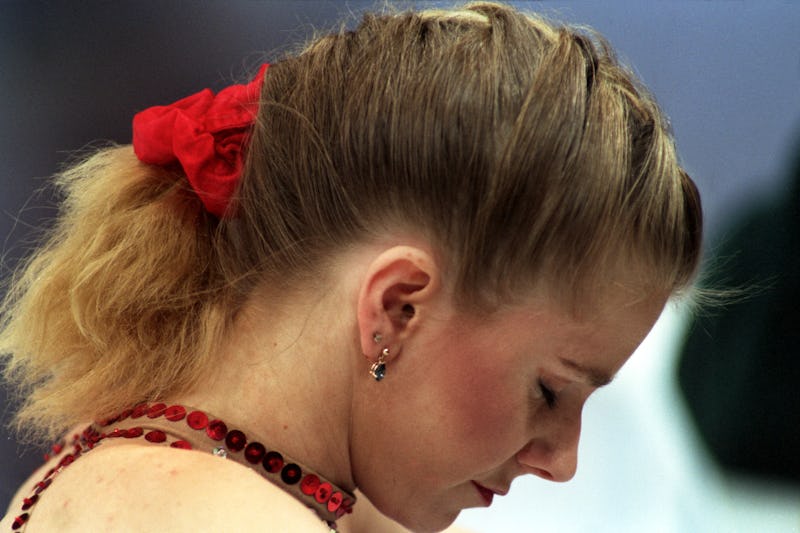 Chris Cole/Getty Images Sport/Getty Images
Tonya Harding's relationships with a few key people in her life, like ex-husband Jeff Gillooly, mother LaVona Golden, and fellow figure skater Nancy Kerrigan, have been the subject of intense focus in the past year, with the release of probing black comedy I, Tonya, and as the anniversary of the 1994 Olympics where Harding faced Kerrigan approaches in mid February. But out of the many troubled relationships in her life, the one with Tonya Harding's father, Al Harding, was actually one of the most positive. In ABC's documentary Truth and Lies: The Tonya Harding Story, Harding says, "It's my faith in myself and my father that comes back to me and makes me get back up off my butt and be something worth being proud of ... I always wanted my daddy to be proud."
According to his 2009 obituary, Albert Gordon Harding, called Al, spent the majority of his life in the Portland area, and was an avid outdoorsman who enjoyed fishing and hunting, "which he did to help provide food for his family when needed." Harding's upbringing and family life were difficult, and her family was living in poverty. According to Al, the Harding family lived in a trailer. "We had moved the trailer ... into my mother's driveway. I think that's where everybody came up with 'trailer trash,'" Al Harding told E! True Hollywood Stories in 1999. While Harding began skating at only three years old, the sport was a financial struggle for her family. In a 1994 New York Times profile, "Harding spoke often of days she and her mother would comb highways for bottles and cans to collect the refunds" in order to pay for her training, in addition to her mother's salary as a waitress and her father's work at an Oregon rubber company.
According to Al Harding's obituary, "One of his greatest joys in life was watching his daughter, Tonya, ice skate. He was always so proud of her." In the 1994 Times piece, Al Harding is credited for teaching his daughter "how to break down a car engine, hunt deer, fish, shoot guns, and shoot pool," pursuits that may be at odds with the image of a stereotypical figure skater, but that Harding clearly still loves today — a more recent 2018 New York Times profile of Tonya says that she's a practiced, talented archer and is frequently "out hunting for deer and elk or cutting down trees" in Washington state, where she now lives (she left her native Oregon "because Oregon was buttheads" who were "disappointed" by her).
That's a contrast from the harsh treatment Tonya Harding claims she faced from her mother. "If I didn't do something perfect, she was always down on me," Harding told E!, alleging that her mother used both physical and verbal abuse against her. Harding even alleges to The New York Times that "her mother threw a knife at her," but the Times reported in both 1994 and 2018 that LaVona Golden has denied allegations of abuse, and Golden told Inside Edition that she also protests being cast as the villain in I, Tonya. "I didn't have any problems until she got up into her teens. She hates me. Period. I could never do anything right for her. Nothing," Golden told Inside Edition.
In 1987, Al Harding and Golden divorced. According to The New York Times, Tonya told Sports Illustrated in 1991, "I remember [Golden] told me I was the only reason my parents had stayed together. That didn't make me feel good at all." But despite a tumultuous relationship with one parent, and unstable upbringing, and financial difficulties in the expensive world of professional figure skating, it seems that Tonya Harding has held on to the positive influences of her father — from his love of the outdoors, his lifelong time in the Pacific Northwest, and by making her own, more stable family. "My family, we are a loving family. I get my second chance in life to be loved and be happy," Harding said to ABC on Truth and Lies: Tonya Harding.
Viewers can tune into ABC on Thursday, Jan. 11 to hear Tonya Harding's full story in her own words at 9 p.m. ET.