Trump Announced He's "Ending Both" CEO Councils Suddenly & It's Making People Suspicious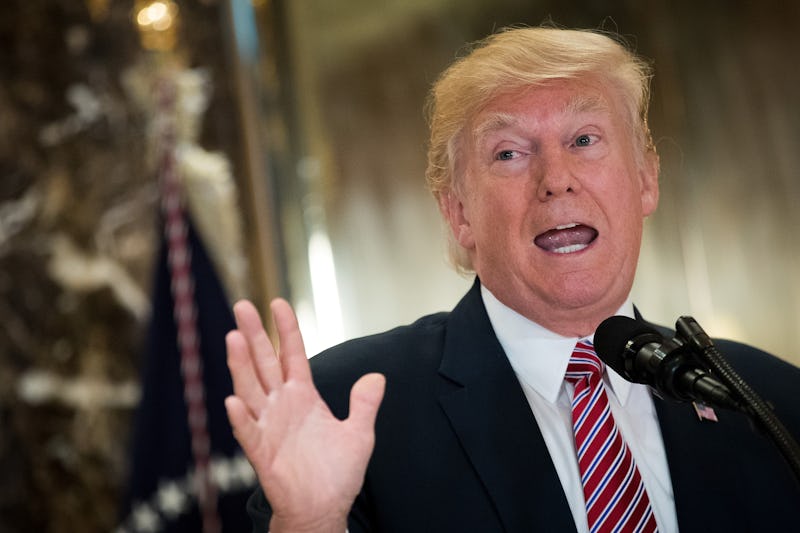 Drew Angerer/Getty Images News/Getty Images
According to Axios, President Donald Trump was on the receiving end of some news Wednesday morning that he's probably not very happy about. In short, if you're wondering what happened Trump's business and manufacturing councils, the answer is either that he himself ended them, or that both pulled the plug and he's claiming he ended it to save face.
Mere minutes after news broke that his business council, the Strategy & Policy Forum, had decided to disband — reportedly during a conference call on Wednesday — Trump tweeted that he was "ending both" the business group and his manufacturing council, which had been bleeding CEOs since his Saturday Charlottesville comments.
According to the report from Axios, more than a dozen of the remaining CEOs on the council made the decision to pull the plug, with one executive plainly stating that the decision was a response to Trump's widely criticized statements in the aftermath of the Charlottesville white supremacist demonstrations over the weekend. Trump initially insisted that there had been violence and hatred "on many sides," before giving a statement on Monday more explicitly condemning white supremacy.
By Tuesday, however, he returned to his original tact in a combative and rambling press conference, insisting that anti-racist demonstrators were also to blame for the violence.
Many people on social media have questioned the sincerity of Trump's tweet, which he sent out moments after news broke about the councils disbanding. On Tuesday, just one day prior, Trump responded to a gush of executive withdrawals by tweeting that "For every CEO that drops out of the Manufacturing Council, I have many to take their place."
"Grandstanders should not have gone on," the tweet continued. "JOBS!"
On Monday, a trio of CEOs on Trump's manufacturing council pulled out of the arrangement ― Merck CEO Ken Frazier, Under Armour CEO Kevin Plank, and Intel CEO Krzanich. This wasn't the first time Trump's councils lost some members; Disney CEO Robert Iger and Tesla CEO Elon Musk both bailed in June over Trump's pledge to withdraw from the Paris climate accords.
Those departures spurred Trump both to attack Frazier and his company by name, and to insist that he had plenty of new CEOs waiting in the wings. But now, just a day later, it appears as though this was not the case.
In short, regardless of who claims credit for the decision, this much is clear: after about eight months in office, the president's outside business councils will no longer exist. That's not to say Trump won't still enjoy the quiet support of many in the corporate world, however ― the GOP's longstanding advocacy for deregulation as well as corporate and upper-class tax cuts is a powerful motivating force for the business elite, suffice to say.