Did You Catch This '90210' Shade On 'RuPaul's Drag Race'?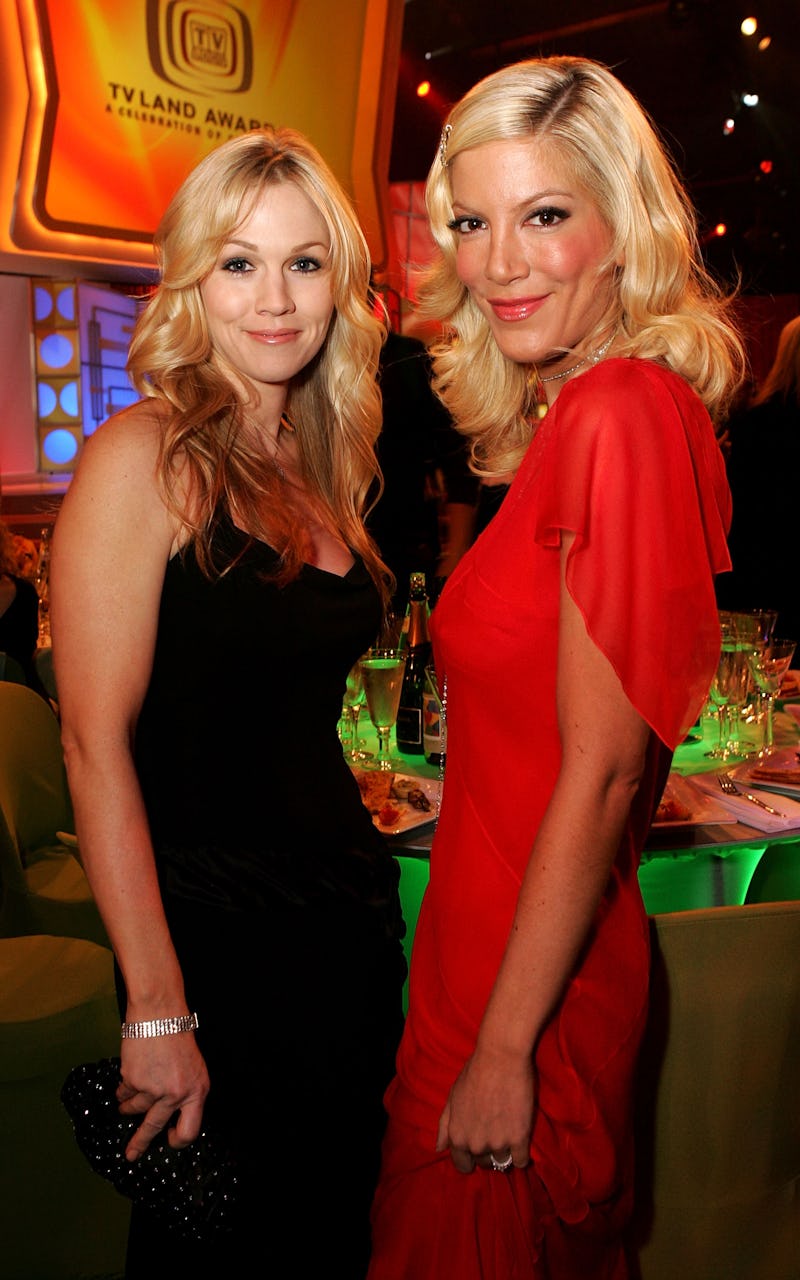 Vince Bucci/Getty Images Entertainment/Getty Images
The shade was real on last night's episode of RuPaul's Drag Race, but it wasn't the contestants who did the throwing. Rather, it was the celebrity guest hosts who threw the real shade. Former Beverly Hills, 90210 stars Tori Spelling and Jennie Garth appeared on the episode to critique the queens, who performed in 90210-themed parody skits. While judging the contestant who played Tiffani-Amber Thiessen, Spelling and Garth straight-up refused to say Thiessen's name, which left many of us viewers wondering — what exactly happened with Spelling, Garth, and Thiessen? How could the relationship between them have become so bad that Spelling and Garth would refer to Thiessen other as someone they won't speak of?
The episode, which aired on May 5, featured all of the contestants dressed as characters from the hit '90s show. Their task was to perform in a skit as their character, but with a comedic twist. Spelling and Garth mentored the queens, then judged their parodies. When it came time to offer criticism of the contestant who portrayed Valerie — originally played by Thiessen — Garth hesitated and said, "As Ti—, how do you say it?"
Almost immediately Spelling responded and suggested, "Just say, 'that which we don't speak of."
Garth then agreed and explained, "Yes, we know her as 'that which we don't speak of.'" Like, someone get me a flashlight because I can barely see my way through all of this shade.
Well, apparently things haven't been good between the former Beverly Hills, 90210 co-stars for quite some time. According to Us Weekly, Spelling spoke of Thiessen in a 2010 interview with Ryan Seacrest. Spelling admitted, "She doesn't talk to me anymore." A source also claimed to Us Weekly that Thiessen was upset with how Spelling's divorce played out in 2006, but those rumors weren't confirmed.
Back in 2012, Thiessen spoke to Howard Stern about Spelling and Garth. "We had a falling out and we grew apart," Thiessen explained regarding her relationship with Garth. Though she wouldn't specify what exactly caused the falling out, she didn't seem to indicate there wasn't any animosity. The actor told Stern,
"It's funny, our relationship started really rough and ended the way it started. It's water under the bridge… I've moved on. I wish her well."
Ended the way it started, what exactly does that mean?
During her interview with Stern, Thiessen also claimed that things between her and Spelling were civil. "Our kids go to the same school, and she's moved on," she said at the time. "I'm glad she's happy, and she's having tons of kids and she's great. I'm happy for her."
OK, so "tons of kids" does sounds a little shady. Clearly things don't seem 100 percent civil between Thiessen, Spelling, and Garth, but what exactly caused the rift? Sadly, we may never know all of the deets. Personally, I'd love to see the whole cast reunite for a Real Housewives style reunion special. I mean, imagine how epic that would be.