Here's What Could Happen If Catalonia Votes To Leave Spain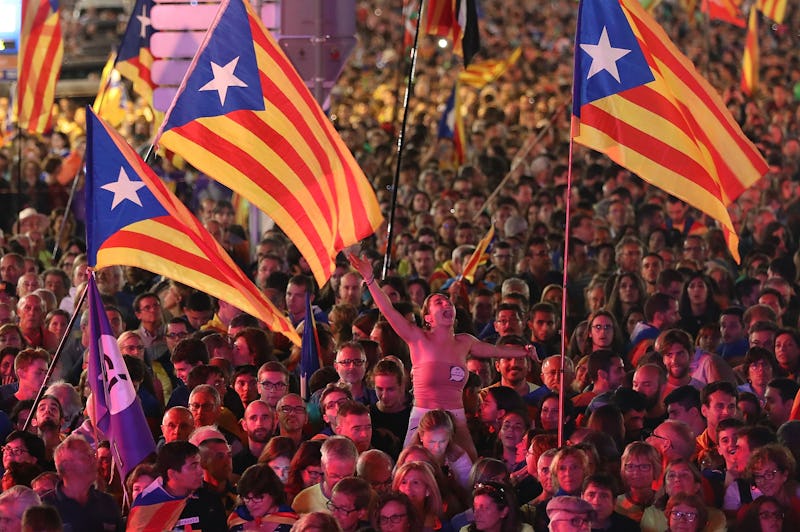 Dan Kitwood/Getty Images News/Getty Images
Political tensions have once again come to a head on the Iberian Peninsula. On Sunday, Catalonia will hold a referendum for independence from Spain in the latest of several attempts to secede from the country.
Most Catalans are feeling optimistic about this year's outcome: The majority of residents who participate in the vote are expected to vote yes. This prospect is a huge source of excitement for Catalan leader Carles Puigdemont who, in January, promised, "If 50 percent plus one vote 'yes', we will declare independence without hesitation."
But Catalonia's path to independence is far more complicated than a simple majority vote — especially since, in the eyes of the Spanish government, the referendum means very little. That's because, according to Spanish law, the referendum itself is illegal.
"I say this both calmly and firmly: There will be no referendum, it won't happen," Spanish Prime Minister Mariano Rajoy, who has vehemently condemned the vote, recently said.
Indeed, the Spanish government is doing everything in its power to prevent the illicit referendum from taking place at all. CNN reported that a Spanish court has ordered Google to remove an app from its store which helps referendum voters find their designated polling site. According to The Guardian, the federal government has plans to send police officers to many of those polling sites across the region in attempts to thwart the vote. That means most, if not all, of the people who show up to the referendum will likely be ardent supporters of Catalan secession, willing to flout Spanish law to cast their vote for independence.
Will their reality look any different come Monday? According to some constitutional experts, it's unlikely.
"If the Catalan government does not negotiate the calling of a referendum with the state, it is not legally possible, because this power is held by the central state," Javier Garcia Roca, a constitutional law professor in Madrid, told the BBC earlier this year.
However, the Catalan government has every intention of operating under the belief that a majority vote for independence is legitimate, and proceeding as such. Joan Maria Piqué, the Catalan government's director of international communications, has said that it will then be up to the federal government to acknowledge the vote or not.
"If we have 50 percent turnout and a majority in favor of independence, this will be legitimate," Piqué said in January. "Then Madrid will have to ask itself if it is going to impose its laws by force, if the Catalan people choose their future peacefully and democratically."
Madrid, though, has made its stance relatively clear. Rajoy has already refused to meet with Puigdemont, saying that to do so would be to meet with someone who flouts the constitution. And Puigdemont, who has made Catalan independence his singular goal in office, has expressed an unwillingness to make any compromises.
Considering the stalemate, Spain will likely see much more political upheaval and unrest following the referendum, with The Washington Post predicting "major protests and months of messiness."
The start of it could very well be on Monday, when supporters of Catalan independence are slated to march in the streets for the region's national holiday. Though, historically, movements for independence have been messy, to say the least Puigdemont has insisted Catalonia's fight will rely on civil disobedience.
"On Monday, we will overwhelm them peacefully and democratically, as always," he said in an address to some of these supporters.
Still, even Puigdemont is measured in his own expectations for what will happen after the referendum. "There is no button that you push and the next day you become independent," he said.