Here's What Happens If Sessions Isn't Confirmed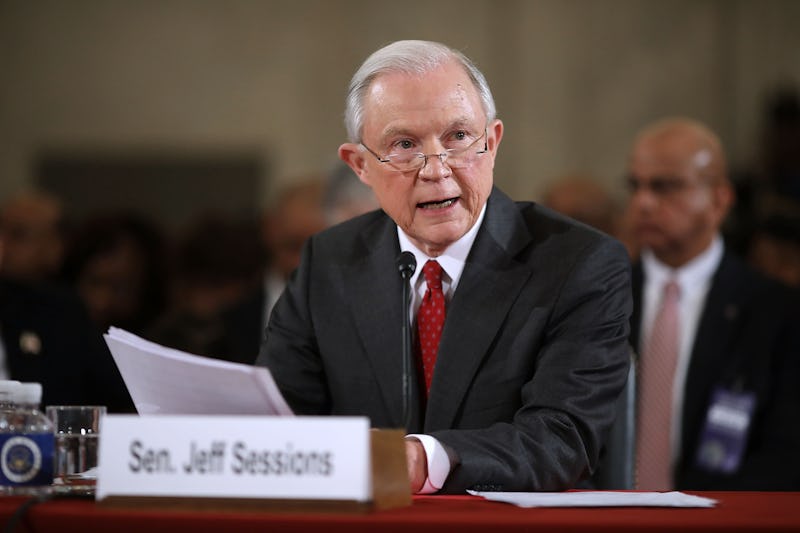 Chip Somodevilla/Getty Images News/Getty Images
Sen. Jeff Sessions appeared before the Senate Judiciary Committee on Tuesday to plead his case to be confirmed as attorney general. Trump's nominee for his Cabinet's legal role is not a bipartisan choice, and is facing intense pushback from politicians, civil rights organizations, and citizens. But what happens if Sessions actually isn't confirmed?
All cabinet appointees must be confirmed by the Senate before they can be sworn in. They first appear before the committee relative to their position — in this case, the Senate Judiciary Committee — for a confirmation hearing, and face questions about their career and competency for the job they are being considered for. The committee then votes on how to recommend the candidate to the Senate, either favorably, unfavorably, or without recommendation. If the candidate passes the committee, the Senate then votes on whether to confirm them to the position for which they have been nominated.
Though much has been made of Sessions' sketchy history with civil rights legislation and his failure to be confirmed as a federal judge in 1986, it is extremely unlikely that he will not pass committee and go on to be confirmed. In the history of our country, there have only be nine cabinet appointees who have been rejected, and 11 who have been withdrawn or had no action taken. A rejection hasn't happened since the first Bush administration, when secretary of defense nominee John J. Tower was rejected in 1989 after conflicts of interest and a history of alcohol abuse and womanizing emerged. President Obama withdrew a total of three nominees throughout his presidency.
Additionally, in 2013, the Senate voted to change the voting procedures for cabinet members. Now, only a simple majority is required to confirm a nominee, rather than the 60 votes it used to take. Since Republicans hold 52 senate seats currently, they have a pretty good chance of passing their president's nominees.
However, if Sessions does manage to get rejected by Congress, what would happen? Trump would have to go back to the drawing board and select another nominee, one that would have wider appeal and less controversy attached to them. Which, judging by the cabinet and adviser picks he's made so far, might be hard for him.
Last year, before Trump announced Sessions as his pick, there had been much speculation swirling around who would be selected for attorney general. The shortlist at the time was reported to consist of Kansas Secretary of State Kris Kobach, who is known for his hardline anti-immigration stance, Florida Attorney General Pam Bondi, who is accused of dropping a lawsuit against Trump University in exchange for a contribution to her reelection campaign, New Jersey Governor Chris Christie, whose own presidential ambitions were mired by his "bridgegate" intimidation scandal, Former New York City Mayor Rudy Giuliani, who served as an oddball surrogate for Trump during the campaign, and Rep. Trey Gowdy, who has spent years heading the Benghazi investigation. Sen. Ted Cruz was rumored to also be under consideration, and when compared to the rest of these options, he seems like the least controversial one. But his campaign promises surrounding limiting women's reproductive rights and restricting civil liberties under the guise of national security would make him an equally unfavorable pick for attorney general.
While unlikely that Sessions will not be confirmed, Trump may not be able to fall back on his previous considerations if the Senate gets tough on cabinet confirmations.