KKK-Costumed Protesters Are Thrown Out Of Hearing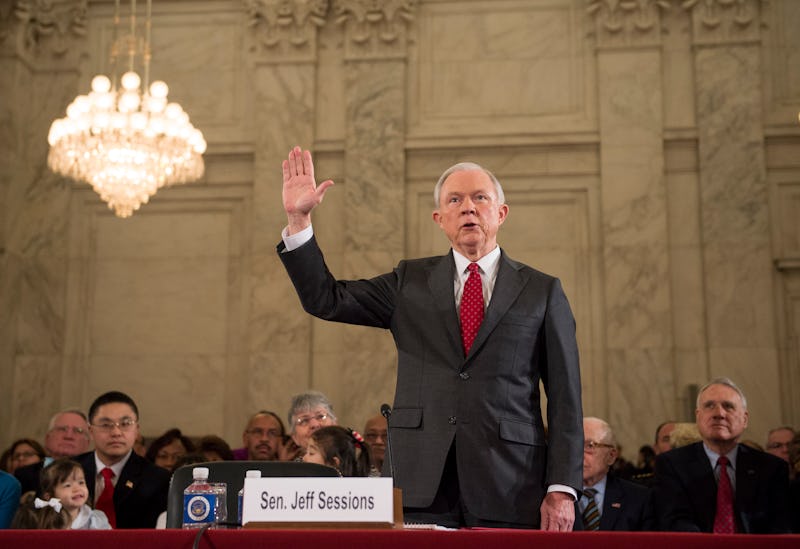 MOLLY RILEY/AFP/Getty Images
Sen. Jeff Sessions will appear before the Senate Judiciary Committee today for his confirmation hearing as Donald Trump's pick for attorney general. His nomination for the chief law enforcement position in the nation has faced much controversy, and protesters, some even dressed as KKK members, have already been removed for interrupting the proceedings.
Jeff Sessions is a long-serving Republican senator from Alabama, and he carved out an influential position for himself in Trump's campaign. Sessions chaired Trump's national security advisory committee, and advised him on many of his policy decisions during the campaign, including his immigration policy as well as his vice presidential pick.
Two men dressed as KKK members were the first to interrupt the hearing. Dressed in white robes, pointed hoods, and the #1 hands you might see at sports games, but which read "KKK," they yelled in protest of Sessions as they were forcefully removed from the hearing by officers.
According the the Huffington Post, as he was being dragged out, one of the protesters yelled, "What is this craziness? I'm a white man! You cannot take me out of here! I own this country! White people own this government!"
During Sessions' opening statements, another protester began chanting about the KKK, causing the senator to pause until he was removed.
Much of the racially-based criticism of Sessions stems from another confirmation hearing of his from 1986. When Sessions was the U.S. attorney in Alabama, he was denied a federal judgeship by the same Senate Judiciary Committee he is testifying before today. According to testimony given during the hearing, Sessions had called the NAACP and the ACLU "un-American." He was also said to have called a black assistant U.S. attorney "boy" on many occasions, and he allegedly said that he thought that members of the KKK were "OK, until he learned they smoked marijuana."
#StopSessions and #NoSessions have gained traction on social media, not only because of the 1986 testimony, but also because of his record on immigration and his opposition to voting rights legislation. The Black, Hispanic, and Asian Caucuses announced on Tuesday that they oppose Sessions' nomination, saying that his confirmation would be harmful to minority communities.
The NAACP in Alabama led protests outside Sessions' office this week, urging the Senate to reject him as attorney general nominee. And the president of the Southern Poverty Law Center released a statement in November, saying the group could not support Sessions' nomination. "Senator Sessions not only has been a leading opponent of sensible, comprehensive immigration reform, he has associated with anti-immigrant groups we consider to be deeply racist... If our country is to move forward, we must put all forms of racism behind us," said SPLC president Richard Cohen.
Even though the protesters were removed, it's clear that this confirmation hearing will not go down easily for Sessions.