Offred's 'Handmaid's Tale' Isn't Over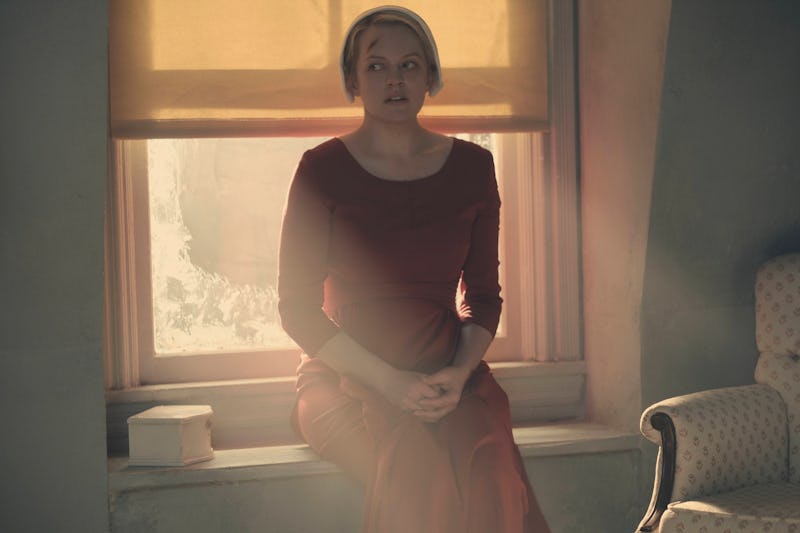 George Kraychyk/Hulu
The Handmaid's Tale on Hulu has expanded the world of Margaret Atwood's novel in ways that have me pumped for Season 2. However, in terms of its protagonist, the Season 1 finale has a similar ending. What happens to Offred in The Handmaid's Tale? There are spoilers for the finale and book ahead.
At the end of the episode, Offred is taken away in a van. Nick tells her, "Just go with them. Trust me." That gives June a sense of power and confidence as she leaves the Waterfords, and Serena Joy is certainly upset that the woman carrying "her" child is walking out the door, but what if Nick turned Offred in?
In the book, Nick tells Offred that the men in the Eyes van are Mayday and that they've come to rescue her. Years later, in an epilogue, her story is being studied by students in the Arctic. Gilead has long since fallen, and The Handmaid's Tale has been found recorded on cassette tapes in Maine. That's right. It's the original 13 Reasons Why — except that June's tapes are actually not numbered, and the students are assigned the task of figuring out their chronology.
How did June get to Maine? I guess that's what Season 2 will have to address.
Bangor, the town in Maine where June's tapes are found in the book, is about as far away from Canada as you can be in the Pine Tree state without touching the coast. It's an odd spot for a safe haven, if that is where June goes next.
While the novel implies that June eventually escapes her life as a handmaid, that doesn't necessarily mean that the van is taking her to safety. She might find herself in a new set of horrible, oppressive circumstances. Moira might be home free as a refugee, and reunited with Luke, but June's journey has only just begun. Not only could that van be leading her into a trap — but now we sort of know where Hannah is, and that Serena is willing to hurt June and Luke's daughter out of revenge.
Plus, I think it's clear that June cares about the other handmaids, and might return to the former Boston area of Gilead at some point. Her own survival and Hannah's safety are important, but they are not her only objectives at this point. Not to mention the potential of a new baby. Season 2 of The Handmaid's Tale has so many different ways to go, I can't wait.