Here's What You Can Expect To Be Closed Nationwide For George HW Bush's Funeral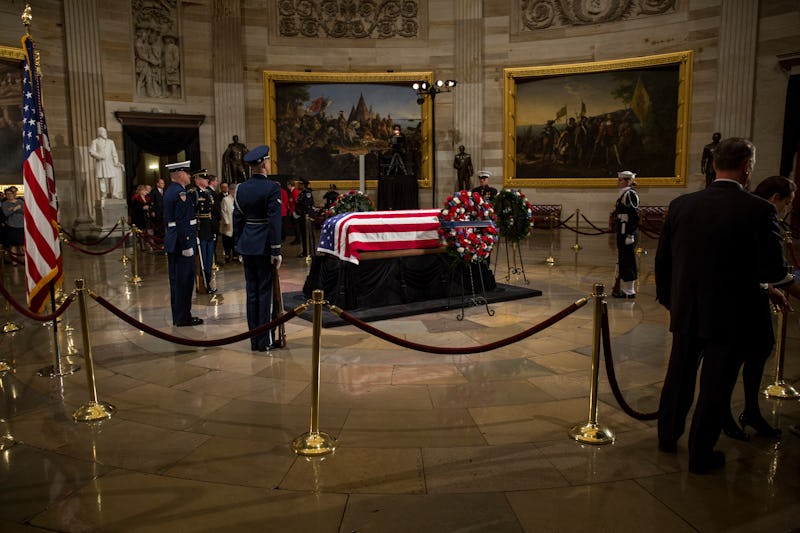 Zach Gibson/Getty Images News/Getty Images
Wednesday, Dec. 5 has been declared a National Day of Mourning by President Trump, in honor of the late president George H.W. Bush's funeral. This counts as a form of federal holiday, which means that a number of industries, particularly those related to the government, will be affected and even shut down for the day. For those wondering what happens when the government closes on Wednesday, the most important thing for the average citizen to know is that mail services will be halted.
All mail services and locations will be closed on Wednesday to "honor [the former President's] vast contributions to our country during his lifetime," according to a statement by the USPS. That means that almost no mail will be sent or received on Wednesday, so you should plan any bill payments or holiday card shipments for Thursday.
With that said, the USPS did say a select amount of packages would be delivered on Wednesday to keep up with the holiday season — but it'll be out of your control whether you're the lucky recipient or not.
In addition to the halting of mail services, all major U.S. stock markets will be closed on Wednesday, including the New York Stock Exchange, NASDAQ, and the Dow Jones Industrial Average. This marks the first occasion that U.S. stock markets have been closed to honor a president since the funeral of Gerald Ford in 2007, per CBS News.
For the federal holiday, most federal employees will get the day off "to allow Federal employees to join their fellow citizens in remembering our 41st President of the United States," per a statement by the U.S. Office of Personnel Management. With that said, federal workers whose absence might threaten national security or essential public business will still be required to work.
So if you are a federal employee and aren't sure if you have the day off are, it's best to just check with your employer.
Nearly all other federal offices will be closed Wednesday, including offices related to Social Security and the National Passport Information Center.
For those wondering about the service itself, here's the essential information: Bush's funeral services will begin at 11 a.m., and though the services will technically be closed to the public, they will be broadcast on C-SPAN and all other major news networks.
Throughout the services, four men will eulogize the late president: Bush's son, former President George W. Bush; Bush's friend, former Canadian Minister Brian Mulroney (who served at the same time as Bush served as president); Bush's friend, former Sen. Alan Simpson (R-WY); and historian Jon Meacham, who wrote a biography on Bush.
During the services, POTUS and FLOTUS will sit in the front pulpit next to the Bush family, according to The Washington Post. Though the Bush family reportedly wishes to focus on celebrating 41's legacy rather than focusing at any point on the current administration, it's certain that thousands of people will be watching to see what the interactions are like between the Trumps and the Bushes.
Last week, Meacham wrote an op-ed for The New York Times that made no qualms of directly addressing POTUS while eulogizing Bush. Meacham wrote, "The nation mourns him not least because we no longer have a president who knows that the story of the nation is not all about him."
You'll have to tune in to see if anything similar is said at the service.