Donald Trump Isn't Going To Let This Go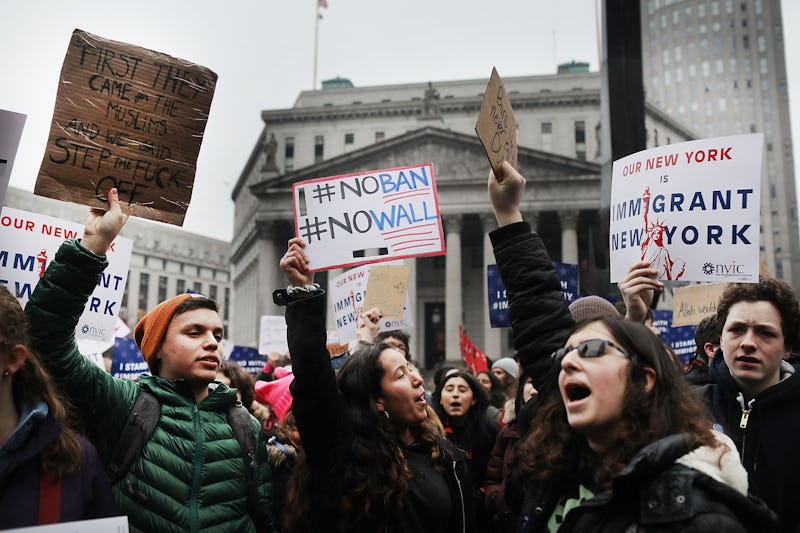 Spencer Platt/Getty Images News/Getty Images
On Thursday, the Ninth Circuit Court of Appeals ruled to uphold a temporary restraining order blocking the enforcement of President Trump's immigration and refugee ban. But what happens to Trump's immigration executive order now?
Most likely, the matter will be taken up with the Supreme Court. According to a statement from the Justice Department, "The Justice Department is reviewing the decision and considering its options." Currently, the Supreme Court is short a justice, and a 4-4 tie on the matter would have the final decision revert to the Ninth Circuit Court's ruling.
The hearing decided to uphold the temporary restraining order filed by Judge James Robart of Seattle to halt parts of the executive order, which suspended refugee resettlement for 120 days and banned immigration from seven Muslim-majority nations for 90 days. The three judges in the Ninth Circuit Court focused their ruling not on whether Trump's executive order was unconstitutional, but rather on whether Robart's order was justified. The temporary restraining order was placed so that courts would have adequate time to look at Trump's order to decide if it should be upheld.
According to the New York Times, the court's ruling was the first from an appeals court.
In the hearing, Trump's administration argued that reviewing the legality of a president's executive order was not up to a court.
However, the panel of judges declared that, "The Supreme Court has made clear that the Government's authority and expertise in [such] matters do not automatically trump the Court's own obligation to secure the protection that the Constitution grants to individuals, even in times of war."
President Trump himself did not appear happy with the ruling. He tweeted shortly after the announcement, "SEE YOU IN COURT, THE SECURITY OF OUR NATION IS AT STAKE!"
So for now, the executive order will not be enforced, at least until it makes its way through the court system. Judge Robart introduced the temporary nationwide restraining order, deciding that carrying out the immigration order would cause more harm to the states of Washington and Minnesota than blocking it, until a full case could be heard.
NPR reports that temporary restraining orders typically last around 14 days. So that means that in about a week, the order would need to be extended, unless a higher court overturns the Ninth Circuit Court's ruling before then.
The upholding of the temporary restraining order should allow a full hearing of the lawsuits filed from Washington and Minnesota, which claim that the executive order violates residents' constitutional right to religious freedom and equal protection under the law.