What Has O.J. Simpson's Life Really Been Like In Prison?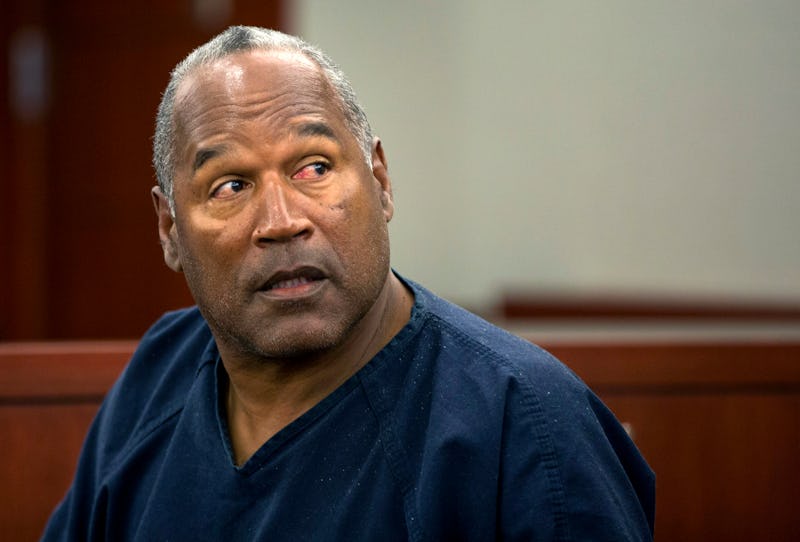 Pool/Getty Images News/Getty Images
Former football player O.J. Simpson has spent the past eight and a half years as an inmate at Lovelock Correctional Facility, a medium security prison in Nevada, serving a 33-year sentence for a 2007 incident. But, Simpson's life behind bars isn't exactly like the depictions of prison life on Orange Is The New Black.
"Inmates in Nevada have a saying, 'Lovelock is easy time.'"
In fact, and according to a former guard, the prison is more like a, "cruise ship with barbed wire." "Inmates in Nevada have a saying, 'Lovelock is easy time,' " Jeffrey Felix, a retired correctional officer, told USA Today Sports. "I mean, that prison is not like a normal prison. The food at Lovelock is very good. That prison is super duper clean."
Amenities at Lovelock include a gym, sports fields, ping pong tables, and, according to Felix, access to movies and cable television.
Simpson also occasionally received special treatment from guards and other inmates, said Felix and former guard Jesse Mandoki in an interview with CNN. For instance, Simpson often cut to the front of lines and other inmates carried his bags when he bought extra food. "You could see Felix doing laps with O.J.," Mandoki said, recalling instances when the former guard and inmate walked in the yard together. "I was always amazed that he [Felix] was allowed to do that."
Greg Lewis, who spent seven years with Simpson at the facility, said the former football player was often paired with heftier cell mates who could protect him from harassment by other inmates. He described them as, "bigger dudes that could take care of business."
In his free time, Simpson talked to relatives and friends on the phone, played fantasy football games, and coached softball. He also watched television shows on his 13-inch flat screen television — the largest size that prisoners at the facility can purchase.
Simpson was convicted of armed robbery, kidnapping, assault, conspiracy, burglary, and coercion after he and five others, two of whom were armed, allegedly robbed two sports memorabilia dealers at gunpoint in a Las Vegas hotel room. Simpson dubbed the incident as an attempt to reclaim his own memorabilia.
On Thursday, four members of the Nevada Board of Parole will deliberate on Simpson's future in a parole hearing. If they grant him parole, he could be released as early as October. If the board is split, Simpson will have to wait until January 2018 for another hearing.
If parole is granted, Simpson will likely first be transferred to another facility near Reno or Las Vegas. Upon release, he'll likely be granted permission to leave Nevada but will be required to stay in communication with his probation officer.
Simpson was famously acquitted in 1995 in the killing of his ex-wife, Nicole Brown Simpson, and her friend Ron Goldman. The case gained notoriety in recent years with shows like FX's People v. OJ Simpson: America Crime Story and ESPN's documentary OJ: Made in America. He was found liable of wrongful death in a civil trial in 1997 and ordered to pay $33.5 million to the victims' families.