What I Learned About Staying Close To My Latinx Roots At My Dad's Funeral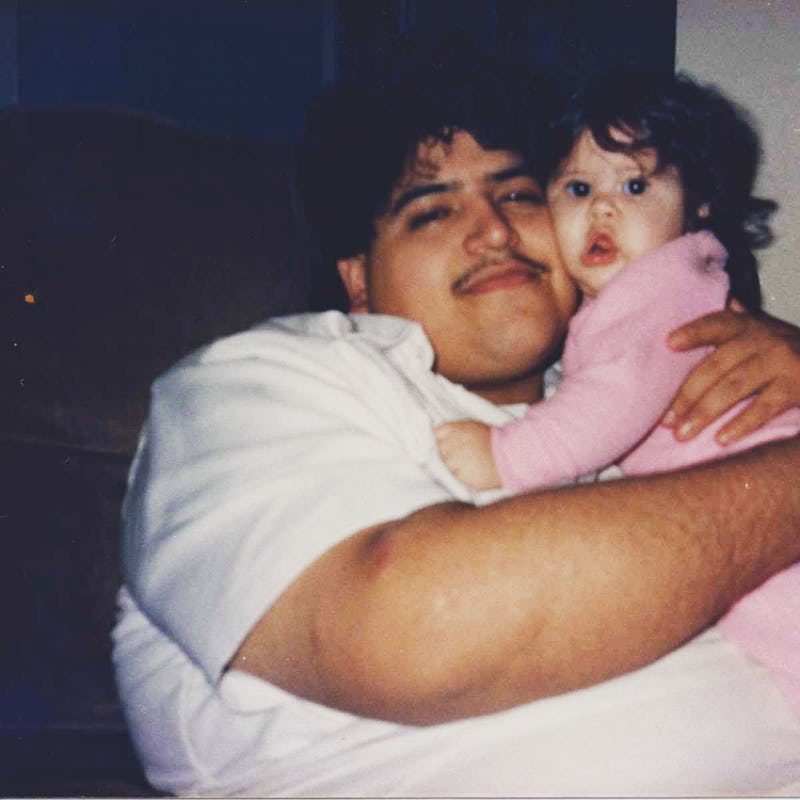 Courtesy of Samantha Chavarria
I stared at my parents' bright-red coffee maker as it brewed what was easily the tenth pot of the day. I noticed that someone had picked the sugar off the conchas plated on the counter, and made a note to pick up more in the morning before going to the funeral home. Dad would want everyone to be well-fed.
My dad was an amazing man. He was the love of my mother's life, like a father to my husband, and my best friend. Always the first one to give, the warmest and loudest laugh in any room, and good at everything from ice carving to crocheting, my dad was a rare breed. He taught me to speak my mind without fear of repercussions, have pride in who I was, and that family was the most precious thing you could have. And now he was gone.
At the age of 54, my dad was diagnosed with pancreatic cancer. By the time they found his illness, it was too late. He was only given two months to live, but my dad was stubborn and he had faith. Instead of two months, dad lived a year and two days past his diagnosis. Now we were planning his funeral a few months shy of his 56th birthday.
As his oldest child, I was in charge. I felt honored but also unequivocally overwhelmed. I was in my father's hometown of Corpus Christi, a small, south Texas city with a large Latinx population, where I also grew up. But I hadn't lived here since I was 12, having moved to Houston with my family, where I built my own life as an adult. My parents had moved back to Corpus years later, but visits were mostly done on my home turf. Coming back after my dad passed away made me realize how cut off from my roots I'd become.
My father's family has lived in South Texas since before the state was Spanish territory. Their ancestors are the offspring of both Indigenous Americans from Texas and Mexico, and Spanish colonizers. My dad taught me early about my culture in small moments that make up significant pieces of my identity today. I remember sitting in a booth at the neighborhood taqueria, my dad rationing small sips of coffee for me to drink into the cups his creamer came in. He'd help me practice rolling the double Rs of my last name and tell me story after story, full of people and places I didn't know but would later come to cherish as heritage, family, and home. Though I only ever learned a handful of Spanish — my mom, who is white, didn't speak it, and my dad never wanted to provide us with words to disobey her — I was raised to be extremely proud of my culture, and I had my father to remind me of where I come from. As long as I had my dad, I had mi gente.
But my dad wasn't here anymore. I could never again call him up to listen to those stories. I couldn't ask him to translate for me when the Spanish was out of my depth. Never again would I sit and drink coffee with him like I had nearly my entire life.
After all, for Latinx people, familia es todo.
Dad was the one who called the whole, huge extended family for everything from weekly updates just to check into family chisme; now, I'd have to call and tell them about my dad's death. Dad was the one who had all the contact info for local businesses, too. Was Castro's Flowers open at the new location yet? What was the name of the mariachis that performed at grandma's rosary? Being a chef by profession and a provider by nature, he even did the cooking and kept everyone fed during times like these. Whether it was an asado or a tamalada, Dad had it covered, but how could I juggle it alone?
But I wasn't alone. Dad taught me that family was so very valuable because he felt that truth and knew that one day he'd no longer be here at the center of our family. He knew that the only way the void he would leave could be filled was if we had each other. After all, for Latinx people, familia es todo.
The family collectively spread the news about Dad. Mariachis were hired by my sister, while my dad's sisters found a caterer and reception space. Cousins and aunts helped keep my mother, sister, and myself fed and sane while we planned the funeral. They even weeded the yard and feed mom's dogs. In what proved to be the most impactful act of familia, friends and family helped pay for my dad's service.
At the rosary for my father, mariachis played as my uncles made requests for the old Spanish love songs that my grandpa used to sing. The following morning, dad had his final mass at Our Lady of Guadalupe Catholic Church, the church where he, my sister and I were baptized at. When I took Communion that morning, I prayed for an ounce of my dad's faith.
After he was buried, there was carne guisada y pan dulce. While old school tejano and reggaeton played over the sound system, kids ran around while others played at the pool tables. Afterward, the adults came back to my parents' home — the home that belonged to my grandparents and great-grandfather before that — and drank coffee and ate even more pan dulce. In our culture, funerals aren't for the dead, but for those left to say goodbye. After asada, pan dulce, and coffee, we were almost too full to be sad. Dad would have approved.
When I needed it the most, I was reminded of all the things that connect me to my Latinx roots: family, food, music, religion, love. And I learned that even though my dad is no longer within my reach, my culture will always be here to pick me up.
For more Latinx Heritage Month content on Bustle, click here.