Nail Bombs Could Have Been Behind The Ariana Grande Concert Explosions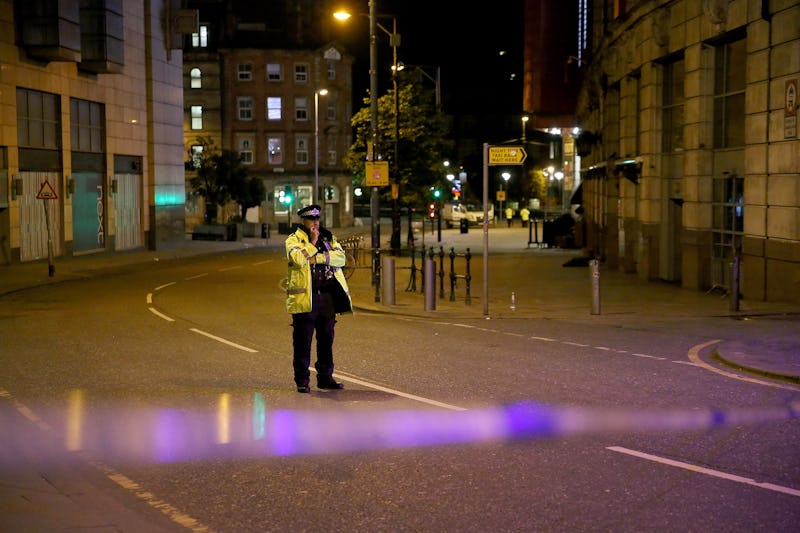 Christopher Furlong/Getty Images News/Getty Images
On Monday evening, terror struck the final moments of an Ariana Grande concert when explosions were reported outside of Manchester Arena. British authorities are investigating the incident as a terrorist attack until further notice. Furthermore, reports that a nail bomb could have caused the Manchester explosions are surfacing.
Shortly after the explosions happened, CBS News reported that two U.S. intelligence officials had confirmed that the explosions were suspected of being carried out by a suicide bomber who took the Tube to Victoria Station. The suspect is then believed to have detonated the bomb outside of the arena's ticket area. However, other sources have cautioned that the Manchester Police must still confirm this information, stressing the importance of not drawing conclusions prematurely. CBS News also reported that ball bearings had been discovered at the scene, raising questions as to how the suspected explosive device was assembled.
The New York Times reported witnesses described a device that sounds a lot like something known as a nail bomb. Essentially, a nail bomb is intended to cause maximum damage by ejecting pieces of nails, metal, nuts and bolts, screws, or razor blades as it explodes. These bombs can also contain ball bearings, which were reportedly found at the site of the explosion. One witness, according to The Guardian, even reported seeing nuts and bolts on the floor of the foyer where the explosion is believed to have taken place. Paramedics on the scene also reported "shrapnel-like injuries."
U.K. Home Secretary Amber Rudd called the attack out for exactly what it was: "barbaric."
This was a barbaric attack, deliberately targeting some of the most vulnerable in our society — young people and children out at a pop concert.
Tragically, the Manchester Police have confirmed that children are among those 22 killed. Early Thursday evening, the Greater Manchester Police said they believed the attack was carried out by a single individual with an "improvised explosive device."
These contrived explosive devices have been used before — and recently. In fact, an explosive device filled with nails exploded earlier the same day at a Bangkok hospital in Thailand, injuring over 20 people (no connection has been made between the two events). Similar devices were also used in the April 2013 Boston marathon bombing, the March 2016 Brussels bombing, and the April 2017 St. Petersburg metro bombing.
As the days pass and authorities are given more time to investigate what's being considered a terrorist attack in Manchester, more details on Monday evening's attack will become available.
Here are some ways you can help.