What It Means To Be A "Silence Breaker" In This #MeToo Moment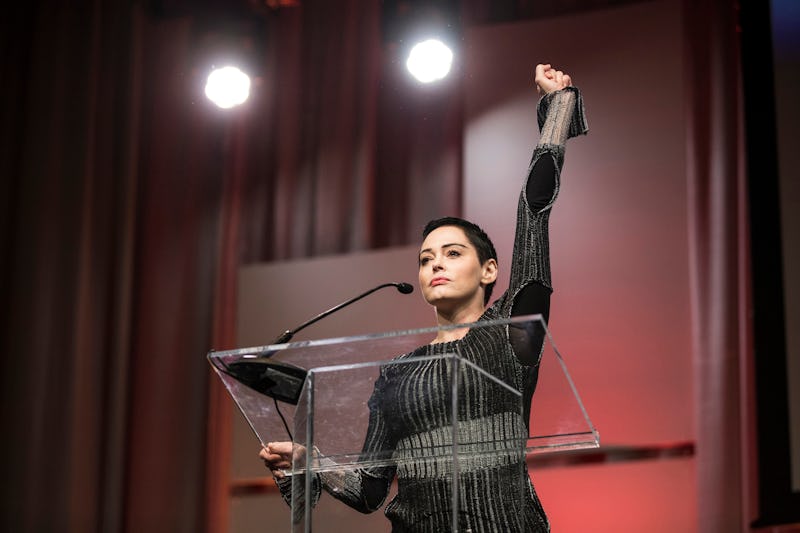 Detroit Free Press/Tribune News Service/Getty Images
On Wednesday morning, TIME magazine announced "The Silence Breakers" as its 2017 Person of the Year to plenty of praise on social media. The magazine outlined the people at forefront of the #MeToo movement: celebrities, lobbyists, and journalists, as well as housekeepers and strawberry pickers. But what does it mean to be a "silence breaker?" As TIME puts it, these men and women are "the voices that launched a movement."
Although this moment of reckoning seems to have come out of nowhere, TIME takes care to note that it's actually been bubbling under the surface for years:
Women have had it with bosses and co-workers who not only cross boundaries but don't even seem to know that boundaries exist. They've had it with the fear of retaliation, of being blackballed, of being fired from a job they can't afford to lose. They've had it with the code of going along to get along. They've had it with men who use their power to take what they want from women. These silence breakers have started a revolution of refusal, gathering strength by the day, and in the past two months alone, their collective anger has spurred immediate and shocking results: nearly every day, CEOs have been fired, moguls toppled, icons disgraced. In some cases, criminal charges have been brought.
TIME includes 35 people in its video on the silence breakers, including Tarana Burke, Ashley Judd, Rose McGowan, former Uber engineer Susan Fowler, Alyssa Milano, strawberry picker Isabel Pascual, female employees at the Plaza Hotel, Terry Crews, Selma Blair, former dishwasher Sandra Pezqueda, Blaise Godbe Lipman, hotel housekeeper Juana Melara, and many more.
While the term "silence breaker" is self-explanatory, it is one that represents society's rapidly shifting standards. Who would have believed even two years ago that there would be such a dramatic fallout for powerful figures accused of sexually abusing and preying on people, often women, for decades? Who would have thought it would result in a galvanizing #MeToo movement that has flooded social media with raw and painful stories from survivors of sexual abuse — and led to the downfall of so many men?
And with its 2017 Person of the Year pick, TIME not only recognized the famous celebrities calling out their alleged abusers; it also highlighted regular women who dared to break the silence about their assault and harassment without the platform afforded to celebrities.
TIME's editor-in-chief Edward Felsenthal laid out the thinking behind the magazine's pick this year.
The roots of TIME's annual franchise — singling out the person or persons who most influenced the events of the year — lie in the so-called great man theory of history, a phrasing that sounds particularly anachronistic at this moment. But the idea that influential, inspirational individuals shape the world could not be more apt this year.
The selection article runs from politics to entertainment, from media spaces to your everyday workplace, pointing out the progress made in various industries as well as the setbacks. And on that scale of progress are the threats to this "revolution of refusal" — Alabama Republican Senate candidate Roy Moore, for example, who despite being accused of molesting underaged girls (allegations he wholly denies) has maintained the support of the GOP and is looking likely to win the race.
But as more powerful men are outed as predators to fierce repercussions, the #MeToo movement is undoubtedly more formidable and effective than ever before. TIME's recognition of its potential to change the world we live in with its 2017 Person of the Year award not only speaks to that, it also serves as more fuel to drive the movement forward.