Yup, Denise Richards' Husband's Job Really Is As Complicated As It Sounded On 'RHOBH'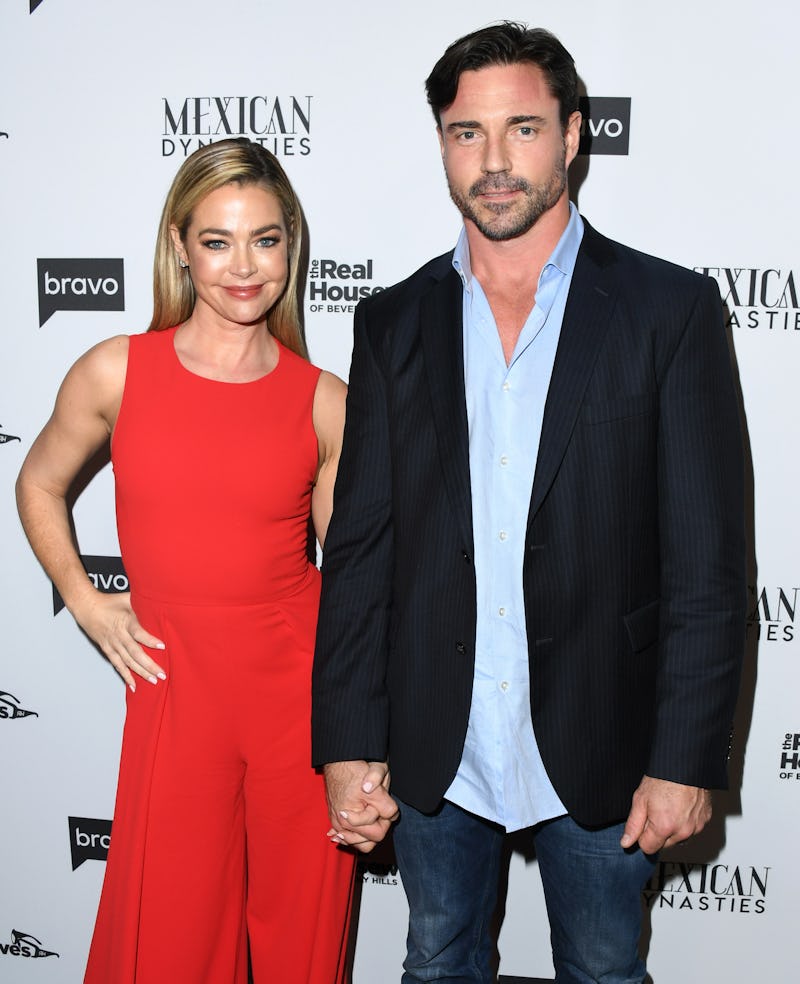 Jon Kopaloff/Getty Images Entertainment/Getty Images
Whenever she talks about her husband Aaron Phypers' job, Denise Richards' explanation leaves viewers with more questions than answers. Exhibit A: While recovering from double hernia surgery in a Real Housewives of Beverly Hills Season 10 episode, Denise mentions Phypers brought along some "goodies from [his] center" to help her healing process. In one scene, Phypers hooks Denise up to a machine to "help stimulate alpha frequency;" in another, he uses something called a "beamer," which he says "helps vasomotion and oxygen distribution." Though he noted he wasn't supposed to talk about it, Aaron even claimed that NASA is putting the beamer (aka a pulse magnetic field map) in space suit technology because it lessens muscle atrophy and bone loss.
If, like, Lisa Rinna, these words sound to you like they're in an entirely different language, you're not alone, because Denise's husband's job is super complicated. Aaron runs the Q360 Club, which the Malibu-based company's official website describes as a "state-of-the-art healing center designed to foster optimal health in mind-body-spirit." Q360 uses sound therapy and a "holistic approach to harness a wide range of energy fields to accelerate healing and amplify healing capabilities."
Denise discussed Aaron's "frequency medicine" job in simpler terms during a RHOBH after show appearance in Season 9: "It's light and sound therapy. How he described what is going on is Ella Fitzgerald sings and breaks glass, right? The frequency breaks that. So frequency can also break down different things going on."
In an April 2019 RHOBH episode, Denise read everyone's mind, stating the obvious. "People are going to be like 'what the f*ck is that about'?" she admitted on camera. "But, I think you have to like video something because I didn't understand it, but it is so fascinating and it's crazy."
At Lisa Rinna's pastry decorating party during that same episode, Erika Jayne asked Denise about how she met Aaron. She was very open when she explained the meeting to the group: "So, I met him at his center doing DNA repair, anti-aging, and that sort of thing. Then, one time we had sex in one of his rooms. We've been inseparable ever since."
The business began with Aaron's "vision of creating a healing space using something as basic as frequencies." Aaron's work all comes back to vibrations. In Canada, he used frequency-generating devices to "help people re-establish homeostasis and balance their body, mind and spirit." Later, he moved to California and established Q360 (the "Q" stands for Quantum) in Malibu.
So what do these frequency-generating devices do? The company's site claims that they "rejuvenate DNA function to improve skin vitality and help you look and feel younger," and Richards has been posting videos of treatments on her Instagram. "It's not cuckoo weird sh*t; it's like been around for hundreds of years, holistic medicine, all over the world," Richards told the Daily Dish. "It's different for every person."
Additional reporting by Marenah Dobin.
This article was originally published on