Arkansas' Abortion Law Could Give Rapists Rights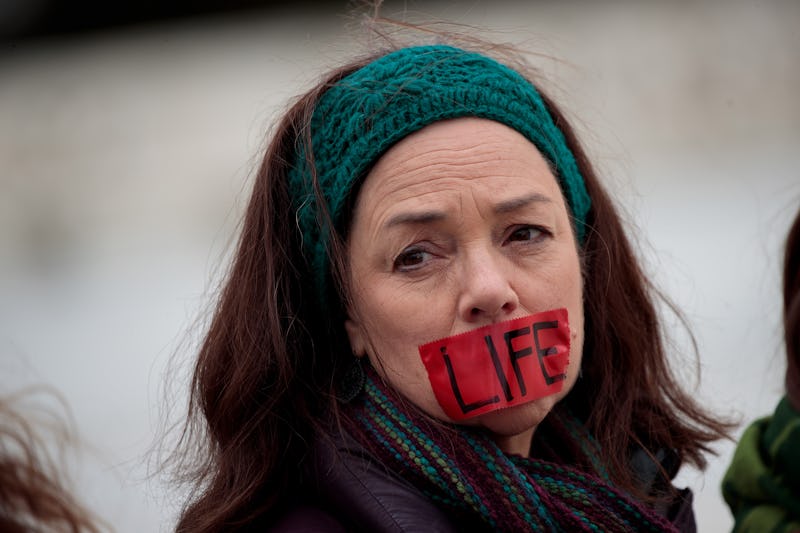 Drew Angerer/Getty Images News/Getty Images
Under a new Arkansas state law women can be barred from having an abortion by their spouse or family member, even in instances of spousal rape or incest. The "Unborn Child Protection From Dismemberment Abortion Act," which became Act 45 after it was signed into law by Arkansas Gov. Asa Hutchinson last week, is one of the most restrictive anti-abortion legislations in the country. Along with giving family members unprecedented rights over a woman's body, Act 45 effectively bans almost all second trimester abortions. It is the latest attempt of a frightening trend to roll back women's reproductive rights.
Act 45 places a statewide ban on one of the safest and most common methods for second trimester abortions: dilation and evacuation (D&E) procedures. According to the American Medical Association, D&E procedures — where a physician uses surgical tools to remove the fetus from the womb — are the safest and most common way for pregnancies to be terminated after 14 weeks of gestation. Under Act 45, D&E procedures will become a felony punishable by a $10,000 fine or six years in prison. According to Arkansas' Department of Health, out of the 3,771 abortions performed in the state in 2015, 683 were D&E procedures, meaning the procedure accounted for roughly 18 percent of all abortions performed that year.
But Act 45, which is set to take effect later this year, goes beyond simply curbing the majority of second trimester abortions. The law also contains a frightening clause that enables a woman's husband to sue the doctor who performs her abortion for monetary damages. Husbands are also able to file civil lawsuits seeking injunctive relief, or a court order to prevent the abortion from taking place. In cases of spousal rape, classified as "criminal conduct," husbands cannot sue for monetary damages but are still given the right to sue for injunctive relief and block an abortion. In the case of pregnant minors, parents or legal guardians can sue.
Unfortunately, Arkansas' Act 45 isn't wholly unique. Similar laws banning D&E procedures have been passed in at least six other states, according to Reuters. However, there's some good news for reproductive rights advocates. Legal challenges to similar laws in Alabama, Kansas, Louisiana, and Oklahoma have resulted in suspended implementation. The Arkansas chapter of the American Civil Liberties Union has already vowed to take the state to court over Act 45, calling it "unconstitutional."
"They created a whole new right ― the right of a husband or family member to sue a doctor on behalf of an adult patient," Holly Dickson, legal director for the ACLU of Arkansas, told the Huffington Post. "We have raised concerns about that provision and the entire rest of the bill, which is unconstitutional." In a statement to Reuters Rita Sklar, an attorney with the ACLU Arkansas chapter, said "the law puts an undue burden on a woman's constitutional right to obtain a second-trimester abortion."
Proponents of the law, however, have painted it as an attempt to cultivate a more compassionate and civilized society. Speaking to lawmakers prior to their vote last week, "Unborn Child Protection From Dismemberment Abortion Act" co-sponsor Sen. David Sanders said the bill would "move us to a more compassionate society," Reuters reported. Arkansas state Rep. Andy Mayberry, who also co-sponsored the bill argued D&E abortions were a "gruesome, barbaric" procedure "that no civilized society should embrace."
While Arkansas Act 45 is one of the country's most restrictive abortion measures, it's far from conservative lawmakers' only attempt to curb women's reproductive rights. Emboldened by Donald Trump's election win, anti-abortion legislatures have moved to introduce a frightening number of restrictive legislations in states across the country.