Here's How Much Al Michaels Is Actually Worth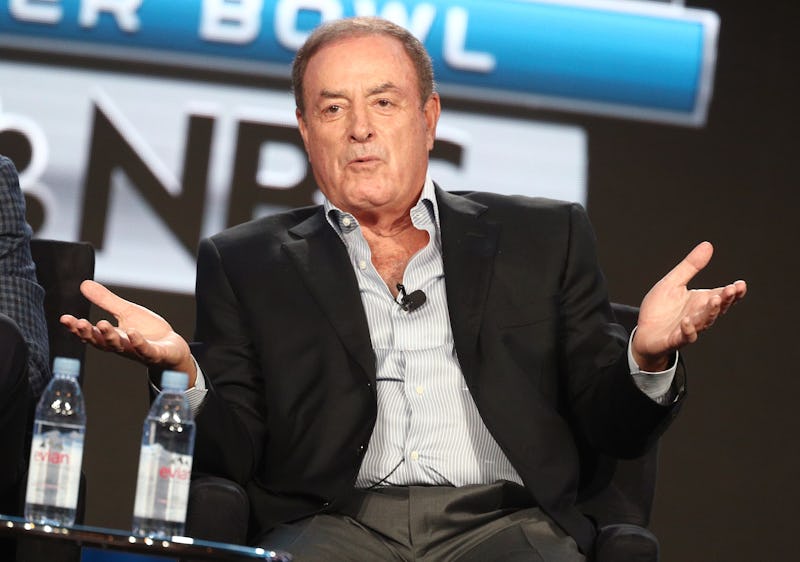 Frederick M. Brown/Getty Images Entertainment/Getty Images
When you tune into Sunday's broadcast of the Super Bowl one person will take centerstage — and it's not a player or coach. Al Michaels, the veteran sports play-by-play announcer, will be talking through the game for NBC. The announcer was long sought after by the network and was recruited away from ABC and ESPN in 2006. And Al Michael's net worth and income definitely reflect that this will be his 10th time doing play-by-play for the Super Bowl.
The website Celebrity Net Worth estimates his net worth at $20 million and his annual salary at $6 million. That would put him among the best paid announcers in the business. He has been doing play-by-play for Super Bowl games since 1988, when he first did for ABC.
Those decades of experience show when he talks about what his plans for Super Bowl Sunday with The New York Post. Before hand he said he will "just get up in the morning, have a nice breakfast, my wife is here."
From there, though, it's straight to work, preparing. "You can't avoid thinking about the game like around the clock, so I've got a ton of notes and stories and things that I prepared, and just kind of go over them, not try to memorize anything, but just refresh myself. The key to doing the game is let the game come to you," Michaels told The Post.
And the lack of memorization shows his true experience, one that awards his take-home pay. "We have 18 gazillion stories, and most of the stories will not be close to getting told, because they won't be germane to the game," Michaels continued. "So I've always felt that the key is let the game start, see where it's going, then fold in the information you have to what's taking place on the field."
This Sunday routine is likely to continue for the foreseeable future. Michaels is not planning to give it up anytime soon — retirement is still a ways off. "If you think about retiring, you've already retired," Michaels told the Associated Press. "That rings in my ears. I have a great amount of passion for what I do. I love what I do. I work with the greatest people I've ever worked with in this business top to bottom. I still get excited going to the games. I love walking into a stadium. I love sports."
His enthusiasm and experience combined explain his performance. "I think it's easy to say to yourself, 'This is the Super Bowl,' but once the game starts, you need to remember that you've been there, you've done that," Michaels told The Plain Dealer. "I've done pretty close to 700 NFL games, counting pre- and post-season, in the 32 years I've been part of the Monday and Sunday packages. So, you know it's the Super Bowl — but you just get into the flow, into the rhythm, and try not to do it any differently than you would another game. You've just got to feel in sync with the game."
Joining Michaels will be Cris Collinsworth with "added color." Michaels sang his praises. "Never saw a guy work as hard," Michaels told The Post. "For my money, I've had the two best analysts ever over the last 16 years." He has worked with John Madden as well as Collinsworth.
"Cris sees things that nobody else can see." Michaels continued. "And it's not just a matter of predicting plays, but he just gets to the essence of everything … and has a great understanding of the business of television. So it's not just that he knows football. He knows how to impart the information. He knows how to make it interesting, he knows how to make it relevant. And he entertains. He's the whole package."
Television executives, and audiences at home, would likely say the same about Michaels, explaining his successful career — and his net worth.