Joe Biden's "American Possibilities" PAC Has Raised Questions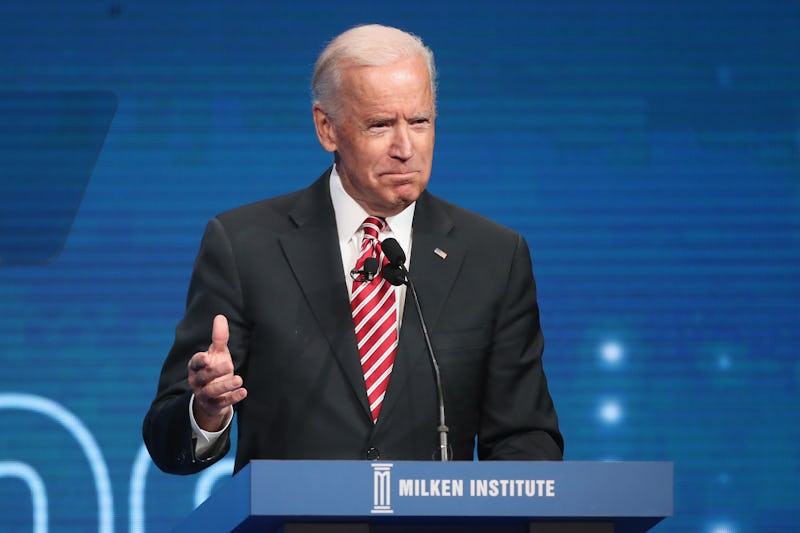 Frederick M. Brown/Getty Images Entertainment/Getty Images
Former Vice President Joe Biden may have decided against running for president in 2016, but he doesn't seem quite ready to step away from politics just yet — particularly considering the current state of the White House. And it's telling: Biden started a PAC called American Possibilities as a way to stay active in politics.
The New York Times reported that American Possibilities' launch will be announced by Biden on Thursday morning, and excerpts of a piece he wrote for Medium on the issue have already been circulating among news organizations:
Thinking big is stamped into the DNA of the American soul. That's why the negativity, the pettiness, the small-mindedness of our politics today drives me crazy. It's not who we are. ... It's time for big dreams and American possibilities. If that's what you believe — and you're ready to help elect folks who believe that, and to support groups and causes that embody that spirit — then I'm asking you to join me today.
The Times reports that the group will let Biden support the Democratic Party going forward, particularly by giving money to candidates in the governors and midterm races coming up; it will also help Biden travel for the party. But in addition to all that, the PAC could become his stepping stone for a 2020 presidential bid.
Greg Schultz is slated to run the organization, and while he's most recently been an aide in the vice president's office, he once worked on Obama's presidential campaigns, too. Stephanie Cutter, a veteran Democratic strategist, told The Times, "Biden has a lot of support out there, and this gives him a way to grow that support while also helping Democrats win and build the party."
Following the painful election, Biden has criticized the Democrats' direction and particularly Hillary Clinton's candidacy. At a SALT hedge fund conference in Las Vegas, he said, "I never thought she was a great candidate. I thought I was a great candidate. Hillary would have been a really good president."
So a Democrat winning is clearly on Biden's mind. He is four years older than President Trump and remains well liked. But maybe he's not actually thinking of running himself. "When I got asked to speak, I knew it was going to cause speculation," Biden said at a dinner in New Hampshire in April. "Guys, I'm not running."
Whether Biden ultimately decides to run for president, he's far from retirement. He ends his launch email to supporters and potential donors, "See you out there." Expect more Biden in these years to come.