What Charles Manson Has Been Doing Since The '70s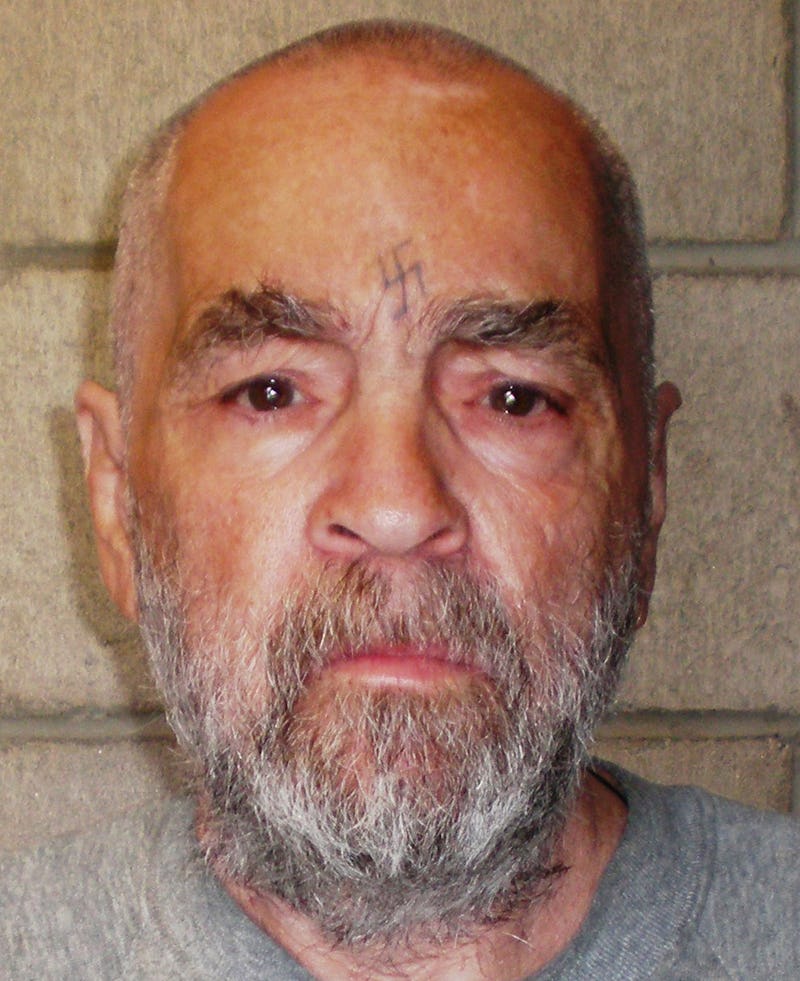 Handout/Getty Images News/Getty Images
Although it's been decades since the Manson Family committed the Los Angeles murder spree that made them infamous, their crimes are still spoken of today. So what is Charles Manson doing now? On Wednesday, Jan. 4, the Los Angeles Times reported that Manson had been hospitalized for an undisclosed medical issue. A spokesperson for the California Department of Corrections and Rehabilitation told the paper that she couldn't disclose an inmate's private medical information, but he remains alive.
Before that, however, it's safe to say the former cult leader hasn't gotten out much. In 1971, he was convicted of murder and given the death sentence. When a California court found the death penalty unconstitutional in 1972, though, his sentence was commuted to life in prison. According to the Los Angeles Times, he has been denied parole 12 times — most recently in 2012, with the next hearing scheduled for 2027.
To anyone with even a passing interest in true crime, the story of the Manson Family is familiar. Following his release from prison in 1967 for numerous offenses, Manson gathered together a group of followers, who called themselves his family, and moved them to the deserted Spahn Ranch outside Chatsworth, Calif. According to prosecutors, Manson claimed to be the reincarnation of Jesus and began prophesying a race war.
In July 1969, several members of the Manson Family reportedly murdered music teacher Gary Hinman at Manson's behest. On the night of Aug. 9, again on Manson's orders, a group of four core followers killed five people at the home of director Roman Polanski, including Polanski's wife, Sharon Tate. The next night, members of the cult (accompanied by Manson in the car ride to their house) killed Leno LaBianca, a supermarket executive, and his wife Rosemary.
In October, Manson and many of his followers were arrested on suspicion of auto theft, but in December, Manson — along with Tex Watson, Susan Atkins, Patricia Krenwinkel, and Linda Kasabian — was indicted for the murders of Tate, her friends, and the LaBianca couple. (Leslie Van Houten was indicted for the LaBianca murders, but not those that occurred at the Polaski house.) Manson's trial began in 1970, and although he wasn't physically present for the murders, he was convicted in January 1971. During the trial, he released an album titled Lie: The Love and Terror Cult.
Since then, Manson has served his time in California's Corcoran State Prison, with a stint in Pelican Bay. According to CNN, he has incurred 108 disciplinary violations throughout his sentence, and in 1984, he was set on fire by another inmate who claimed Manson threatened him for being part of the Hare Krishna movement. Manson has given many interviews over the years.
Despite living behind bars, Manson still manages to attract a few followers. In 2014, the cult leader and 25-year-old Afton Elaine Burton, who at the time were 80 years old and 25 years old, respectively, obtained a marriage license, although it expired before they got hitched. Some claimed that Burton had ulterior motives — not to get her hands on Manson's bank account, but on his body so she could display it after his death. Burton and her mother have disputed those claims. Manson remains single two years later.
Although Manson appears to have been rushed to the hospital in early 2017, the Bakersfield Californian reports that he is not in the intensive care unit. One thing is clear: The saga of the Manson Family continues to fascinate and disturb in equal measure.