This Apple Update Makes It Even Easier To Use Your Laptop In Dim Lighting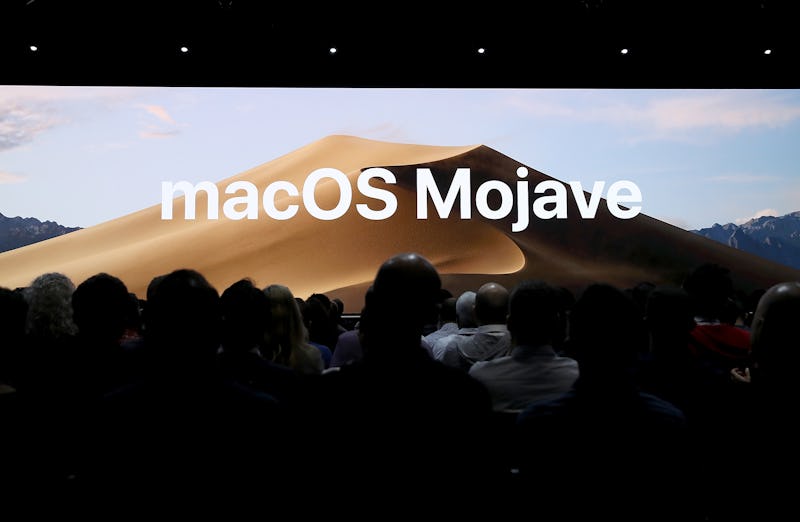 Justin Sullivan/Getty Images News/Getty Images
The forthcoming iOS 12 release isn't the only thing generating buzz at Apple's Worldwide Developers Conference keynote, which was held on Jun. 4 in San Jose, CA. A new update for macOS has people cheering about the inclusion of Dark Mode in Apple's macOS Mojave 10.14 software update, which is expected to be released this fall. "Dark Mode is not just about the dock or the menu bar," Craig Federighi, senior vice president of software engineering at Apple, said during his keynote at WWDC 2018. "It extends to your Windows Chrome, your sidebar, and even the content of the windows."
For photographers, Dark Mode is a dream come true. "It makes photographic content just pop off the screen," Federighi said, adding that shutterbugs aren't the only ones who will appreciate Dark Mode in macOS Mojave. "This is great not just for photography, but when working on presentations." Additionally, if you're working in a dark room, or at night, the contrast of Dark Mode allows you to better see your calendar, your mail, your music library, and your documents.
Even if you never look at a photo, create a presentation, or work in the dark, Federighi speculated that you might want to go into Dark Mode simply because it looks so freakin' cool. "I mean, check out your album presentation in Music," he said.
If you work from home on the same computer you use when you're not working, Dark Mode is an ideal way to transition from work to play. Just switch over to Dark Mode when you're finished working to give yourself a visual and mental cue that you're shifting gears.
For those who have a hard time keeping their desktops organized, macOS 10.14 Mojave will also feature Desktop Stacks, Malcolm Owen reported for Apple Insider. Desktop Stacks will help you make your hot-mess desktop presentable by grouping like content together by date, type, and tag. You can open the stacks by clicking on your desktop, and the stacks will retract after your selected document is retrieved. It's kind of like having a cleaning person for your desktop who you don't have to pay. Um, yes please!
This is another lifesaver for those who use the same computer for everything. Desktop Stacks mean that those eleventy-million work files and docs don't have to send you into an anxiety spiral when you log on to your computer to watch Gilmore Girls.
"macOS Mojave is a major update that introduces powerful new features for a wide range of Mac users, from consumers to pros," Federighi said in his keynote. "Dark Mode brings a dramatic new look to macOS that puts your content front and center, familiar iOS apps come to the Mac for the first time and the redesigned Mac App Store makes finding new apps easier and more enjoyable than ever."
Myriad other macOS Mojave features like an enhanced Finder functionality, a Continuity Camera, Home and HomeKit, a new Screenshot utility feature, FaceTime for multiple users, new font collections, improved hard-drive performance, Automator shortcuts in Touch Bar, and more are all designed to make your mac experience better.
Perhaps one of the most exciting forthcoming features is News and Voice Memos being available on your desktop. Whatever you're reading on your iPhone will appear where you left off on all of your synched devices so you can start reading a story on your phone and finish reading it on your computer without missing a beat. Finally, this update promises enhanced privacy protection and tracking prevention tools to keep your data safe.
The macOS Mojave 10.14 updates are so intuitive that it's sort of bewildering that they've been overlooked until now, and once you try them you might wonder how you ever got along without them. Because, despite the shortfalls of previous software updates, everyone knows that owning an Apple computer pretty much ruins you for anything else — there's no coming back from Mac.