Yes, David's STILL Trolling Jordan Post-'Bachelorette'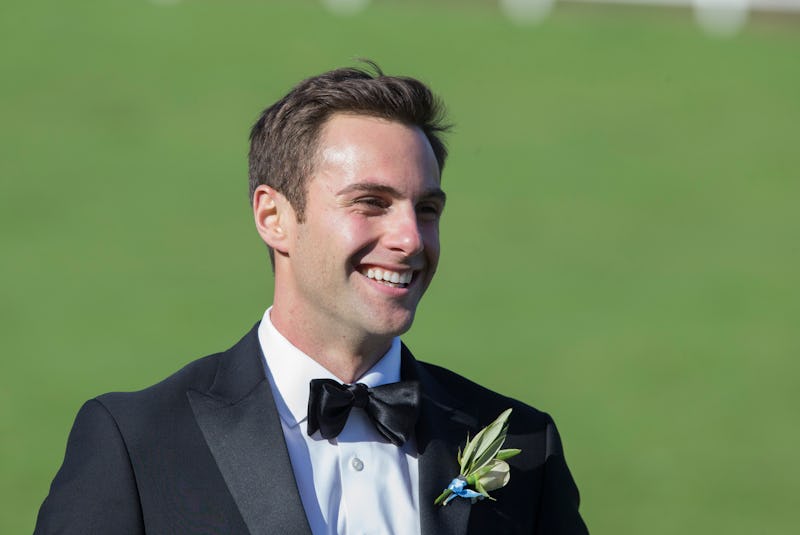 Paul Hebert/ABC
Being a contestant on The Bachelorette is never easy, but one contestant, David, has had a particularly rough time of it. First, he was mocked for wearing a chicken suit on the first day of filming. Then, he got involved in a bunch of drama with this season's villain, Jordan. And to add insult to injury, he even fell out of his top bunk and broke his nose, necessitating a trip to the hospital. Luckily, David was still given a rose before being sent off to get some bedrest, so all of his struggles have been rewarded so far. But while David is still in the running for Becca's heart on television, filming of the show has wrapped, which means that the chicken man is back at home, resuming his life. So, what is David doing after The Bachelorette? If his Instagram page is any indication, he's still holding a grudge against his nemesis.
Most of David's Instagram posts these days are either snaps from "The Journey" or pictures of him with his family and friends. After spending months apart, with no contact whatsoever (unless he made it to hometowns), it makes sense that David was eager to reconnect with his family and his roots.
David really doesn't post that much on social media, so it's a bit unclear what he's been up to since the cameras turned off. But he's definitely still trying to pick a fight with Jordan, as you can see in this gem of a caption he added to a recent hiking selfie.
Hilarious, right? If this pic and his Instagram posts before being cast on The Bachelorette are any indication, David's probably been spending a lot of time exploring his home state of Colorado. It's clear from his profile that he loves to go camping, hiking, and spending as much time as possible in the great outdoors. Which is not a bad hobby to have considering the circumstances.
Think about it — if David left the show heartbroken, he's probably taking some long walks in the woods in order to heal and process all of his emotions. If he's the one Becca chooses, they could be somewhere camping together right this very minute. Probably in disguise to hide from paparazzi, maybe even in matching chicken suits. One can only hope, right?
One thing we do know is that if David makes it through the next couple rose ceremonies, it might be in his best interest to stay out of any more drama, though he's obviously still mulling it over now that the show is airing. Which makes sense considering that he and Jordan went at it from the moment David stepped out of the limo in a chicken suit. The feud just kept heating up from there, until David and Jordan finally got into perhaps one of the most ridiculous fights to ever air on The Bachelorette (and that's saying something).
Just in case you missed it: After Jordan bragged about how many matches he had on Tinder and his 100 percent success rate, David decided to tell Becca that he though Jordan was a womanizer and might not be "here for the right reasons." Words were exchanged. "Pensive Gentleman" looks were served. Jordan didn't even seem to care when David fell and broke his nose. Bachelor Nation collectively rolled its eyes.
In the promo for this upcoming week, it looks like Jordan and David will be pitted against one another in a dreaded two-on-one date. Though Becca might have hoped that the two guys would stop letting their egos get the better of them and cease fighting for the rest of the season, at least one of them is definitely getting left behind. Which might be why he's still a little bitter.
But David does seem sweet, and he and Becca seem to have a genuine connection when they aren't talking about Jordan. Let's all just hope that David's time at home has given him space to clear his head and let go of the drama. Unless he has any more snarky Instagram captions to serve.