OMG David Tennant Is Returning To British TV In A Super Important New BBC4 Comedy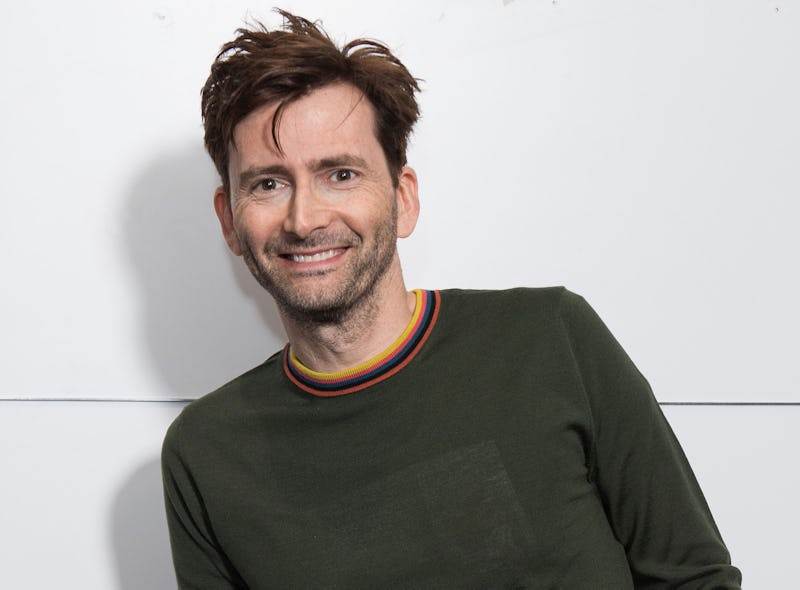 Jeff Spicer/Getty Images Entertainment/Getty Images
The career of David Tennant has sure been an interesting ride, full of twists and turns that have seen him cross both the TV/film divide and the Atlantic. Following roles in the likes of Harry Potter and forthcoming Amazon/BBC Two drama Good Omens, I was thrilled to discover the former Doctor Who star's new project will see him return to the UK on BBC4. But what is David Tennant's There She Goes about? Well, it turns out it's likely to make you burst into tears of sheer joy at the kind of against-the-odds optimism which can only be produced by a true underdog story.
BBC bosses have revealed that the five-part series will feature the actor as Simon, the father of a nine-year-old girl called Rosie who has severe learning disabilities and struggles with even the simplest of day-to-day tasks. Shaun of the Dead actress Jessica Hynes will play Simon's wife Emily, while Rosie herself will be played by Miley Locke.
Each 30-minute episode will follow Simon (Tennant) and Emily (Hynes) as they struggle to help Rosie navigate the trials and tribulations of everyday life, with the BBC also confirming the inclusion of a dual narrative in the form of a second timeline. While one narrative thread will follow the family in the present day, There She Goes' second timeline will be set in 2006 and follow the family as they grapple with the difficulties of welcoming a severely disabled child. The series will also star Edan Hayhurst as Rosie's brother, Ben.
But, what makes the idea of There She Goes so emotional exactly?
For one, it's based on the real life experience of writer and former Extras star Shaun Pye. His own daughter was born with a rare and — thus far — undiagnosed chromosomal disorder in 2006, and he drew on his experience in creating the drama. Furthermore, There She Goes is being brought to screens by Catastrophe actress Sharon Horgan's production company Merman, with Horgan herself on board to executively produce the project. And, if there's any person qualified to deliver super relatable comedy in an almost tearful way, it's Horgan.
On Tuesday, at a press launch of the BBC's upcoming comedy programmes, the Independent reports that Shane Allen, controller of BBC Comedy Commissioning, opened up about the diversity of its new shows. He said: "The last few years in BBC comedy have been a boom time for new talent with multi-award winning shows including Fleabag, This Country, The Young Offenders and People Just Do Nothing. These are shows that have taken a risk on new talent, which have resulted in comedy from the heart that has a very real sense of place and with characters you grow to care about — who earn those emotional twists and turns."
He added: "Today's announcements signal our expansion of this commitment to championing the very best emerging British comedy talent alongside new comedy pieces that cater for the wide spectrum of tastes of our audiences."
Based on Allen's comments and the rest of the above information, I am expecting There She Goes to be quite an emotional ride, but did you know it will also be a reunion? Yes, Hynes and Tennant have actually worked together previously on Doctor Who when Tennant was still in the hot seat. Hynes appeared in three episodes in total: first in 2007's Human Nature and The Family of Blood as Joan Redfern, and later as her granddaughter Verity Newman in the Christmas 2009 special, The End of Time.
To conclude, I'm confident There She Goes will be a hilarious nevertheless emotional ride, and I'm expecting an emotive performance from Tennant, who is also currently filming Lena Dunham's next HBO project Camping. There She Goes is written by Shaun Pye and will be directed by Simon Hynd. Filming begins next month and and the series is likely to be broadcast later this year on BBC Four.