Disney's 'Coco' Sounds Like Quite The Adventure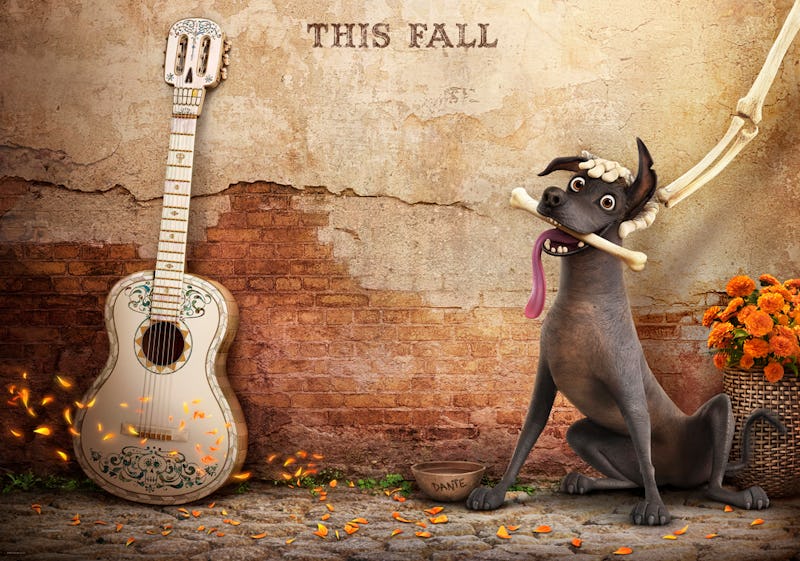 Disney•Pixar
If you're a lifelong Disney fan like yours truly, who constantly keeps their ear to the proverbial ground, you may have heard excited whisperings. Rumors. Rumblings. And it's true — new work from your favorite mass media and entertainment conglomerate is coming your way. So, what is Disney's new movie Coco about exactly? Director Lee Unkrich dropped a few clues when he tweeted the poster on Friday, March 10, but it feels like the poster may have prompted more questions than it answered.
To start, given that the only character you can see in the image is a dog, you might be confused. Is the dog the main character? And if that's the case, why is he positioned slightly to the right of the poster and even smaller than the guitar, suggesting he's a minor character rather than the leading man? However, other parts of the poster are slightly more telling. If you've noticed the skull's head on the guitar and the detail on the bunting, you may already be clued in to the Disney Pixar collaboration's inspiration: Mexico's Día de los Muertos (Day of the Dead) celebration, which is also hinted at by the skeleton hand reaching out from the side of the poster.
Some spoilers ahead: We also know that the film's protagonist is not a dog, guitar, nor disembodied skeletal arm. No, more traditionally, Coco's protagonist is a 12-year-old boy named Miguel, who nurses a dream of becoming as great a musician as his idol, Ernesto de la Cruz. Just one problem: His grandma banned music years ago after Miguel's great-great-grandfather — a musician — abandoned his family. So when Miguel breaks into the family crypt to steal the famous skull guitar to try and win a talent competition to convince his relatives to embrace music again, you know things aren't going to go according to plan.
After a chain of supernatural events, Miguel finds himself in the Land of the Dead (which isn't as gloomy as it sounds). Along with a "charming trickster" Hector, he sets out to uncover his family history. At this point, I should definitely mention that none other than Gael García Bernal voices Hector, so you know that's going to be like honey dripping in your ear. OK, that sounds disgusting — but in a good way.
That's all the narrative we've got for now, but the fact that Unkrich is co-directing (alongside the film's writer, Adrian Molina) could offer up more clues. After all, this is the director responsible for Toy Story 3 and who co-directed Toy Story 2, Monsters Inc., and Finding Nemo. If those films are anything to go by, his film will have equal appeal to kids and the adults accompanying them to the cinema and a happy ending (though Coco's a Disney film, so, well... that's not such an out-there prediction).
Not only that, but it could bring life to an overlooked sphere that you don't usually think about in your day-to-day life, i.e. inanimate objects like toys, a theoretical world powered by the screams of children, the ocean ecosystem. I'd imagine, purely from the choice of the director, that much of the film will be focused on the creation of a charming Land of the Dead.
Whatever the case, it sounds like this could be one of the most exciting films we've seen from Disney in years. Start your countdown to the trailer. More Coco is headed your way soon.