The 5 Major Musical Movies Of 2017 You Gotta See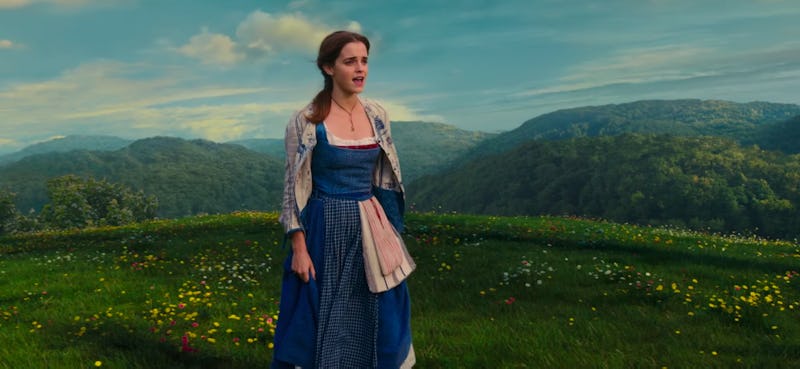 In case you haven't heard, musicals are having a moment. With La La Land so popular, it feels like any stranger you pass on the street might suddenly start giving you a lecture on why it's the best movie modern Hollywood has ever seen. But, in the new year, that musical moment is going to be much more subdued, with only five musical movies coming out in 2017. Now, it's true that there are a few major musicals currently in the works without official release dates (like an unnamed Channing Tatum and Joseph Gordon-Levitt comedy, or the Lady Gaga-starring A Star Is Born remake), so there could be more musicals on the horizon in 2017. But, for now, there are just five confirmed ones to look forward to this year.
Musicals are tricky, especially the non-animated kind. Hollywood tradition dictates that movie musicals be big, grand productions, with intricate sets and show-stopping numbers. In other words, musicals are huge undertakings, which might explain why there are so few of them. But, looking at the five musicals set for release in 2017, it's clear that Hollywood is about to learn that if there's one thing audiences actually do want more of: it's musicals.
Beauty And The Beast — Mar. 17
Disney's going back for their new musical movie, a live action take on their 1991 classic Beauty and the Beast. Emma Watson and Luke Evans star in the new reboot, which will still be very much a musical. Expect to hear some slightly new takes on classic songs like "Be Our Guest" — here, sung by Ewan McGregor (Lumière) in an attempt at a French accent — and "Gaston" — performed by Luke Evans (Gaston) and Olaf himself, Josh Gad (Le Fou). Beauty and the Beast is already one of the most hotly anticipated movies of 2017, and it's on track to make musical lovers proud.
My Little Pony: The Movie — Oct. 6
The first big screen adaptation of the revamped My Little Pony cartoon, My Little Pony: The Movie will take Twilight Sparkle and her pony friends on an adventure to save their home of Ponyville. The movie, set to feature the voices of Zoe Saldana, Emily Blunt, Michael Peña, along with the Mane Six voices Tara Strong (Twilight Sparkle), Cathy Waseluck (Spike), Andrea Libman (Pinkie Pie), Tabitha St. Germain (Rarity), and Ashleigh Ball (Applejack). The animated film, which will feature a brand new original soundtrack, will also feature Broadway vets like Kristen Chenoweth, Uzo Aduba, and Taye Diggs, not to mention Sia, who is set to play Songbird Serenade.
Coco — Nov. 24
Disney Pixar's next original film, Coco, was called "a love letter to Mexico" by director Lee Unkrich, according toVanity Fair. And it looks like that love letter will also be to Mexican culture and music. The film will follow a young boy, Miguel, as he journeys into the Land of the Dead and learns about the Día de los Muertos after stealing his dead grandfather's guitar to pursue his love of music. The movie will star Gael Garcia Bernal, Benjamin Bratt, Renée Victor, and Anthony Gonzalez, and Coco will feature a few original songs, as well as some traditional music. That said, as reported by Vanity Fair, Coco won't be the kind of musical where the music, or songs, replace dialogue, so I wouldn't expect to find a "Let it Go" hidden in the original Coco soundtrack.
Pitch Perfect 3 — Dec. 22
Pitch Perfect will officially enter trilogy territory in 2017, with the release of Pitch Perfect 3. Details of the film, which just began filming, are still being kept under wraps, which means we don't know much about what the Barden Bellas (college graduates though they may be) are up to in this sequel. We do know, however, that all the major stars are back for Pitch Perfect 3 — Anna Kendrick, Brittany Snow, Anna Camp, Rebel Wilson, Hana Mae Lee, Ester Dean, Alexis Knapp, Kelley Jakle, Shelley Regner, Chrissie Fit, and Hailee Steinfeld have all signed on. So, get ready for more awesome mashups and (hopefully) another riff-off.
The Greatest Showman — Dec. 29
Zac Efron is returning to musicals for the first time since 2008's High School Musical 3. In The Greatest Showman, Efron will co-star alongside Hugh Jackman, who stars as P.T. Barnum — that's right, the man responsible for the famous Ringling Bros. Barnum & Bailey Circus. Jackman and Efron will sing and dance their way through forming a friendship, building a legacy, and falling in love — Michelle Williams plays Jackman's love interest with Zendaya on board to play Efron's. Rebecca Ferguson is also set to co-star as Swedish opera singer, Jenny Lind. Out of all the musicals hitting theaters in 2017, I'd expect The Greatest Showman to be the biggest and best of them all. Or, at the very least, the most traditionally ambitious.
Musicals of 2017, my ears are open, my heart is pounding, and my body is ready. Come at me.