Erica Dixon Is Still Busy After 'Love & Hip Hop'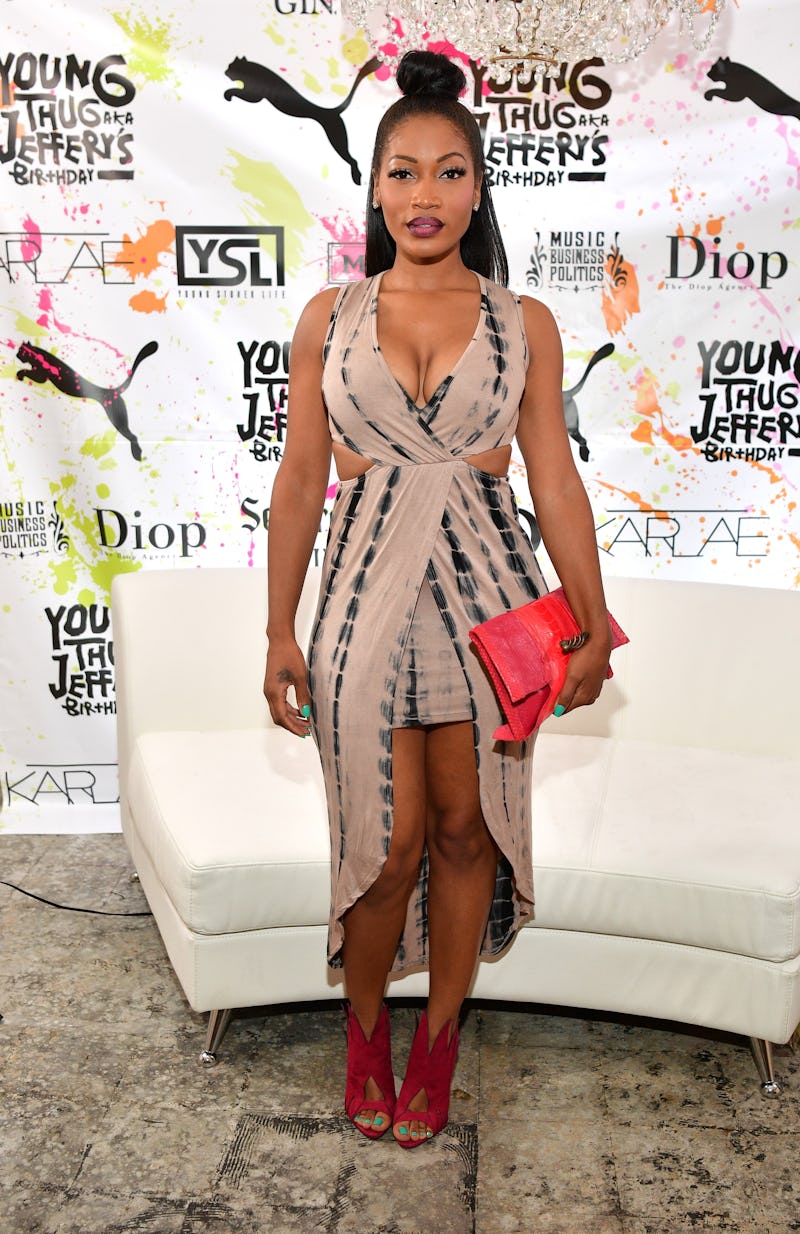 Prince Williams/Getty Images Entertainment/Getty Images
When Love & Hip Hop: Atlanta returns on Monday, March 6, the cast will still be crackling with the drama of the past few seasons, but there will be one big change. Erica Dixon won't star in Love & Hip Hop: Atlanta Season 6, and while reality show casts often change, this one seems a little surprising because of everything that went down last season between her and the father of her child, Lil Scrappy. As for what Erica Dixon is doing now, aside from no longer being a cast member on the series, her life seems largely the same, minus some of the drama... or, at least, minus the cameras there to record it.
Last year, there was some drama surrounding her exit from the series, as fellow cast member (and Scrappy's mother) Momma Dee claimed that Erica was fired from Love & Hip Hop because she was lying about Scrappy. Last June, on radio show PB-N-Tea, Dee claimed, "Her strategy and her lawyer's strategy was to make Scrappy seem as though he's violent. If you could prove that he was violent then is he fit to keep his daughter. Her strategy was smart, but failed to when it came down to reality TV." In response, Erica posted an Instagram of what appears to be a contract for another season of Love & Hip Hop: Atlanta, suggesting that she chose not to return.
Back in February 2016, when it was first revealed that Erica wouldn't be back, she told Wetpaint that she's "at peace" with the change. "People don't understand — they just think it's all this glitz and glamour because you're on TV, but there's so much that comes with it," she said. "I can honestly say I'm at peace and I'm happy." And if you look at what Erica has been up to since then, it seems like that's still true.
She's Flying Private
Maybe I shouldn't be impressed by anyone who travels by private jet, but I can't help but think of it as the mark of someone who is doing just fine for themselves. Erica recently traveled with Darryl Drake, CEO of Total Life Changes, as a part of a campaign to help others achieve business success.
She's Selling Her Own Line
She's been promoting Klass6, her clothing line, which is mostly filled with body-con dresses. A few of the items are sold out, so it stands to reason that the line is at least relatively popular and is doing well.
She's Hoping To Help Women
It sounds like, while working with Drake and others at Total Life Changes, Erica is crafting a project aimed specifically at the "1000 families" and "100 women" that make up her signature hashtags. As Total Life Changes businesswoman Rosa Sims wrote on Instagram, "Welcome to the family [Erica Dixon]!! Thank you for your YES! Ladies/Single moms she has something brewing for you and I promise you don't want to miss it. Connect and Stay tuned!"
She's Raising Her Family
"She said ain't nobody alive that can take my place," Erica wrote, which is a sweet message from a daughter to a mother. Emani, Erica's daughter, is growing up to be a very adorable tween, as seen on past seasons of Love & Hip Hop: Atlanta.
She Has Her Own Book Series
Erica has released a children's book, Southern Bell, the first in a series of what will eventually be seven, according to its website. The first book is available now, and it's based on Erica's childhood.
She's Voicing Her Dissent
In these politically charged times, Erica has used her platform to share her political beliefs online. She captioned the above illustration with a simple "powerful," but she frequently goes for some inspirational or meaningful messages.
Erica may not be on Love & Hip Hop: Atlanta anymore, she's still just as busy, thanks to her friends, family, professional endeavors, and more.