Rihanna Just Announced Another New Fenty Beauty Product & It Will Take You Back To The '90s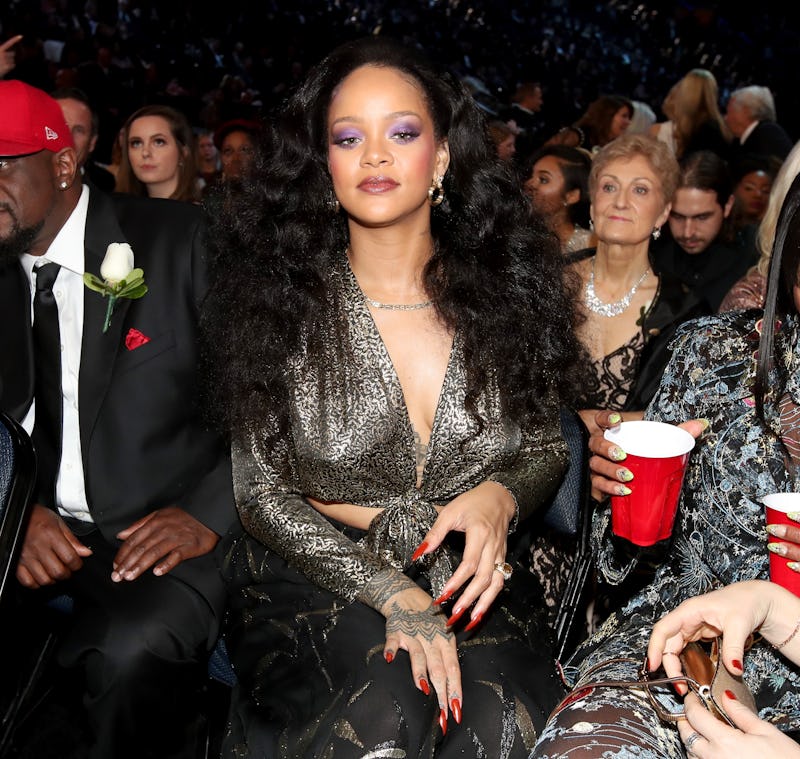 Christopher Polk/Getty Images Entertainment/Getty Images
It's been a minute since Rihanna launched something new for Fenty Beauty, which thankfully beauty lovers a moment to save up their cash for the next groundbreaking launch. The last thing the artist-turned-beauty-mogul blessed us with was the Mattemoiselle 14-piece matte lipstick collection in December, bringing us delightful colors like "PMS" (a "moody brown,") and "Midnight Wasabi," (a "wicked green.") Since then it's been quiet, but she has broken the silence by launching a beauty product that is so amazingly '90s: The Fenty Beauty Fairy Bomb.
Fairy Bomb is exactly what you think it is — a beauty product that is going to dust you head-to-toe in glitter. Last night on Instagram, she first teased two shimmer products called "Body Lava," demonstrating how the illuminizer worked. It looked like an oil-based, glitter-packed lotion in a bottle, and you could choose between a bronze color and a champagne-gold hue.
But Rihanna didn't feel that that would satisfy people's sweet tooth enough when it came to glitter. Why give yourself a subtle shimmer when you could aim for an all-out glow? That's where the Fairy Bomb puff comes in.
This morning the beauty mogul took to her Stories again to debut a massive powder puff that threw you straight into the '90s. When you see it, you might be brought back into your middle school years, where you reached for your mom's or sister's massive powder puff in the bathroom and dusted some iridescent shimmer onto your shoulders and collarbone. That's exactly what this puff does.
"#FairyBomb is packed with shimmer inside," Rihanna captioned her video, where we watched her squeeze an appetizer-plate-sized puff.
She then demonstrated how to use it, dabbing the shimmer onto her shoulders and captioning the Boomerang video with "puff puff pass."
A zoomed-in photo after the video gave us a closer inspection of the type of shimmer that the product offers. The glitter is very finely milled and subtle, giving off a muted gold shine. Since "Body Lava" was teased last night, one can assume that they're meant to be used as a team, where you first illuminize your skin with the lotion and then set it with the finely-milled powder to give you that extra kick in shine.
There is no word yet if the puff will come with different shimmer colors, but since both shades of the illuminizer were revealed at once, one could assume that if there were more hues of the Fairy Bomb, they would have made it into the reveal. But that's just speculation — for all we know, there could be a whole line of glitter-laden powder puffs. The good news is, though, that we don't have to wait long to see.
Fairy Bomb is set to hit Sephora's shelves both in-store and online on Apr. 6. There is no news yet on how much it will cost, but gauging by the prices of her other products, it will probably be mid-range.
But seeing the amount of hype the body shimmer is currently receiving on social media, you might want to put a calendar alert for its release date because who knows if it will stay in stock for long.
People are ready to sparkle all summer long, so make sure you don't sleep on your chance to get your own golden glow.
You don't want to be the only person walking around the streets without glittering shoulders.
People are ready.
Rihanna has brought '90s glitter back into our lives and we are eternally grateful.