The Food Options In The Olympic Village's Cafeteria Are So Glorious You Might Cry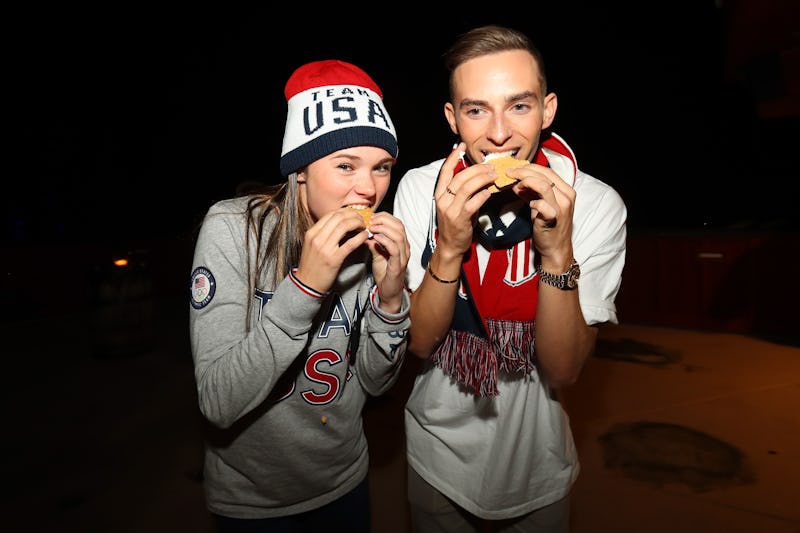 Mike Lawrie/Getty Images Sport/Getty Images
If there was an Olympic event where athletes just listed the food they ate in a day, it would be my new favorite sport. Anyone who's watched the Olympics (or just seen the insane muscles on an Olympian) has likely wondered at least once what Olympic athletes eat in order for their bodies to accomplish such seemingly superhuman feats/biceps. While it's no secret that athletes' training regiments are a primary component of their success, knowing how many pushups an Olympian does in a day is just not as relatable as, say, their daily chicken nugget intake.
We're less than a month away from the 2018 Winter Olympics, which are being hosted in PyeongChang, South Korea. As officials prepare for the arrival of thousands of athletes from around the world, they are also preparing thousands of pounds of food in the Olympic Village. For Rio's 2016 Summer Olympics, chefs prepared over 460,000 pounds of food a day (equal to about 60,000 daily meals) to feed athletes. While that certainly involved a lot of grilled chicken breast and steamed vegetables, the food options in the Olympic Village are more diverse than you might expect.
The dining halls in each of PyeongChang's Olympic Villages have various food stations from which athletes can choose, similar to how a college cafeteria works. You can peruse the entire 18-page dining hall menu on the 2018 Olympic Village website. The whole thing reads like a healthy Cheesecake Factory menu: surprisingly long with options you didn't know you needed. Just sub out the dozens of cheesecake flavors and SkinnyLicious cocktails for tons of fresh fruits, vegetables, and grilled protein and it's basically the same thing.
Oh also, cheesecake is an available dessert option in the Olympic Village.
Here are a few highlights from the menu, in case you don't want to see for yourself how many different yogurts Olympians can choose from in the dining hall. (It's four.)
There Are Seven Different Kinds Of Cheese
This bounty of Olympic cheese is available all day every day at the 24-hour service dining hall. Regardless of who takes home a medal, 24-hour access to Camembert is a reward in itself.
So. Much. Bread.
Carbs are a big part of most Olympians' diets. In 2014, Luger Erin Hamlin told Cosmopolitan.com that bread and pasta are both staples in her daily diet. While swimming isn't a part of the Winter Olympics, Ryan Lochte may still be carbo-loading on the reported 487 grams of carbohydrates he eats a day.
In addition to the ten different types of breads and nine different kinds of pastries and muffins available via 24-hour food station, there are tons of potatoes, rice, and pasta options during breakfast, lunch, and dinner.
They Have Ranch Dressing
The salad bar is as extensive as you might imagine with loads topping options from grains to proteins to, yes, the nectar of us mere mortals: ranch dressing.
McDonald's Is An Olympic Village Staple
Apparently, it's not uncommon for athletes to indulge in a Big Mac or three to bulk up a bit. This likely comes as little surprise to anyone who read about Michael Phelps' 12,000 calorie diet in preparation for the 2008 Olympics. In addition to the burgers and the fries that we in the U.S. are used to, Korean McDonald's menu also includes bulgogi beef burgers, shrimp beef burgers, corn soup, and (less exotic but equally exciting) waffle fries.
Vegan Options Are Readily Available
Denoted with a green stripe on the menu, each meal at each station includes plenty of plant-based food options for vegan athletes. There are also a number of gluten-free options, Kosher food items as well as a Halal station.
There's A Korean Station With Bibimbap, Kimchi, And More Local Favorites
Athletes can also indulge in Korean food to fuel up before and between events. Korean BBQ, festival noodles, and dumplings are part of the meal offerings in the Olympic village. (Great news for U.S. skater and Olympic hopeful Mirai Nagasu who says she can eat 18 dumplings in a single sitting.)
Even Olympic Athletes Eat Dessert. And Pizza.
Because Olympians are people too, burgers, brownies, and other more indulgent foods are also available. Athletes can even get a late-night pizza at the overnight food station, open from midnight to 5 A.M. So, next time you get a midnight pizza delivery, you can just say you're in training.