The 'RHONJ' Reunion Seating Chart Is Here & It'll Leave You With Questions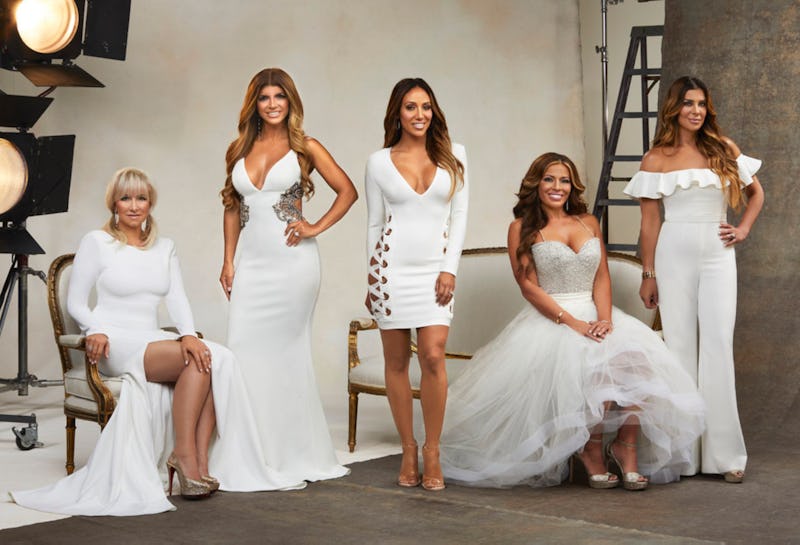 Rodolfo Martinez/Bravo
Fuel up on some sprinkle cookies and grab a magnifying glass, because there's a fresh Real Housewives reunion special seating chart to analyze. The seating chart for the RHONJ Season 8 reunion has been unveiled, and it is quite the intriguing morsel. Do you want to know where The Real Housewives of New Jersey cast sat when they filmed their post-season sit-down on Thursday? Of course you do.
Let's kick things off with the most obvious seat: Host Andy Cohen has his usual spot betwixt the two sofas where he will preside over the proceedings. To his right is, of course, the one and only Teresa Giudice. To Tre's right, newcomer Margaret Josephs. On the other couch, Melissa Gorga sits to Andy's left, Siggy Flicker in the middle, and Dolores Catania on the end. And that is all she wrote. (And yes "she" is the chart.)
Again, Tre as the reunion's number one seed is as obvious as a sprinkle cookie is polarizing. She's not only the queen of RHONJ, but she's one of the most legendary Real Housewives to grace the franchise. She will always get that spot. Bravo might as well put a placard on the seat next to Andy with the words "If You Sit Here And Your Name Is Not Teresa Giudice, Fully Expect A Dining Room Table To Be Hurled Your Way" etched into it. And Siggy and Dolores' seats are the opposite of surprising, too. Those two have been feuding with Margaret, Teresa, Melissa, and Danielle Staub (more on her absence in a moment) on and off all season, so it adds up that they're together.
The rest of the setup, however, raises some questions. First things first, what in the Envy fashion show is Melissa doing on the couch opposite of her sister-in-law? Why's Melissa sitting with Team No Cake Fights? Are Tre and Melissa at odds again, or is this just the way the seating arrangement worked out? It really may mean nothing in this case, but the two spots closest to Andy are usually reserved for the two Real Housewives who had the most drama to hash out that season.
Whatever the reason for the seats, it looks like present-day Teresa is on good terms with everyone on the cast. Well, that sure is nice.
Back in October, the RHONJ icon took to her Bravo blog to say that while she and her sister-in-law have their moments of tension this season, it won't turn into another feud. Teresa wrote,
"Sorry to disappoint, but I will NEVER go back to the way it once was with Melissa and me and all of that fighting. We are family, and family needs to stick together."
They need to stick together, but they apparently don't need to sit together.
Another Q: The seating chart seems a little empty, no? Well, do you know who would be a perfect addition to the fray? A certain Friend of the Housewives who brought the fire time and time again this season, that's who. Danielle may not technically be a Real Housewife anymore, but she didn't let that stop her from crushing it on Season 8. Here's one such example.
If there was ever a time for the show to let a Friend of Housewives be present for an entire reunion, it's now. Danielle's work this season was that good.
But hey, at least she'll make an appearance at the reunion. And thank goodness.
Let that marinate for a minute. Teresa and Danielle together. Sharing a dressing room. Like The Great Table Flip of 2009 never happened. The Bravoverse sure is a wild place.