'Good Evening Britain' Is A Real Thing & OMG You Won't Believe The Guests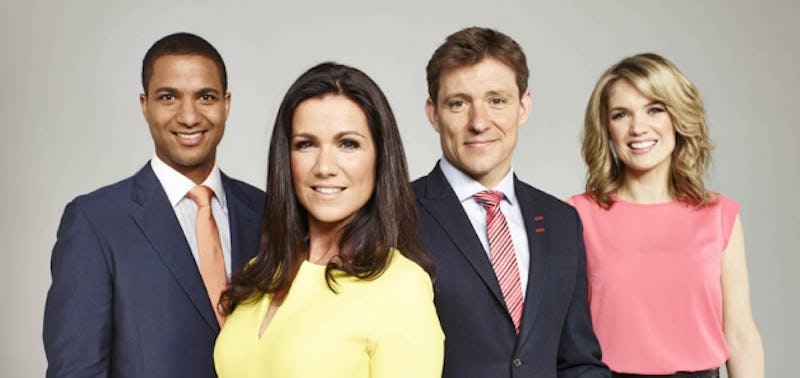 ITV
If you have ever watched Good Morning Britain and thought, if only this were on in the evenings as well — it seems your prayers have been answered. Yes, this evening you can shun the glorious weather, curl up on the settee, and turn to ITV for a second delicious dose of Piers Morgan. Praise be. But what is Good Evening Britain?!
Good Evening Britain will be a one-off special which will basically be a live and late night version of the breakfast show, also presented by Piers Morgan and Susanna Reid (plus Ben Shephard and Charlotte Hawkins). The special show will air tonight (Thursday June 28) at 9.15 p.m. on ITV — and you'll be able to catch it on the ITV player after it has aired, too. With a similar structure to the morning show, this late night affair will offer the same mix of studio guests, debates around hot topics, and general chit chat. Those of you more attuned to the World Cup match schedule might also spot that it will be airing immediately after one of England's most important matches of the tournament, and will be including plenty of thoughts post-match, too.
"You know you think you've had enough of me in the mornings?" Piers Morgan said, when announcing this evening's one-off. "Good news Britain, you're going to get a load of me in the evenings because we are having our first ever Good Evening Britain." He then added: ""We are coming to primetime – we're actually very excited about it. I won't have to go to bed for that until about mid-afternoon, it's going to be great."
Guests tipped to appear on the show will reportedly include Eastenders actor Danny Dyer, actress Pamela Anderson, Labour leader Jeremy Corbyn, footballing pundit David Ginola, I'm A Celebrity...Get Me Out Of Here contestant Rebekah Vardy, and former Labour MP turned Strictly Come Dancing star Ed Balls, according to The Express.
Tensions have been ramping up around Dyer's appearance in particular after Morgan has been gratuitously rude about the contestants on Love Island — of which Dyer's daughter Dani is one. He has previously branded the islanders "a villa full of halfwits", when interviewing former contestant Rosie Williams, and described the show as putting "the dimmest people in Britain in one lair". And he was specifically critical about Dani Dyer's partner Jack Fincham, calling him a "gold digger" and saying Danny Dyer should "pummel him."
During yesterday's show, Reid commented "the big one is Danny Dyer of course, cause that will be the first time you've met him, since you called all the people on the island 'cretins'."
"I'm sure he'll be very understanding," Morgan unconvincingly responded. He added, "I want to denounce any comments I've made about them being a bunch of brain-dead zombies," according to Independent.ie. "Danny senior, if you're watching, nothing I've said about the show or its inhabitants has anything to do with your daughter, who is a ray of sunshine in a sea of stupidity."
Whether Dyer chooses to pull up Morgan for his behaviour, only time will tell — but either way, it is set to be an energy-packed hour. "We are excited to introduce one of our flagship shows to the evening schedule," Emma Gormley, Managing Director of ITV Studios, said. "It promises to be a lively 60 minute event, filled with all of the ingredients that make GMB so unmissable!"
So if you're ready for an additional hour of light bickering and Piers Morgan repeatedly talking over Susanna Reid (and the show's guests), tonight is very much the night. News on whether Good Afternoon Britain has been green-lit is very much unconfirmed.