What Is Hoda Kotb's Instagram? The 'Today' Host Likes To Inspire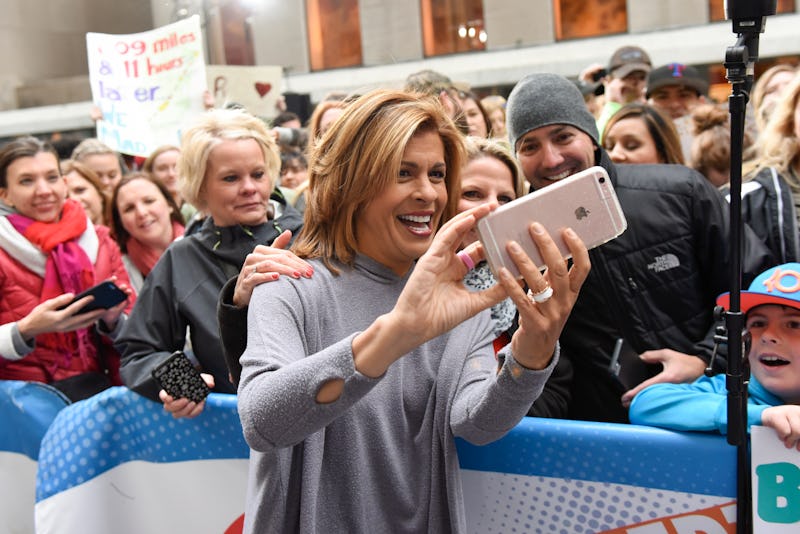 Matthew Eisman/Getty Images Entertainment/Getty Images
Savannah Guthrie announced on-air Tuesday morning that Hoda Kotb will replace Matt Lauer as co-anchor of the Today Show. The Guthrie-Kotb duo became the first all-female pair to anchor the storied morning show, and their fans were thrilled. If you want to get to know the new Today co-anchor a little better, you should know that Hoda Kotb's Instagram account is a treasure.
First off: You can find her Instagram here (she keeps it simple with the username @hodakotb). Her account is a mixture of work selfies, baby pics, and a ton of inspirational quotes — basically everything you want in a celebrity Instagram. Her latest post is an Anita Krizzan quote that reads: "You don't have to move mountains. Simply fall in love with life. Be a tornado of happiness, gratitude, and acceptance. You will change the world just by being a warm, kind hearted human being."
Kotb adopted a daughter in 2017, so naturally many of her posts feature Haley Joy. The photos include Haley Joy dressed in a pumpkin costume for Halloween, meeting Kelly Clarkson's daughter, and going on a road trip. You'll also catch glimpses of Kotb's boyfriend of four years, financier Joel Schiffman, including a sweet post in June to celebrate their anniversary.
Mixing the personal and professional, Kotb also posts selfies with celebs she meets on the job. In October, she posted two pictures with Barbara Bush and Jenna Bush Hager holding their new book, Sisters First: Stories from Our Wild and Wonderful Life. "Sooooooo excited for my girls Jenna and Barbara— 'sisters first' is such a good read," she wrote. "It will make you feel hopeful."
She also snapped a selfie with Olympic gymnast Aly Raisman in November, captioning the photo: "Loving Aly Raisman xoxo."
But more than anything, her Instagram presence is uplifting and inspiring. She recently posted a picture of a sunset with "never look back" written across it, and a quote that read "you don't need a reason to help people."
Kotb has been at NBC News since 1998, when she joined as a Dateline correspondent. She began co-hosting the fourth hour of the Today Show with Kathie Lee Gifford in 2008, and a decade later will lead the morning show. She'll continue to co-host the 10 a.m. hour with Gifford for a total of three hours on-air every morning.
"Over the past several weeks, Hoda has seamlessly stepped into the co-anchor role alongside Savannah, and the two have quickly hit the ground running," NBC News chairman Andy Lack wrote in an email to his staff. "They have an undeniable connection with each other and most importantly, with viewers, a hallmark of 'Today.'" He added: "Hoda is, in a word, remarkable. She has the rare ability to share authentic and heartfelt moments in even the most difficult news circumstances. It's a tribute to her wide range and her innate curiosity."
Hoda was offered the role right before Christmas, according to People magazine. Lauer was fired in November amid accusations of sexual harassment. He responded by saying a statement, "Some of what is being said about me is untrue or mischaracterized, but there is enough truth in these stories to make me feel embarrassed and ashamed."
Guthrie and Kotb said Tuesday morning they were glad to have one another when they found out about Lauer's ousting and the troubling allegations against him. Guthrie was excited to welcome her friend as her new co-host, saying on the Today Show, "This has to be the most popular decision NBC News has ever made." Kotb replied: "There's no one I'd rather be sitting next to in 2018 than you."