Here's Exactly Where Hurricane Harvey Is Heading Toward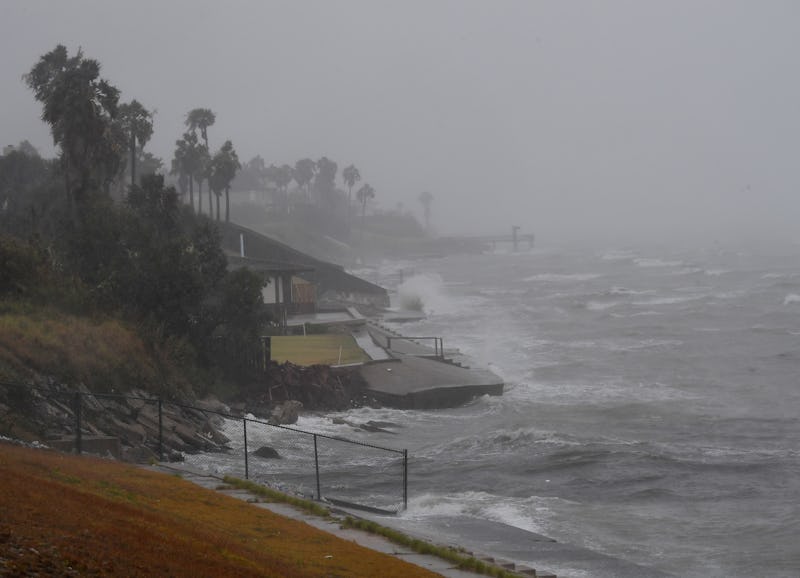 MARK RALSTON/AFP/Getty Images
Hurricane Harvey hit Texas on Friday, and the state is preparing for catastrophic damage and flooding as a result of the major storm, now classified as Category 3. Hurricane Harvey's path began off the coast of South America, and it will end several days after it fully touches down in Texas.
Before it was a hurricane, Harvey was just a tropical storm, drifting westward across the Atlantic Ocean a few hundred miles north of the coast of Suriname. Between Aug. 17 and 19, the storm made its way into the Caribbean Sea, at which point it briefly decreased in intensity and became a tropical depression. Over the course of the next several days, it moved northwest toward the Gulf of Mexico, crossing the Yucatan Peninsula and eventually becoming a tropical storm once again.
It was on Aug. 23 that tropical storm Harvey, then situated just a few hundred miles east of the coast of Mexico, became a Category 1 hurricane. It continued moving northwest, and by the time it neared the Texas coast on Friday, it had become a Category 3 hurricane. Harvey made landfall in Texas early Friday, and according to the Weather Channel, it's expected to linger for several days before dissipating. If you're more of a visual learner, here's a graphic of the hurricane's trajectory.
The National Hurricane Center has warned that Harvey could cause "catastrophic and life-threatening flooding." Although flooding is a common effect of hurricanes, Harvey is expected to be especially bad in this regard for two reasons. First, it's expected to meander over land for several days before thinning out, which will exacerbate any flooding caused by the hurricane's initial landfall. The second reason is the hurricane's storm surge.
Storm surge is what happens when a hurricane reaches land after moving across the sea. As a hurricane gets closer and closer to a coast, its cyclonic winds push the ocean's waters toward the land; that "extra" water collects between the hurricane and shore, and it eventually floods into land. Several factors determine the severity of any given hurricane's storm surge, and Harvey is expected to produce an especially dangerous one: The National Hurricane Center, which has issued a Storm Surge Watch, says water levels will rise by as much as 12 feet in certain places, and will be accompanied by "large and destructive waves."
Because of its destructive potential, residents in many areas along the Texas coast are being evacuated. Mandatory evacuation orders have been issued in Aransas Pass, Freeport, Brazoria County, Calhoun County and Matagora County, according to ABC Houston, while the cities of Dickinson, La Porte, Kemah and Seabrook, as well as Galveston County and Chambers County, are currently under voluntary evacuation orders.
The hurricane itself is expected to be one of the strongest in years, with maximum sustained winds of 110 miles per hour and rainfall as high as 35 inches in certain coastal communities.