Why Storm Surge Might Be The Worst Part Of Hurricane Harvey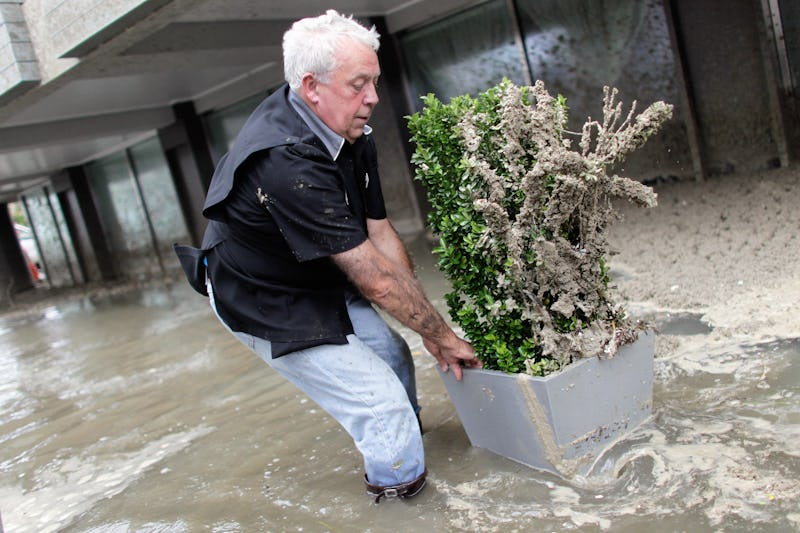 Joe Raedle/Getty Images News/Getty Images
Hurricane Harvey is rapidly approaching the Texas coast, and it's shaping up to be one of the most dangerous storms in years. It's expected to make landfall on Friday, and in addition to the havoc the hurricane itself will wreak, Hurricane Harvey's accompanying storm surge is predicted to make conditions even more dangerous.
Storm surge is when water levels rise dramatically as a result of a hurricane's cyclonic winds. When a hurricane is moving across an ocean and heads toward a coast, the hurricane's winds are constantly pushing the water below the storm toward the shore. As a result of this "extra" water, sea levels on the coast rise — in some cases, by as much as 20 feet. According to the National Hurricane Center, storm surge is often one of the most deadly parts of a hurricane. The additional water that's dragged to the coast can cause catastrophic flooding, as it sometimes extends far as 2 miles inland.
Several factors impact the severity of any given hurricane's storm surge. One is the slope of the continental shelf of the shore in question: Hurricanes that hit areas with relatively sharp slopes, such as Miami beach, will see smaller storm surges than coastlines with shallower slopes. The intensity of the hurricane itself is a huge factor as well, and so is the angle at which the storm arrives at the coast.
According to ABC News, Hurricane Harvey's storm surge is expected to raise water levels by 12 feet along the Texas coast, and this elevation in water level may be accompanied by additional 20 foot waves. This is why the National Hurricane Center has warned of "devastating and life-threatening flooding" across the middle and upper Texas coast. Many cities and counties in the area are under mandatory evacuation orders, including the cities of Port Aransas and Aransas pass, as well as parts of Calhoun, Matagorda, San Patricio, Brazoria, Refugio, Jackson, and Nueces counties. Several other communities have been issued voluntary evacuations in light of the expected flooding.
In total, Hurricane Harvey is expected to bring a total rainfall of 15 to 25 inches, according to the National Hurricane Center; however, some areas along the middle and upper Texas coast may have as many as 35 inches of rainfall. Winds could reach a maximum speed of up to 85 miles per hour, and hurricane-strength winds in general will extend 25 miles outward from the storm's center.
The National Hurricane Center wrote Thursday evening that, although the storm hasn't changed significantly over the previous several hours, it's expected to get stronger overnight before it hits the Texas coast.